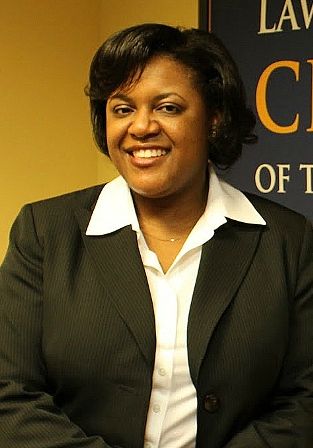 SAN FRANCISCO, CA – The Lawyers' Committee for Civil Rights of the San Francisco Bay Area is pleased to announce the appointment of Kimberly Thomas Rapp as its new Executive Director.
"Kimberly has a proven and dedicated commitment advocating for civil rights," stated Pamela Y. Price, founder of Price and Associates and Lawyers' Committee Board co-chair. "Coupled with the support of the staff and Board, the infusion of Kimberly's energy, enthusiasm, and skills will be an invaluable asset to the organization's mission to protect the legal rights of communities of color, immigrants and refugees."
Thomas Rapp is a Bay Area native. She earned her undergraduate degree from the University of California, Berkeley, and her law degree from Stanford Law School. Thomas Rapp joins the Lawyers' Committee after serving as the Lead Deputy Counsel at the Office of the County Counsel for the County of Santa Clara, where she provided legal representation and counsel for an organization of approximately 15,000 employees on a broad range of civil rights, general government, healthcare, employment and labor issues. She also provided legal representation as counsel on diverse civil rights, employment and education law matters for the County Office of Education and various school districts.
Previously, Thomas Rapp was the Director of Law and Public Policy at the Equal Justice Society, responsible for the organization's program strategy and implementation focused on restoring constitutional safeguards against discrimination. She has also worked in private practice in Oakland representing children with special needs and improving access to education for racial and ethnic communities. Thomas Rapp has also authored numerous articles, including several which have been published in the California Lawyer, Connecticut Law Review and the San Francisco Chronicle.
"I am delighted and humbled to be a part of the storied legacy of the Lawyers' Committee in advancing and defending the civil rights of our Bay Area communities," said Thomas Rapp. "The organization is on the forefront of developing impactful and incisive programs, policy and strategy informed by the clients and communities we serve. I am honored to have the opportunity to assist the organization as it continues to achieve these goals in this new era of civil rights."
"With her legal experience in the government sector, nonprofit organizations, and private practice, Kimberly is uniquely qualified to take the helm of the Lawyers' Committee," said George H. Brown, partner at Gibson, Dunn & Crutcher LLP and Lawyers' Committee Board co-chair. "Lawyers' Committee owes a tremendous debt for the outstanding service of our Board Search Committee, led by David Lowe of the law firm of Rudy, Exelrod, Zieff & Lowe, LLP. We are grateful for the Committee's diligent work to find us a great new Executive Director, and the Board and staff look forward to Kimberly's leadership and contributions to advance the legacy of Dr. King."
Thomas Rapp will officially begin on January 23, succeeding Interim Executive Director Sonia Gonzales, and current Board Member Lateefah Simon. She will be speaking at the Lawyers' Committee's 25th Annual Dr. Martin Luther King, Jr. Awards Luncheon on January 26 at the Westin St. Francis.
About the Lawyers' Committee:
For more than 40 years, the Lawyers' Committee for Civil Rights of the San Francisco Bay Area has worked to advance, protect and promote the legal rights of communities of color, immigrants and refugees -- with a specific focus on low-income communities and a long-standing commitment to African Americans. Lawyers' Committee staff, working with hundreds of pro bono attorneys, provides free legal assistance and representation to individuals on civil legal matters through direct services, impact litigation and policy advocacy. In 2010, Lawyers' Committee mobilized just over 1,000 pro bono attorneys who contributed more than 48,000 hours of free legal assistance, services valued at over $19 million. For more information, visit
http://www.lccr.com/
.