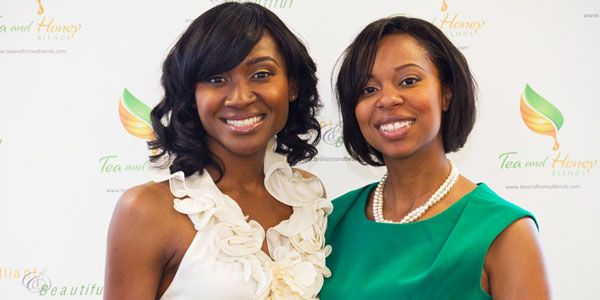 Tea and Honey Blends' founders want to help develop the fields of science with a campaign to make young women of color feel 'Brilliant & Beautiful' inside the classroom
When most people think of science, especially chemistry, they imagine a man who wears a lab coat, has the periodic table of elements memorized, adorned with black-rimmed bifocals and lives in a laboratory setting.
Those stereotypes of yesteryear have been wiped away by a new crop of science and math enthusiasts who are breaking the mold. Jaws often drop when a young, impeccably styled Black woman introduces herself as an organic chemist. Drs. Tashni-Ann Dubroy and Tiffani Bailey Lash, have grown accustomed to this response. They are striving to shatter the misconception that the field of Research and Development is exclusively male-dominated and a mundane profession. Both received their doctoral degrees in Chemistry from North Carolina State University.
"One of the myths is that scientists are nerds in ponytails who are not adventurous or social, and that is one myth that Tiffani and I dispel," explained Dr. Dubroy. "We are certainly gregarious—we have to be social to be in this business."
These entrepreneurs, owners of the sought after hair care line, Tea and Honey Blends, are far removed as your 'typical' scientists. The duo juggles rewarding careers with motherhood and community engagement.
Recently, the ladies launched the non-profit organization, the
Brilliant and Beautiful Foundation
(BBF) to promote the advancement of women of color in scientific careers. Their mission is to pave the way for future women in the field especially for young girls. BBF supports the growth of women at all stages of their academic and professional careers through mentorship, summer internships, and study abroad experiences. Choosing a career in science is not only rewarding but it can be life changing and innovative for the world at large. Dr. Tiffani Bailey-Lash shared, "As a female scientist / entrepreneur it is imperative that we lift while we climb. My interest in Chemistry began in middle/high school. We need to keep the excitement in the eyes of these young students in the STEM discipline in order to keep them in the pipeline." To this end, Dr. Lash is a board member at Washington Math Science Technology Public Charter High School in DC.
Students need to know that there are exciting, lucrative careers in chemistry, from developing dyes for textiles in the fashion industry to formulating a new flavor of soft drink or creating your own green hair care product line. "We have fun doing it," Dr. Dubroy explained. "It's one of those industries that you can embrace being a woman because sometimes it takes being a woman to test those products before they are disseminated to customers." Dr. Dubroy was recently honored with the UNCF National Alumni Council - Excellence in Academic Service award.
The Brilliant and Beautiful Foundation is actively looking to partner with like-minded companies who want to enhance the development of the science landscape with the next generation of diverse candidates. Support is needed for its Way to Achieve Challenge, that recognizes women of color committed to academic excellence with an award and book stipend. Upcoming activities include hosting a summit, "From Science-to-Product-to-Possibility," and a summer research experience for students at Shaw University. BBF is currently conducted in Raleigh, NC and Washington, DC where Lash and Dubroy reside. To learn more about BBF, visit
http://www.brilliantandbeautiful.org/
.
About Tea and Honey Blends
Tea and Honey Blends was cofounded by Dr. Tiffani Bailey Lash and Dr. Tashni - Ann Dubroy in 2009. As young women of color engaged in chemistry, they decided to utilize their innovative scientific knowledge to create a unique hair care product line designed to suit the needs of various hair textures in the ethnic market. Tea and Honey Blends was selected to participate in the inaugural The Workshop at Macy's, a comprehensive retail vendor development program for minority and women-owned retail talent. The company has experienced exceptional growth and was recently profiled in Bloomberg Businessweek. Visit Tea and Honey Blends at
http://www.teaandhoneyblends.com/
.
Source: Press release/Photo: Tea and Honey Blends