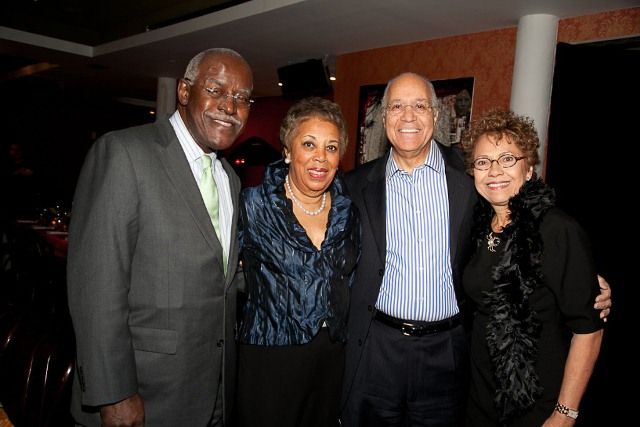 Ron and Judith Davenport and Brooklyn Museum trustees Warren and Charlynn Goins attend the 2nd
annual benefit dinner hosted by the Brooklyn Museum to support the Brooklyn Museum Fund
for African American Art in Harlem, NY
By Akira Barclay
NY Contributor
@BlkGivesBackNY
HARLEM, NY - On Wednesday, January 18, 2012, African American art donors and patrons gathered in Harlem at Red Rooster, the restaurant owned by famed chef Marcus Samuelsson, to raise funds for the Brooklyn Museum Fund for African American Art. Notable black artists in attendance were Sanford Biggers, Mickalene Thomas and Lorna Simpson, as well as prominent African American donors and museum trustees Kenneth and Kathryn Chenault, Saundra and W. Don Cornwell, Charlynn and Warren Goins, Tracey and Phillip Riese, Board of Trustees President Stephanie Ingrassia, and Charles and Suzanne Randolph Shorter.
The event celebrated the fund's inaugural acquisition, Web of Life, a 28-foot mural designed by leading twentieth-century African American artist John Biggers.
The museum states that The Fund for African American Art is a collecting initiative launched in 2010 to build Brooklyn Museum holdings of precontemporary African American art. The fund was launched by a $200,000 matching gift from Museum Trustee Saundra Cornwell and her husband Don, and by fractional gifts from Charlynn and Warren Goins of their important landscape by Robert Duncanson and a Charles Ethan Porter still life. The initiative was launched with the purchase of an early Sargent Johnson sculpture. Ms. Cornwell and Ms. Goins initiated the purchase fund along with former Trustee Tracey G. Riese.
Brooklyn Museum trustee and fund donor Saundra Cornwell, with artist Sanford Biggers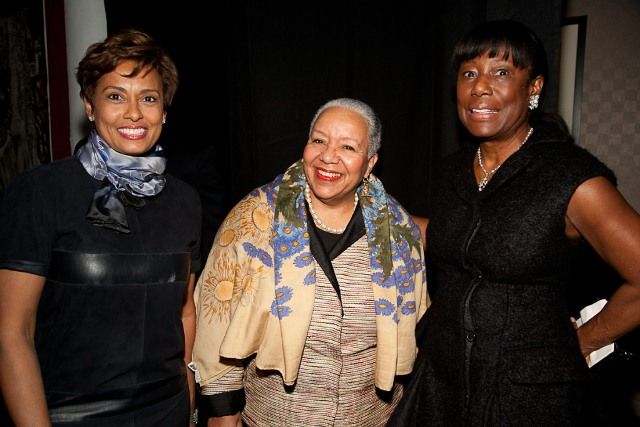 Yolanda Ferrell-Brown, Lola West and Joyce Mullins-Jackson
Brooklyn Museum trustees Kenneth Chenault, CEO of American Express and fund donor W. Don Cornwell
Michael Rosenfeld and artist Mickalene Thomas, who hosted the 2011 benefit, with Sanford Biggers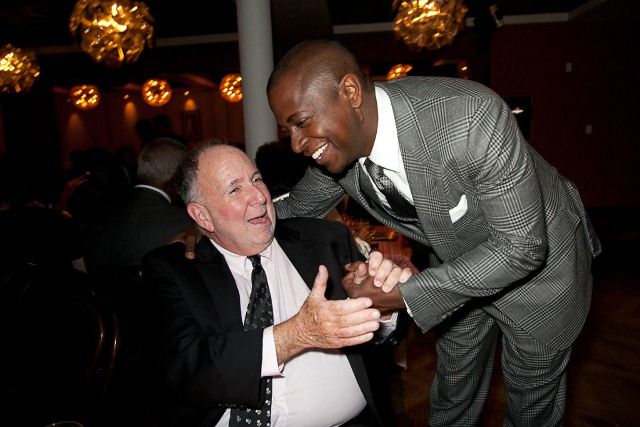 Director Arnold Lehman and Sanford Biggers
Khary Barnes, philanthropist; Nathaniel Thompkins, Executive Director, 21st Century Foundation (21CF); Sterling Walker, 21CF; and fund donor Ian Fuller
Amelia and Adebayo Ogunlesi
Kathryn Chenault
Ron Davenport and Ed Lewis
Musician Rakiem Walker entertains the guests.
Additional gifts inspired by the initiative include five Edward Mitchell Bannister pastels given by Jason Wright, two early Hale Woodruff watercolors given by E. T. and Lyn Williams, an early Norman Lewis watercolor from Ian Fuller, and a Charles White etching from Milton and Nancy Washington. Camille and Luther Clark have promised the gift of their African American art library as well.
Currently showing at the Brooklyn Museum is
Question Bridge
, a video installation featuring 150 diverse African American men. Created by artists Hank Willis Thomas and Chris Johnson in collaboration with Bayeté Ross Smith and Kamal Sinclair, the exhibition includes five video screens, placed in an arc, playing videos of the men responding to questions. Their words are woven together to simulate a stream-of-consciousness dialogue, through which important themes and issues emerge. The subjects addressed include family, love, interracial relationships, community, education, violence, and the past, present, and future of Black men in American society. The men represent a range of American geographic, economic, generational, educational, and social strata.
The artists hope that the Question Bridge project will be a catalyst for constructive dialogue among Black men and others in the nation that will help deconstruct stereotypes about Black male identity in our collective consciousness. The Brooklyn Museum will present a wide range of public programs in conjunction with the project. For more information on Question Bridge at the museum, and an upcoming Teen Night open house event on February 10th for Black History Month, visit
here
.
Visit the Brooklyn Museum website at
http://www.brooklynmuseum.org/
.
Photo credits: Eric Weiss and Michael Barclay