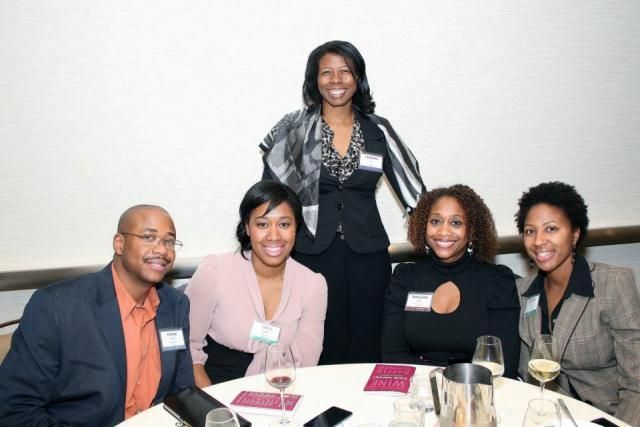 Cork Savvy guests Kwane Baldwin, MetroBoard Treasurer Stacy Summers, guest, Tanquera Baldwin, and Mironda Ross
By Sandra C. Davis, Chicago Contributor
Chicago, IL—On December 15, 2011, good wine, good food, and good advice coupled with networking brought out young professionals from every sector. The Metropolitan Board of the Chicago Urban League (MetroBoard) and the Food Network hosted Cork Savvy: The Network Exchange, a sequenced progression of conversations about career, life development and giving back paired along with wine and food by chef Nicole Pederson of Marcus Sammuelson's C-House.
"Make a true and lasting impact with the work you do," instructed Andrea Zopp, CEO of the Chicago Urban League , that began the event. The mistress of ceremonies, Ginny Clarke, Executive Coach and author of Career Mapping, introduced distinguished speakers: keynote Anthony K. Anderson, Vice Chair and Midwest Managing Partner, Ernst &Young; Phil Nevels, Co-Founder and COO, Power2Switch; Victoria Holloway Barbosa, MD, MPH, MBA, Millennium Park Dermatology; and Sandra L. Weicher, Vice President of Field Operations, Comcast. The night ended with acknowledgements from the current MetroBoard leadership team and a raffle that benefited some of the MetroBoard's signature community service and personal development programming: Adopt-a-Family, Vital Bridges, and MB Real Talk. Current MetroBoard President Kelly-Ann Vassell, pledged to further the organization's mission by creating more events centered around the community.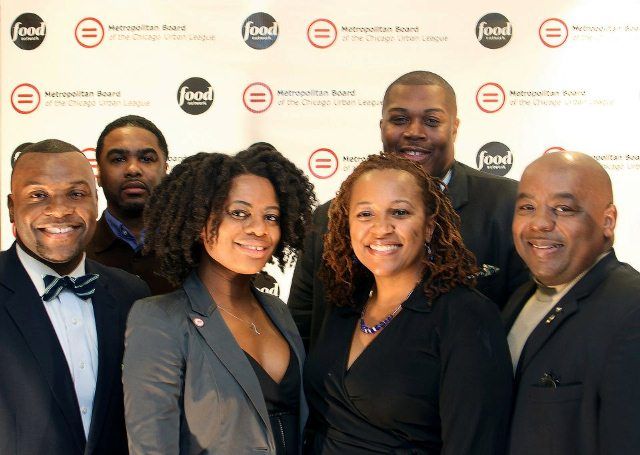 Cork Savvy-Past MetroBoard Presidents Ronelle DeShazer, Edgartt Melton, Kelly-Ann Vassell (Current President), Angela D. Brooks (Most Recent Past President), Barton J. Taylor, and Eddie Jones
Cork Savvy-Mistress of Ceremonies Ginny Clarke, Executive Coach and author of Career Mapping; Samantha Jones, Roderick Hawkins, Vice President of Communication, Chicago Urban League; guest, Andrea Zopp, CEO, Chicago Urban League
About The Metropolitan Board
The Metropolitan Board (MetroBoard) is an auxiliary of the Chicago Urban League and a chapter of the National Urban League Young Professionals (NULYP). Founded in 1983, the motivation behind the Metropolitan Board was to identify young African-American professionals and developing them into the future leaders of our community. For information about the MetroBoard, please visit
http://www.metroboard.org/index.php
.