Audrey Jacobs, Director of The Center for Family Philanthropy, The Community Foundation for Greater Atlanta; Valaida Fullwood, Author, Giving Back; Birgit Burton, Senior Director of Foundation Relations, GA Tech; Charmaine Ward, Director of Community Affairs, Georgia Pacific; Deborah Richardson, Executive Vice President, National Center for Civil and Human Rights; Doug Shipman, CEO, National Center for Civil and Human Rights; Janine Lee, President & CEO, Southeastern Council of Foundations; Charles W. Thomas, Jr., Photographer, Giving Back
By Lisa Brathwaite
Atlanta Contributor
On Thursday, January 26, 2012, the National Center for Civil and Human Rights hosted a Giving Back reception and book signing for Author (as well as blackgivesback.com-Charlotte Contributor) Valaida Fullwood and Photographer Charles W. Thomas, Jr. The two discussed and visually presented their book,
Giving Back: A Tribute to Generations of African American Philanthropists
, at the Georgia Pacific Auditorium to a receptive audience comprised largely of development professionals, grant-making institution/foundation leaders and philanthropically-focused individuals.
The event was co-hosted by the African American Development Officers Network, The Arthur M. Blank Foundation, The Community Foundation for Greater Atlanta, Georgia Tech Black Alumni Organization, National Coalition of 100 Black Women, Metropolitan Atlanta Chapter, Southeastern Network of African Americans in Philanthropy and the Southeastern Council of Foundations.
"Perhaps like you, I used to hold a very narrow image of what 'philanthropy' is and what philanthropists do. There was a time that I thought 'philanthropy' applied only to 'Rockefeller' or 'Carnegie' or 'Bill Gates,' or 'Walton' or maybe 'Oprah.' And that philanthropy centered on great wealth, financial assets, monetary gifts—perhaps a big check, lots of zeros, followed by a press release," Fullwood shared in opening the discussion.
Author Valaida Fullwood speaks at the event.
"Then I was reacquainted with the root, Greek meaning of the word: 'love of humanity.' And everything changed. As is often the case when love enters the scene, the focus shifted. I looked at philanthropy in a totally different way. Suddenly my experience was included in the frame, and what I knew as 'philanthropy' and 'generosity' and 'giving' and 'love of humankind' became part of the picture. We
set out on a path to reframe portraits of philanthropy through the book, Giving Back and the Giving Back Project."

Over the course of their presentation, Fullwood and Thomas shared their four+-years-in-the-making stories of interactions with and observations from everyday philanthropists and members of giving circles—small groups of people harnessing their financial capital and social capital to bring about the change they wish to see in their communities.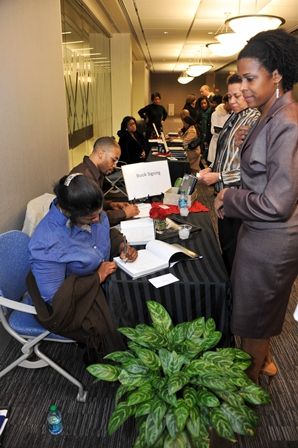 Kenny Ashe, Community Investment Network Board Member and guest Sylvia Webb, founder of

40 Girls & Some Shoes





Valaida Fullwood and Charles W. Thomas, Jr.

With Fullwood acknowledging her 91-year old Great-aunt Dora and Thomas citing his mother, Sandra Thomas, as their inspirations and examples of giving of personified, Thomas asserted that, "Philanthropy is the next wave of our Civil Rights Movement."

Giving Back: A Tribute to Generations of African American Philanthropists can be purchased through

John F. Blair, Publisher

,

Amazon

,

Barnes and Noble

and

Indiebound.org

. Follow on Twitter: @valaidaf and @sankofaphotog.

For more information on the work and vision of the National Center for Civil and Human Rights, click here. For ideas and questions about establishing a giving circle, like the Atlanta-based

Circle of Joy

, contact the

Community Investment Network

.

Photo credit: Alex Johnson III & National Center for Civil and Human Rights