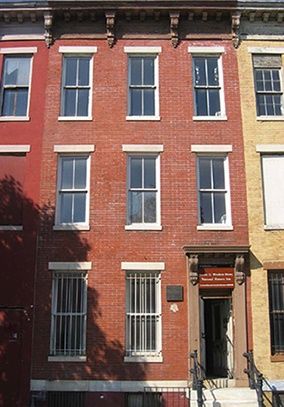 Black History Month presents opportunity to highlight diverse historic places
Washington, D.C. – The National Trust for Historic Preservation recognizes the importance of preserving black history particularly during Black History Month and is calling for nominations of endangered African American sites for its 25th Anniversary list of America's 11 Most Endangered Historic Places®. For a quarter century, this list has highlighted important examples of the nation's architectural, cultural and natural heritage that are at risk for destruction or irreparable damage. Nominations are due on February 17, 2012. The 2012 list will be announced in June.
"Historic places are a tangible reminder of who we are as a nation," said Stephanie Meeks, president of the National Trust for Historic Preservation. "For 25 years, the National Trust's list of America's 11 Most Endangered Historic Places has helped shine a spotlight on threatened historic places throughout the nation, helping not only to preserve these places, but also galvanizing local support for the preservation of other unique, irreplaceable treasures that make our nation and local communities special."
More than 200 threatened one-of-a-kind historic treasures have been identified on the list of America's 11 Most Endangered Historic Places since 1988. Whether these sites are urban districts or rural landscapes, African American landmarks or 20th-century sports arenas, entire communities or single buildings, the list spotlights historic places across America that are facing a range of threats including insufficient funds, inappropriate development or insensitive public policy. The designation has been a powerful tool for raising awareness and rallying resources to save diverse endangered sites from every region of the country. At times, that attention has garnered public support to quickly rescue a treasured landmark; while in other instances, it has been the impetus of a long battle to save an important piece of our history.The list has been so successful in galvanizing preservation efforts across the country and rallying resources to save endangered places that, in just two decades, only eight sites have been lost.
The places on the list need not be famous, but they must be significant within their own cultural context, illustrate important issues in preservation and have a need for immediate action to stop or reverse serious threats. All nominations are subject to an extensive, rigorous vetting process.
For additional information,
e-mailpr@nthp.org
or call 202.588.6141. To learn more about the program and to submit a nomination, visit:
www.PreservationNation.org/11Most
.
In photo
: The Carter G. Woodson Home National Historic Site in Washington, DC, named one of 11 Most Endangered Historic Places in 2001. Learn more about the restoration of Woodson's home and his organization which still exists today, the Association for the Study of African American Life and History (ASALH) at
http://www.asalh.org/
. Tickets are now available for ASALH's annual Black History Luncheon on Saturday, February 25th in Washington, DC.
About the National Trust for Historic Preservation
The National Trust for Historic Preservation, a privately-funded nonprofit organization, works to save America's historic places to enrich our future. PreservationNation.org
Photo: National Park Service