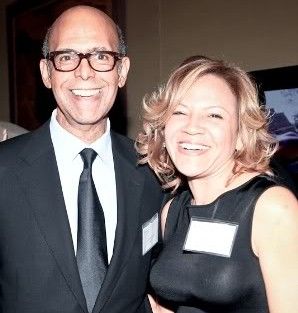 Actor and Comedian Bill Bellamy, Grammy-Nominated Recording Artist Ledisi Join UNCF to Honor the Legacy of Shirley Chisholm, UNCF Alumni Serving in Teach For America and NY Giants' Defensive End Justin Tuck
New York, NY – UNCF (United Negro College Fund), the nation's largest minority-student-aid provider and national advocate for education reform, will celebrate "game changers" in education on March 1st at its annual UNCF "A Mind Is" Gala. The annual fundraising event, which will be held at the New York Marriott Marquis Hotel located at 1535 Broadway in New York City, benefits more than 60,000 students who receive UNCF scholarships and attend more than 900 colleges and universities across the country. Pictured is Michael Lomax, president and CEO of UNCF and Tamara Harris Robinson, UNCF board member and "A Mind Is" Gala Co-Chair.
The evening of entertainment and inspiration will be emceed by actor and comedian Bill Bellamy and will feature special performances by seven-time GRAMMY® nominated R&B artist Ledisi, and the world renowned Tuskegee University Golden Voices Choir, founded in 1884 by Booker T. Washington, Tuskegee's first president.
Gala attendees can expect to be inspired by a special tribute honoring the legacy of one of America's most significant game changers, Shirley Chisholm. A member of Congress from New York City, author, educator, and political trailblazer, Chisholm wanted to be remembered as, "a woman who lived in the twentieth century and who dared to be a catalyst for change." This year, UNCF will present their inaugural Shirley Chisholm Award to alumni of UNCF member institutions who have taught in public schools through Teach For America. UNCF's President's award will be presented to Lauran and Justin Tuck. The two-time Super Bowl champion NY Giant and his wife started R.U.S.H. (Read, Understand, Succeed, Hope) for Literacy in 2008 and have raised much-needed funds to provide reading materials for children in New York City and Central Alabama.
"The UNCF alumni we will feature at the Gala for starting their careers as teachers have been true game-changers," said UNCF president and CEO, Michael L. Lomax Ph.D. "Their work as teachers in low-income communities around the country, and their commitment to advocate for education reform after they complete their years with TFA, reflect UNCF's determination to work through our scholarship programs and with partners like Teach For America, to help communities take ownership of the education their children receive, and make sure that every child gets the education they need to prepare them for college success."
UNCF will also announce a major contribution from a nationally-known company to UNCF's Campaign for Emergency Student Aid (CESA). UNCF launched CESA in 2009 to help students, mostly seniors, who were within sight of graduation but whose education was threatened by family layoffs and pay cuts and by the effect of the national credit crunch on student loan programs. Since then, CESA scholarships have saved the college careers of more than 8,000 students who could stay in college so they can graduate. CESA has attracted over $14 million from more than 6,000 donors. Individuals, corporations and foundations can help thousands of students finish the spring semester by contributing to the Campaign for Emergency Student Aid.
Since its founding in 1944, UNCF has raised more than three billion dollars and helped more than 400,000 students secure college degrees. Each year, in addition to supporting its member institutions and their students, UNCF awards 10,000 scholarships and advocates for the rights of low income and minority students to receive a good education from preschool through college graduation.
The UNCF "A Mind Is" Gala is co-chaired by UNCF board member Tamara Harris Robinson, President of the Tamara Harris Foundation, and attracts over 1400 donors, including Fortune 100 corporations and executives, prominent education advocates, athletes, entertainers and notables from the world of finance, law and politics.
For tickets or additional information regarding UNCF's "A Mind Is" Gala, please contact the UNCF Benefit Office at (212) 843-1751 or e-mail
uncf@hgnyc.com
. To donate to CESA and for continuous updates and news, visit
www.UNCF.org
. Also, follow UNCF on Twitter at @UNCF.
For more events across the country, visit our Upcoming Events page

here

.