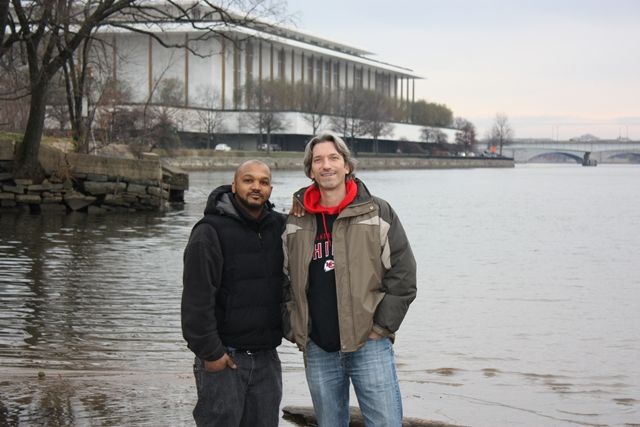 Michael Mattocks and John Prendergast, authors of Unlikely Brothers, on the banks of the Potomac River
The Blind Side meets Push in this poignant memoir about two lives forever altered by the bonds of friendship
One may not think that Michael Mattocks and John Prendergast would have much in common. Michael grew up in a single parent household in one of DC's toughest neighborhoods surrounded by crime and violence, while John was raised in a two parent family attending the best schools in the suburbs of Philadelphia. At the age of 21, John became a "big brother" to Michael, then seven, who was homeless and living out of plastic bags. Lacking a connection with his own brother and father, John formed a unique bond with Michael the moment they met. Their "Big brother/Little brother" relationship had its share of high and low points, as the two struggled with varying degrees of violence in their own lives.
During the course of their mentoring relationship, John traveled to war zones and witnessed violence in Africa as a human rights activist, while Michael was living in a violence plagued war zone in Washington, DC. And, they both were disconnected from their fathers. But it was John's experience with his own father that would shape their brotherhood bond in a profound way as Michael fell prey to the streets.
Their story is shared in the book
Unlikely Brothers
, now available in paperback, that tells their tale of adventure, loss and redemption. Michael and John share their experiences together in duet, taking us on their journeys as their two lives intertwine. Inspirational and deeply moving,
Unlikely Brothers
beautifully showcases what an incredible impact such a mentor/mentee relationship can have. It also highlights how the education system failed Michael as a young boy, which ultimately led him into a vicious cycle that befalls many of our young black males. This book is a great read for youth, youth workers, mentors and mentees.
Today, John is cofounder of the
Enough Project
, an initiative to end genocide and crimes against humanity. Working for the Clinton administration, he was directly involved in a number of peace processes in Africa. He helped create the satellite sentinel project with George Clooney, wrote two books with Don Cheadle, and developed documentary films on Congo with Ryan Gosling. Michael is now a husband and father of five boys, working two jobs in order to support his family. He helps coach his sons on their football teams. Their mentoring relationship has spanned over 25 years.
To learn more, visit the website at
www.UnlikelyBrothers.org
, view the book trailer
here
, and post your mentoring experiences on the book's Facebook page at
www.Facebook.com/UnlikelyBrothers
.
Photo credit: Nikki Mattocks