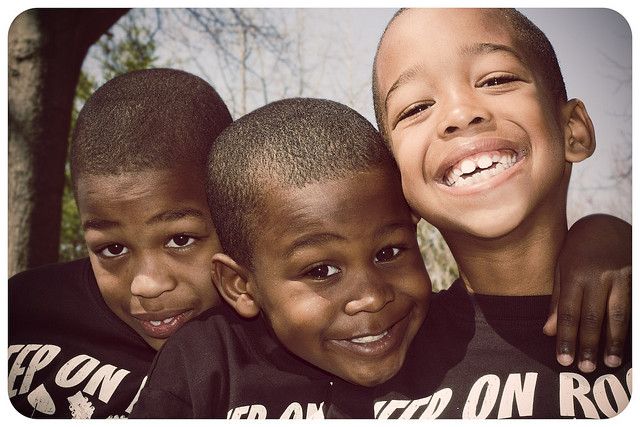 Dear Readers,
In January,
I announced
that BlackGivesBack would be launching a series on black men and boys this year in an effort to combat the negative stereotypes so often portrayed of them in the media. I was inspired by the report "
Portrayal and Perception: Two Audits of News Media Reporting on African American Men and Boys
," released in November 2011 that analyzed Pittsburgh's news media for three months. The researchers found that the largest block of news stories linked to African American men and boys involved crime. Little to no coverage was devoted to positive "quality of life" stories such as education, leadership and community. The report also highlighted the near-absence of positive coverage of young black men and boys ages 15-30. A 19 year old African American male interview subject summed up his thoughts about the media stating, "They don't show...positive African American men that have obtained degrees within business and marketing and that are moving in a positive direction. They only show the guys getting caught with drugs...And that affects our overall perception of different ways to become more economically fit as African American males." Although the report's findings are based from Pittsburgh, I'm sure the same findings would be found in any other city.
For the past couple of months, I have been researching organizations, funders and individuals who are working to support black men and boys, when the nation was hit with a tragedy. The tragic death of 17-year old Trayvon Martin has brought renewed attention to racial stereotyping, and the impact it has on our black men and boys. And media plays a significant role in promoting how they are perceived. Among the report's recommendations is to use the blogosphere as a vehicle to promote positive stories, and that's what I intend to do with this series. Features will include highlights of organizations that are mentoring the next generation of black men, initiatives led by foundations that are funding media projects on black males, and stories of everyday black men and boys working to improve their communities. I'm pleased to have the support of many who will contribute to the series, including
Stephen Powell
, Executive Director of
Mentoring USA
:
"Congratulations to BlackGivesBack for its persistence in highlighting the importance of investing in the success of Black men and boys in communities throughout the US. I am personally committed to combating the prevalence of negative images of Black males in the media, by specifically working to build the capacity of Black men and the faith community to mentor young boys via the our MEN-TOUR: Recruit. Reclaim. Restore project, with support from the Open Society Foundation Campaign for Black Male Achievement and strong community partnerships. In order for the Black community to heal we must aim to 'fit the description' of a collective, spiritually-centered body moving forward with a firm understanding of self-love.
Thirty days prior to the tragic shooting of Trayvon Martin,
I wrote a blog
for the Soros Open Society Foundation - Campaign for Black Male Achievement entitled 'Black Male Mentoring: Decoding the Image.' Within the context of the blog post, I shared a recent experience where I was stereotyped by a Black person while I was walking in a cross walk, in Newark, NJ, with my hoodie over my head. Mind you, it was 20 degrees outside but I also understood the fear the person possessed due to the negative media images portrayed on Black men…in hoodies, bomber jackets, etc. It is a tragic irony to be at this juncture; to see Trayvon Martin lose his life over being racially profiled in a hoodie.
We lost our dear brother, son Trayvon because he was racially profiled due to his choice in how he covered himself, with a hoodie, on that fateful 26th day of February. When our children can't simply be children, in their own communities, and our communities can't feel safe in the presence of Black men, we must ask ourselves: what type of leadership and spiritual covering are we providing to protect our communities? Why are our boys treated as suspects until proven innocent? We owe it to Trayvon and countless others whose lives were tragically cut down way to soon, a Black men call to action to positively engage in the life of Black boys."
The good news is that there are many initiatives for black men and boys underway, such as the Open Society Institute and Echoing Green's
Black Male Achievement Fellowship
, Robert Wood Johnson Foundation's
Forward Promise
, the
Association of Black Foundation Executives

'
work with black men and boys, the Knight Foundation's
Black Male Initiative
,
Cities United
, an initiative led by Philadelphia Mayor Michael Nutter and New Orleans Mayor Mitch Landrieu addressing violence among black males (read highlights from their conference I attended
here
), Chicago's
Black Star Project
, the
Leadership Sustainability Institute
, a project that aims to strengthen the capacity of nonprofit organizations working within the field of black male achievement, and the
Foundation Center's recent announcement
that it will generate a comprehensive report analyzing philanthropic giving in support of black men and boys and an interactive web portal of resources for both funders and non-profits working on black male achievement.
Here are 4 things you can do to help:
Inform local media and bloggers about events and black males in your community for positive media coverage.
Join a giving circle. A giving circle is a form of philanthropy where groups of individuals donate their money or time to a pooled fund, and decide together where to give these away. Studies have shown that giving circle members are more likely than other donors to give to areas less often funded by organized philanthropy, such as to organizations serving ethnic and minority groups. This aspect is important, as an article recently published by

TheRoot.com

cites new research that donors may not be as likely to give to programs serving black youth past elementary age due to negative stereotypes. To learn more about giving circles, visit

www.thecommunityinvestment.org

and register for a free webinar on March 27th

here

.
Use your expertise and talent to volunteer at a program serving black men and boys.
Support projects such as

Question Bridge

, an interactive, transmedia art project that seeks to represent and redefine Black male identity in America. Now currently showing at the Brooklyn Museum until June 3, 2012 and the Oakland Museum of California through July 8, 2012.
I look forward to your feedback about the series. Send your suggestions and story ideas to info[at]blackgivesback[dot]com.
Photo credit: Flickr/Creative Soul Photo