NEW YORK - On Thursday, March 1, 2012, a star-studded crowd of 1,500 of New York's elite joined UNCF (United Negro College Fund) at the Marriott Marquis in New York City, for an evening of inspiration and entertainment to celebrate "Game Changers" in education. The gala raised $3.7 million to support scholarships and programs that reach more than 60,000 students at over 900 colleges and universities across the country each year.
Actor and comedian Bill Bellamy emceed the evening, Grammy nominated singer Ledisi performed, and the world-renowned Tuskegee University Golden Voices Choir performed fitting musical selections that stirred the crowd, opening with beautiful renditions of The Star Spangled Banner and Lift Ev'ry Voice and Sing. Ledisi graced the stage with "It's a Wonderful World," followed by her motivational song "All Right" from her first Grammy-nominated album, "Lost and Found." Among the guests included Essence Magazine Editor-in-Chief Constance White, Reverend Al Sharpton, Socialite Bevy Smith, Extra! Correspondent AJ Calloway, Editor and Journalist Susan Taylor, CEO and President of Foot Locker Ken Hicks, Executive Director of the Shawn Carter Foundation Dania Diaz and author Demetria Lucas. The room was decorated in UNCF colors of orange, purple and blues. Guests dined on pumpkin soup and salad for the starter, Halibut with mushroom risotto and asparagus for the main course and a decadent dessert platter of chocolates, mousses and nugget. Pictured is host Bill Bellamy with gala honoree Justin Tuck.
Lowe's Charitable and Educational Foundation (LCEF) and ExxonMobil helped UNCF exceed its fundraising goal and raise $1 million more than last year's inaugural "A Mind Is" Gala. The money earmarked for CESA (Campaign for Emergency Student Aid), will provide emergency education assistance to college juniors and seniors impacted by the changing economy and challenges they face with college expenses that must be paid before they can graduate.
ExxonMobil, who began contributing to CESA three years ago with an initial contribution of $1 million dollars, announced a $500,000 matching grant. LCEF announced an additional $1 million contribution to CESA, which brings their giving total to $1.75 million.
In a moving tribute to the legacy of Shirley Chisholm, UNCF president and CEO Dr. Michael Lomax presented the inaugural UNCF Shirley Chisholm Community Service Award for Innovation in Education to students he called, "the civil rights education activists of our generation. They are gifted, they are driven, and they are committed to succeeding where the education system has failed." Award recipients were corps members of Teach For America who attended UNCF member institutions. They were joined on stage by Wendy Kopp, CEO and Founder of Teach For America who also applauded their commitment to ensuring students in disadvantaged areas have a chance at receiving the education they need to prepare them for the future.
Wendy Kopp, CEO and Founder of Teach For America
Two-time Super Bowl champion Justin Tuck and his wife Lauran were also honored with the UNCF President's Award for literacy work through their Tuck's R.U.S.H (Read, Understand, Succeed, Hope) for Literacy Foundation.
The New York City crowd knew very well about the work Justin has done on the football field. "If you watched the Super Bowl this year, you saw that Justin had two key sacks that turned that game around," said Dr. Lomax. "This is a man who changes games! But what you may not know is that behind each one of those sacks is his Foundation's matching funds initiative. To date, and with accompanying donations, R.U.S.H for Literacy has raised over $370,000 through this effort! This is the kind of philanthropist that turns accomplishment and charity into active solutions."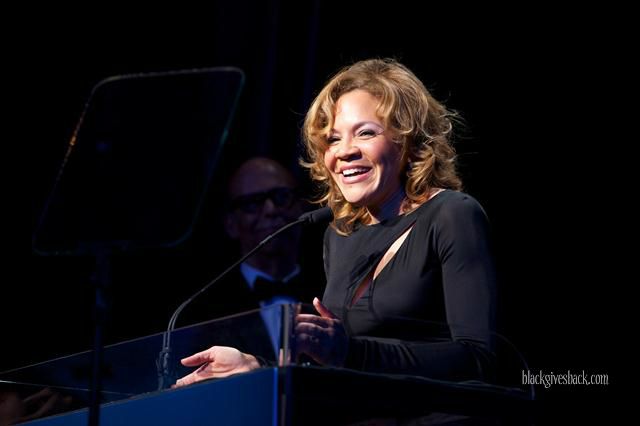 Tamara L. Harris, UNCF "A Mind Is" Gala Chair urged the crowd to be game-changers, sharing, "Speak to everyone in your world about this important cause to change the game for the students who need it the most." Harris is Vice-Chair of the UNCF Board and Chairwoman of the Development Committee, and President of the Tamara L. Harris Foundation. An instrumental force who helped to raise the $3.7 million donated to UNCF, Harris will be profiled in an upcoming Insider feature on BlackGivesBack.
To help a UNCF student stay in school, visit
http://www.uncf.org/
and click on the Campaign for Emergency Student Aid icon.
Source: Press release/Photo credit: Earl Gibson III