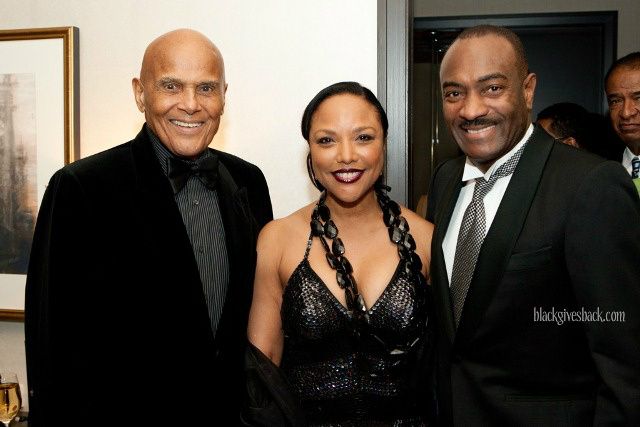 Honoree Harry Belafonte, actress and honorary chair Lynn Whitfield, and philanthropist Reggie Van Lee attend the Dance Theatre of Harlem's 2012 Vision Gala on February 28, 2012 in New York.
NEW YORK - The Dance Theatre of Harlem (DTH) held its Vision 2012 Gala honoring actor/social activist Harry Belafonte on February 28th at the Mandarin Hotel in New York City. The Vision Gala raised $390,000 and the proceeds will benefit the Next Generation Fund and the Community Engagement Fund. "It was a magical evening. We showcased the talented, hard-working young dancers that we've been nurturing at the Dance Theatre Harlem and paid tribute to the iconic trailblazer, Harry Belafonte," says Virginia Johnson, Artistic Director. "It was also the perfect opportunity to celebrate the return of the world-renowned Dance Theatre of Harlem Company by debuting two of the dancers who will be an important part of our future."
More than 250 corporate sponsors, supporters, friends, alumni and members of the board attended the event, including renowned opera singer and board member Jessye Norman, actor Delroy Lindo, Tonya Lewis Lee, DTH co-founder and artistic director emeritus Arthur Mitchell, Chairman of the Board Kendrick Ashton, Jr., Gala Committee Chair Leslie Wims Morris, Gala Committee members, Smokey Fontaine of Interactive One, Alpha Mom's Isabel Kallman, Olivia Scott Perkins of Carol's Daughter, Anne E. Robinson, and Asha Richards. DTH Vice Chairman of the Board Michael Armstrong, along with board members Zandra Perry Ogbomo, Trey Muldrow, Don M. Tellock, and Jai Jai Ramsey Greenfield were on hand to fete Mr. Belafonte and his extraordinary life of art and service.
CNN Starting Point's Soledad O'Brien served as the special guest host and actress Lynn Whitfield, who offered a charming story about her mother's sentiments about the "gorgeous" Harry Belafonte, served as honorary chair.
Leslie Wims Morris, Dance Theatre of Harlem Board Member and Gala Committee Chair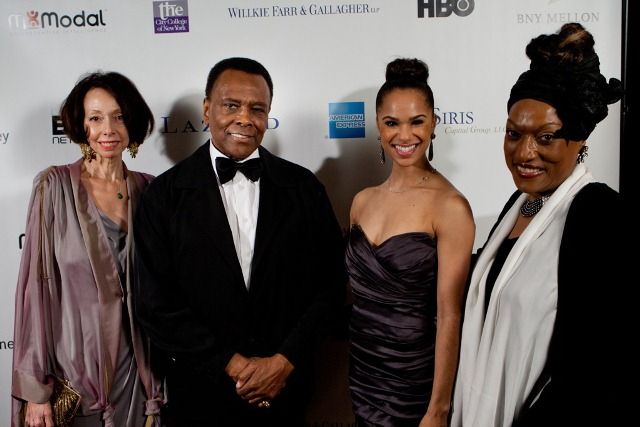 Guest; Arthur Mitchell, DTH co-founder and artistic director emeritus; Misty Copeland, American Ballet Theatre soloist; Jessye Norman, DTH Board Member
Valentino Carlotti, Partner at Goldman Sachs, a platnium sponsor for the gala; Leslie Wims Morris; and Dr. Warner Wims
Delroy Lindo, Soledad O'Brien and Harry Belafonte
Meshea Ashton and Kendrick Ashton, Chairman of the Dance Theatre of Harlem Board
Lynn Whitfield with Darren Walker, a vice president at the Ford Foundation and Jessye Norman
Virginia Johnson, Dance Theatre of Harlem Artistic Director and Harry Belafonte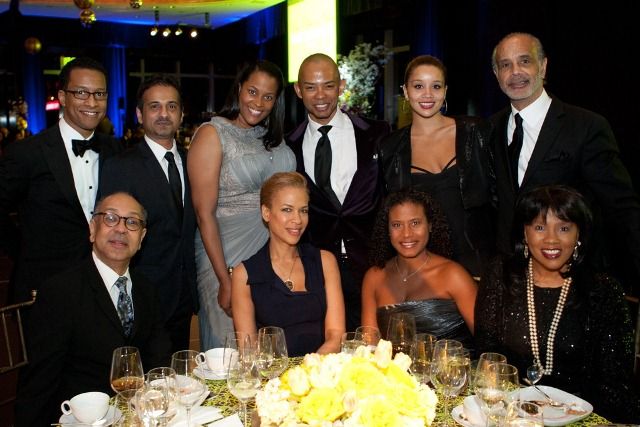 Newly announced Dance Theatre of Harlem Performance Company Members Ashley Murphy and DaVon Doane
Dance Theatre of Harlem School Performance
The Vision Gala's platinum sponsors were BET Networks; The Reginald F. Lewis Foundation; Siris Capital Group, LLC; Valentino D. Carlotti/Goldman Sachs & Co; and Morgan Stanley Smith Barney. "We are thrilled and very grateful for the wonderful support shown by so many corporations and individuals," remarked Laveen Naidu, Executive Director of Dance Theatre of Harlem. "This gala marks an important turning point and will have a lasting impact on our programs and the institution as a whole."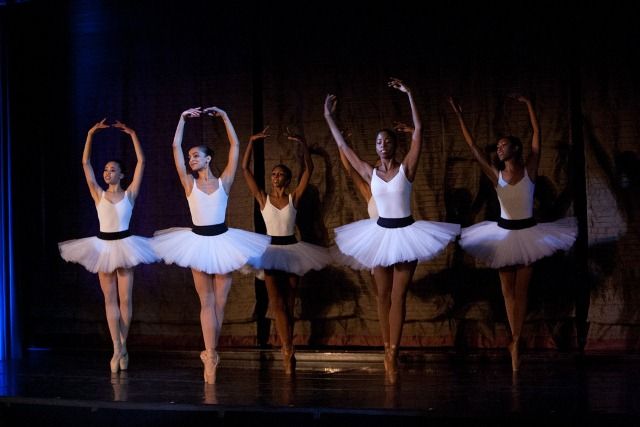 Dance Theatre of Harlem Ensemble Performance
ABOUT DANCE THEATRE OF HARLEM
Now under the leadership of Artistic Director Virginia Johnson and Executive Director Laveen Naidu, Dance Theatre was founded in 1969 by Arthur Mitchell and Karel Shook. Dance Theatre of Harlem is a leading dance institution of unparalleled global acclaim encompassing performance, training in ballet and the allied arts and arts education and outreach. Each component of Dance Theatre of Harlem carries a solid commitment to enriching the lives of young people and adults around the world through the arts.
Dance Theatre of Harlem has achieved unprecedented success, bringing innovative and bold new forms of artistic expression to audiences in New York City, across the country and around the world. Serving as cultural ambassadors and representatives of the people of the United States they have participated in high profile tours abroad, notably to the former USSR in 1988, South Africa after the fall of Apartheid in 1992; and to China in 2000 following the signing of the 2000 US-China trade treaty. The DTH School and its arts education and outreach programs serve over 25,000 students and educators each year. Over 65% of students study on scholarship or tuition assistance at the school with an overwhelming number singling out their DTH experience as among the most important in their lives. In 2008, the Dance Theatre of Harlem Ensemble, a 14-member touring group, was commissioned to carry the DTH legacy to wider American audiences and have impacted over 70,000 audience members since.
Dance Theatre of Harlem is located at 466 West 152nd Street in a landmark district in Harlem. The organization's award winning building houses four dance studios, administrative offices, library and archives, gift shop and a physical therapy facility. Visit the website at
http://www.dancetheatreofharlem.org/
.
Source: Press release/Photo credit: Brokaw Photography