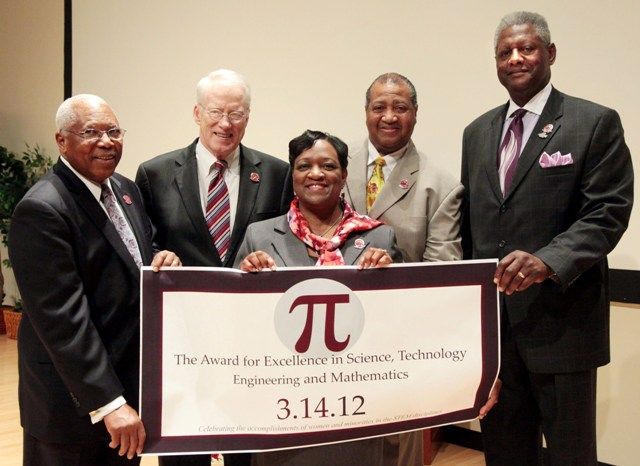 Dr. Mortimer Neufville, USM Chancellor William Kirwan, Dr. Juliette B. Bell, alumni president Paul Trotter Sr. and UMES Board of Visitors chairman Jesse Williams are all smiles after an endowed fund in Bell's honor was announced during her first visit to campus March 14 - also known as "Pi" Day.
Alumni of the University of Maryland Eastern Shore (UMES) recently welcomed their next president, Juliette B. Bell, a renowned biochemist, with a special surprise. Via UMES:
PRINCESS ANNE, MD - (March 14, 2012) University of Maryland Eastern Shore alumni welcomed the institution's next president, Juliette B. Bell, to campus today with a surprise announcement that they are underwriting a special award in her honor to support a deserving math or science student. The disclosure came at the conclusion of an introductory event at the Student Services Center Theater to welcome Bell, who assumes the UMES presidency July 1.
In less than a week's time, the National Alumni Association and individual alumni donated $6,500 toward a $10,000 goal of creating an endowment to launch the Award for Excellence in Science, Technology, Engineering and Mathematics – known collectively as the "STEM" disciplines.
Plans call for the recipient to be a rising junior or senior "who excels in one of the STEM areas … and also demonstrates an aptitude in scientific research and a commitment to advancing the number of minorities and women pursuing careers in (those academic) disciplines," according to UMES Alumni Affairs Director Kimberly Dumpson.
Dumpson said she's hopeful the first award will be presented to a student to use during the 2013-2014 academic year.
The gesture clearly touched Bell, a biochemist known in higher education circles as a leading advocate to recruit students to be the next generation of scientists, engineers and mathematicians.
"I'm truly grateful for this awesome opportunity," Bell said. "God is good. I'm truly honored and humbled. This is an opportunity I will not take for granted."
Bell paid tribute to her late parents, whom she said emphasized the importance of education and instilled a work ethic that has served her well throughout her career in higher education. She also paid tribute to the job done by former President Thelma B. Thompson in making UMES what she described as "a jewel." Read more
here
.
Related post:
UMES Hosts "Hollywood on the Shore" 2011 Gala
Source and photo credit: Office of Public Relations/UMES