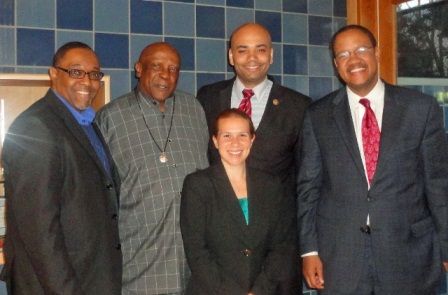 LOS ANGELES, CA – On Friday, March 2, the White House participated in an event honoring ten Los Angeles individuals and organizations for their dedication and positive presence in their families and communities. The Fatherhood Heroes roundtable was part of a series of local fatherhood events across the country, spearheaded by the President's Fatherhood and Mentoring Initiative. Michael Strautmanis, Deputy Assistant to the President and Counselor for Strategic Engagement to the Senior Advisor, participated in the event at the Challengers Boys and Girls Club along with Oscar winner Lou Gossett, Jr. and others.
"As a father myself, it was important for me to join with so many inspiring individuals and to talk about the great opportunities and challenges confronting dads. We know how integral fathers are to the success of their children, and we also know the great value active and caring fathers bring to their community and this nation. This event was a great opportunity to lift up the importance of fathers," Michael Strautmanis said.
"It is important for us to celebrate and emulate the unsung heroes, the fathers, who do the right things for their families and themselves," said Oscar winning actor Lou Gossett, Jr. Michael Strautmanis and Lou Gossett, Jr. praised the innovative programs of faith and community-based organizations in Los Angeles that are helping fathers to be actively engaged in the lives of their children. Roundtable participants discussed how the support of family and mentors had made them better fathers, even if their own fathers had not been present in their lives. The wives, kids, fathers, and mentors of those being recognized were in the room to reinforce the true value of that support.
After the event, groups discussed ways to connect their efforts in order to strengthen responsible fatherhood programming in Los Angeles.
The President's Fatherhood and Mentoring Initiative is a national effort to address responsible fatherhood and healthy families in America through partnerships with family-serving groups and mentorship groups around the country. The initiative serves as a call to action for cities and states, with individuals and organizations, across the country to raise awareness about responsible fatherhood and work to re-engage absent fathers with their families. For more info visit
www.fatherhood.gov
.
In photo: Kenneth Braswell (Director, National Responsible Fatherhood Clearinghouse); actor Lou Gossett Jr., Eugene Schneeberg and Deborah List (Center for Faith-based & Neighborhood Partnerships; U.S. Department of Justice), and Michael Strautmanis, (Deputy Assistant to the President and Counselor to the Senior Advisor for Strategic Engagement, The White House) attend the Fatherhood Roundtable Event hosted by the Challengers Boys and Girls Club in Los Angeles.