Loida N. Lewis, Chairwoman & CEO, TLC Beatrice and Chair of the Reginald F. Lewis Foundation Awarded $100,000 in Scholarships
NEW YORK ─ Philip Banks, Jr., President of One Hundred Black Men, Inc. of New York, welcomed 600 guests to the New York Hilton Grand Ballroom on March 1st to honor some of the country's most dynamic civic and business leaders at the organization's 32nd Annual Benefit Gala, themed "A Commitment to Excellence." Pictured is Banks along with Loida N. Lewis, Chairwoman & CEO, TLC Beatrice, LLC and former NYC Mayor David N. Dinkins, an honorary board member for 100 Black Men of New York.
Among the esteemed guests in attendance were former Deputy Secretary of State Clifton Wharton, Jr.; former NYC Comptroller William Thompson and incumbent Comptroller Hon. John Liu; New York State Senator Kevin Parker; CBS This Morning co-anchor Gayle King, actor Blair Underwood, NYS NAACP Conference Chair Hazel Dukes, New York State Senator Ruth Hassell-Thompson, New York State Senator Malcolm Smith, New York State Senator Andrea Stewart-Cousins, Chancellor of The City University of New York Matthew Goldstein and CUNY Senior Vice Chancellor and Secretary of the Board of Trustees Jay Hershenson; along with hundreds more.
Emmy award-winning co-anchor of My9 TV's The 10 O'Clock News Brenda Blackmon, Fox 5's meteorologist Mike Woods and Reverend Jacques Andre DeGraff, 2nd Vice President of One Hundred Black Men, Inc. of New York served as co-emcees of the fundraiser which saluted:
Cheryl McKissack Daniel
, President & CEO, McKissack & McKissack, with the Trailblazer Award
Roger W. Ferguson, Jr
., President & CEO, TIAA-CREF with the Global Economic Achievement Award
Michelle Y. Lee
, EVP, Northeast Region President, Community Banking, Wells Fargo with the Corporate Achievement Award
Mike Muse
, CEO, Muse Recordings with the Artistic Achievement Award
Dennis Walcott
, Chancellor, New York City Department of Education with the Educational Champion Award
Jessie Wooten
, honored as Mentor of the Year
Loida N. Lewis attended the gala as a special guest and awarded $100,000 in scholarships to five 17-year-old students selected from the Junior One Hundred Program, a new 12-week leadership and life skills development program which also provides opportunities to earn college scholarships. The students who submitted winning business plans were Julio Trujillo of Benjamin N. Cardozo High School; Ramel McIntosh of Queens Preparatory High School; Kwasi Atiba of Bedford Academy; Akil Hollington of the Eagle Academy and Nicholas Legare also from Benjamin N. Cardozo High School. Each student won $20,000.
"I congratulate the 32nd Anniversary Gala Honorees who have each demonstrated the commitment to excellence that we embrace as a theme for our community and for ourselves," said Mr. Banks. "A commitment to excellence is a pledge and a promise to live our lives in an outstanding fashion, to be eminently good, to be superior in the daily tasks we assume and to continue in the journey of service to our communities, our families and our children. Each of them has lived that commitment to excellence." Mr. Banks added.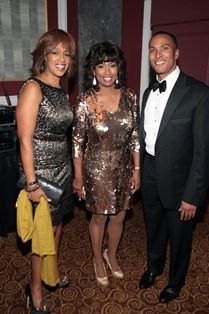 Blair Underwood, patron sponsors Sylvia and Byron Lewis; Gayle King, Brenda Blackmon and Mike Woods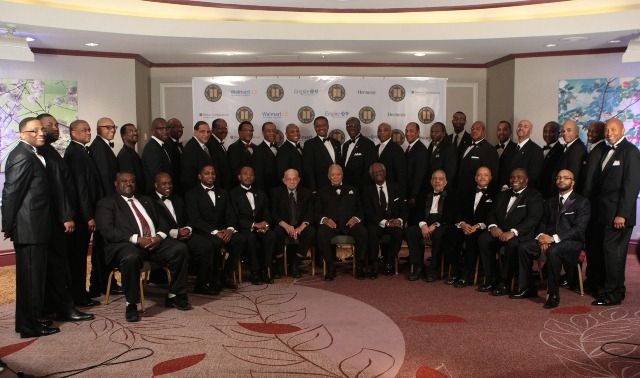 One Hundred Black Men, Inc. of New York City
The Gala Committee was co-chaired by Michael J. Garner and Hilton O. Smith. Gala Committee members were Philip Banks, Jr., Will Brown, Jr., Curtiss Jacobs, Tyrone McKinney, Fitzgerald Miller, Sadiq Murray, Mark Smith, and Myron Williams.
Diamond sponsors for the gala were Empire Blue Cross Blue Shield, News Corporation and Walmart.
For more information about 100 Black Men NY, Inc., or to support the programs of the organization, visit
http://www.ohbm.org/
or call 212-777-7070.