By Akira Barclay
BlackGivesBack NY Contributor
NEW YORK, NY - Greater New York Chapter, The Links, Incorporated, presented its 62nd Annual Women of Distinction Spirit Awards Luncheon, on Saturday, April 7, 2012 at the scenic Pier Sixty at Chelsea Piers in New York City.
The event was attended by 1,000 stylish New Yorkers to honor community servant superstars Tanya Leah Lombard, Vice President, Public Affairs, AT&T and Constance C.R. White, Editor-in-Chief, Essence Magazine. Chapter President Gerri Warren-Merrick led the charge presiding over an outstanding event that raised awareness of domestic violence. Proceeds will be used to develop and sustain transformational programs that help address the needs of those impacted by the issue. Honoree Tanya Leah Lombard referred to her honor as a "selfless platform," saying it was not about her, but about the work that all the women in the room do in the Black community especially in these trying times.
Generous sponsors included AT&T, ING, Essence Communications and Macy's. Communications support of the event was graciously donated by Helen Shelton, Senior Partner of global consultancy, Finn Partners, Inc. Featured at this year's Spirit Awards Luncheon was ZED Sparkling Moscato Rosé, making its national debut "Live from The ZED Carpet" in honor of the occasion. From the blushing pink color and exotic perfume of rosewater to the brightness of fresh-picked grapes from the vine, ZED is an enticing and lingering experience that tantalized Luncheon guests with a feisty effervescence.
The event closed with a fabulous fashion show with veteran beauty journalist and editor Tai Beauchamp as emcee. The latest collections from acclaimed designers Barbara Bates, Bates Designs, Edward Wilkerson, Lafayette 148 New York and b. michael AMERICA RED Collection Ready To Wear brought down the house eliciting cheers, snaps and dancing from the crowd. Spotted among the elegant audience: Cicely Tyson, b. Michael, Mark Anthony Edwards, Rev. Al Sharpton, Gate Maya Haile, PR and Brand Strategist Marvett Britto, Recording Artist Estelle, Erica Liles, Visionary Nonprofit Leader, Cheryl Pemberton, Karen A. Phillips, Phillips Davis Legacy Consultants, Uptown Magazine's Jocelyn Taylor and former First Lady of New York State, Michelle Paterson.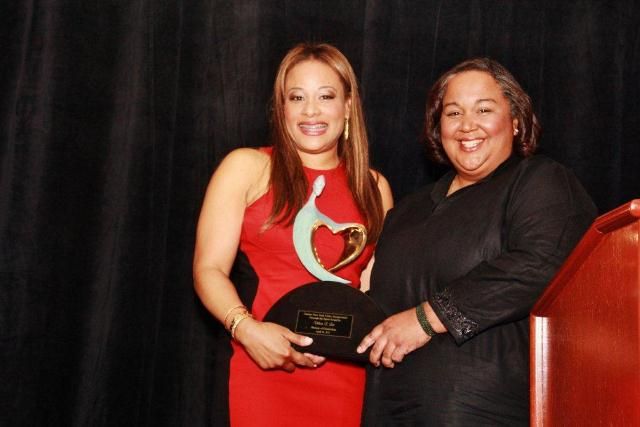 Greater NY Link and Luncheon Co-Chair Mignon Espy-Edwards and Honoree Tanya Leah Lombard
"I am so pleased to announce that the 62nd Annual Women of Distinction Spirit Awards Luncheon was an unprecedented success," says
Gerri Warren-Merrick
, president, Greater New York Chapter, The Links, Incorporated. "More than 1,000 distinguished guests were in attendance, all showing their support and helping us shine a spotlight on a critical issue in our society – domestic violence. Our honorees embody the character, vision, humanity and humility that are an inspiration as well as a great service to us all. In addition, our fashion show this year was one of the most exciting and dynamic yet, featuring the work of three of the most influential designers on the scene today. We appreciate the support of our sponsors and our guests who have helped us further the mission of our organization as we continue to serve and highlight our community."
About The Links, Incorporated
Established in 1946, The Links, Incorporated, is one of the nation's oldest and largest volunteer service organizations of women who, linked in friendship, are committed to enriching, sustaining and ensuring the culture and economic survival of African-Americans and persons of African descent. The Links, Incorporated is a not-for-profit organization, which consists of nearly 12,000 professional women of color in 272 chapters located in 42 states, the District of Columbia and the Bahamas. Visit the website at http://www.linksinc.org/.
Photo credit: Alex Lipowec