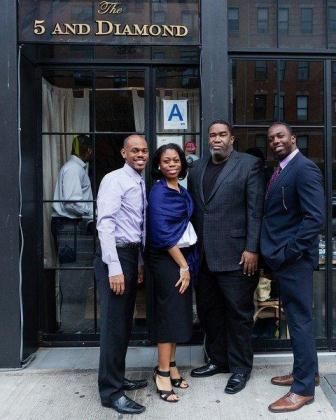 Glimmerglass Opera Company Hosts Festival Season Preview Reception at Harlem's 5 and Diamond
HARLEM, NY - On March 29th, the Glimmerglass Festival's Artistic & General Director Francesca Zambello and Managing Director Linda Jackson hosted a lovely intimate cocktail reception and a sneak preview of the world-renowned opera festival's upcoming season at Harlem's critically acclaimed 5 and Diamond Restaurant. The restaurant's owners Lia Sanfilippo and Selene Martinez were on hand to greet guests at their chic restaurant that has become the haunt of the arts set on New York's new Restaurant Row. Pictured in the photo are Kevin J. Miller, pianist and 2012 Glimmerglass Young Artist; Chrystal Williams, 2012 Glimmerglass Young Artist; Eric Owens of the Metropolitan Opera and Chase Taylor, 2012 Glimmerglass Young Artist.
Linda Jackson, the first African-American woman to head a major opera company, welcomed the guests and spoke passionately of the Glimmerglass Young Artists Program which this year had over 1,000 applicants for 39 slots in the program. She proudly shared that of this group, 15 are African-American and 5 are from South Africa.
Ms. Jackson then introduced Artistic & General Director Francesca Zambello who gave a brief preview of what visitors to the pastoral setting at Glimmerglass would hear this summer and introduced the country's most prominent African American bass-baritone, Metropolitan Opera star Eric Owens.
Owens launched into a powerful rendition of "Infelice!e tuo credevi" from Verdi's Ernani and at Glimmerglass, he will perform the role of Amonasro in Aida in his debut. Following Owens' breathtaking solo, Chrystal Williams, a Glimmerglass 2012 Young Artist performed two numbers: Composer's Aria "Sein wir wieder gut" from Ariadne auf Naxos and "C'est ca la vie, C'est ca l'amour" from Toi C'est Moi , an operetta in two acts by Moise Simons.
Her fellow Young Artist, Chase Taylor took to the stage and thrilled the crowd with "Ch'ella mi creda" from La Fanciulla del West and "This is the Moment" from the musical Jekyll and Hyde.
Owens then closed the performance program with the haunting "Some Enchanted Evening" from South Pacific that brought the crowd to their feet. The four singers were accompanied by 2012 Young Artist pianist Kevin J. Miller.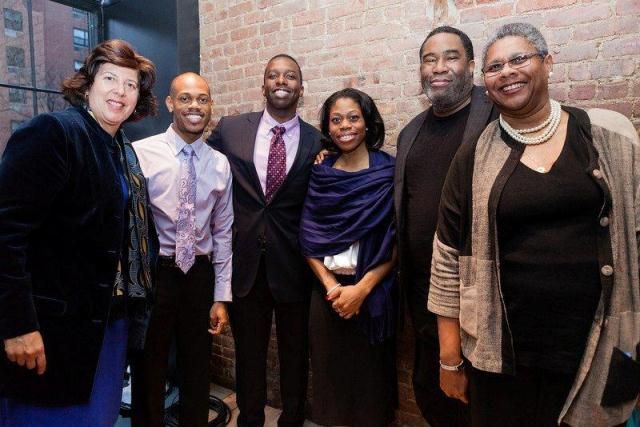 Francesa Zambello, Kevin J. Miller, Chase Taylor, Chrystal Williams, Eric Owens and Linda Jackson
Vevlyn Wright, Diana Zollicoffer, Dawne Marie Grannum, Michelle Ester
Among the guests were Glimmerglass Board President Sherwin M. Goldman and Trustee Martin L. Senzel; composer Jonathan Brielle with his wife Cherie King, founder of The Development Wing; NAACP Award winning playwright & director Kenyetta Lethridge, whose new drama Innocent Flesh is garnering critical acclaim with her producer Diana Zollicoffer; arts patroness Joyce Mullins Jackson and her husband The Honorable Bernard Jackson; The Event Office's producer Scott Perrin; Dawne Marie Grannum; actress Cassandra Seidenfeld; German producer Markus Behrendt and his fiancé Melanie Konegen (the duo tied the knot in Central Park the next day); writers Owen Levy and Vevlyn Wright.
Gl!mmerata, the 2012 Glimmerglass Festival's spring gala will take place on Tuesday, April 10, 2012 at The Metropolitan Club in New York. For more information on the 2012 Glimmerglass Festival mainstage productions, please visit
http://www.glimmerglass.org/
.