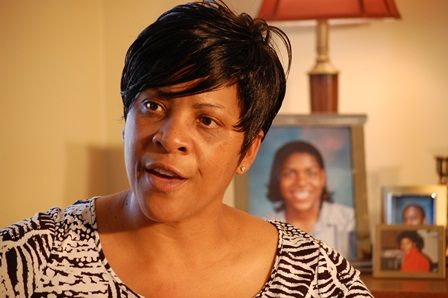 By B. Denise Hawkins
BlackGivesBack Guest Contributor
CENTREVILLE, Va.—This April 16, marked five years since Celeste and Grafton Peterson's only daughter, a freshman, was gunned down while in her French class at Virginia Tech. For Celeste Peterson, the anniversary of her daughter Erin Nicole Peterson's death last week could have been the first.
"Whether we're talking year one or year five, it still feels like yesterday," says Celeste Peterson who also remembers that it's been five years "since I heard her voice or held her hand."
The nation's most deadly shooting spree in 2007—which claimed the lives of her daughter and 32 others, including the shooter—is still too fresh for Celeste Peterson. But on the eve of the fifth anniversary, the Peterson's gathered with friends, neighbors, family, and faith groups who packed the
Mount Olive Baptist Church
to honor Erin with a spirit-filled "Gospel Celebration of Life" on April 15.
"We've been celebrating with a gospel concert because Erin was a Christian. She was what her friends and I called a cool Christian and a realist. It was an easy thing for her to talk about Christ and to tell people that they needed to pray," says Celeste Peterson who doubts that her own courage and faith compared to Erin's when she was her daughter's age. Each year the gospel celebration has grown, including area soloists, guest church choirs from across Northern Virginia, liturgical dancers and mime groups. But for Celeste Peterson, the concert is more than an event. It's a way for the community to learn about her daughter and the work that is going on in her name through the five-year-old
Erin Peterson Fund
, adds Celeste Peterson who manages the non-profit with her husband.
"While some of the victims' families have established scholarships in the name of their loved ones, many can't or haven't had the opportunity that our family has had to share Erin's memory and legacy in this way," says Tracy Littlejohn the Fund's secretary.
Fueled initially with money that flooded in to the family following their daughter's death, the Erin Peterson Fund awards a variety of scholarships to deserving college and high school students in Northern Virginia and across the nation. Nearly $90,000 has been awarded to date. The Fund's Legacy Initiative Scholarship, launched in 2009, honors one of the shooting victims, Littlejohn said. This year's Legacy Initiative Honoree, announced during the gospel concert, was Reema Joseph Samaha. Samaha was Erin Peterson's Westfield High School friend. They lived next door to each other in their Virginia Tech dorm, and on the morning of the shootings, they died together sitting in the same classroom.
While at Virginia Tech, Erin majored in international studies. Celeste Peterson proudly points out Erin's passion for wanting to help people and give back, and to the career her daughter dreamed of in non-profits. A scholar-athlete, Erin, was a 6-foot-1 center for her high school's girls' basketball team, helping lead it to a district championship.
An annual benefit golf tournament on June 14, at Westfields Golf Club in Clifton, VA is the Fund's biggest fundraisers, usually attracting more than 200 golfers, says Celeste Peterson.
"Erin accepted no limitations when it came to helping those in need," Celeste Peterson recalls. "I understand now, how she felt."
Learn more about the fund at
http://www.erinpetersonfund.org/
.
Photo caption: Celeste Peterson now heads the Erin Peterson Fund. A photo of her daughter, Erin, is in the background.
B. Denise Hawkins is a writer and editor based in Northern Virginia.