Northern Virginia Urban League Professionals Network Current Executive Board (2011 – 2012)
Event recognized teachers under the age of 40 in the areas of Science, Technology, Engineering and Math (S.T.E.M)
ALEXANDRIA, VA - On Saturday, March 31st, the Northern Virginia Urban League Young Professionals Network (YPN) hosted its third annual Black Opal gala themed, "Celebrating a New Generation of Leaders Empowering Educators." During the event's VIP reception, YPN honored two Northern Virginia educators.
Olinka Turner
, Special Education math teacher at T.C. Williams High School. Turner is also part of the Special Education Inclusive Strategic Team, whose goal is to ensure that every child with a disability has access to the standard curriculum through a variety of services.
Brandon Edwards
, Physical Science teacher at Francis C. Hammond Middle School. Edwards facilitates an after school program that provides computer and Internet access, and enrichment to "at promise" students.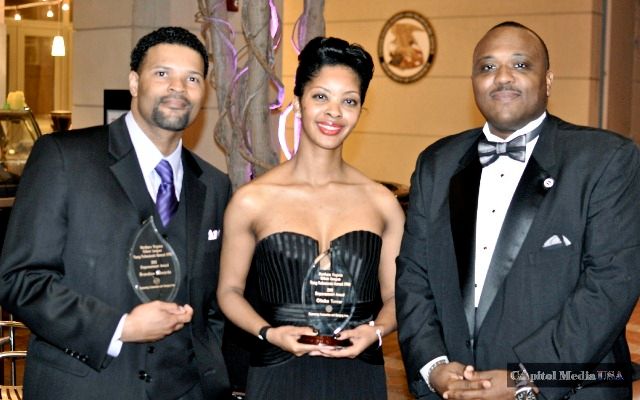 Black Opal 2012 Honorees Brandon Edwards, Olinka Turner and YPN President Gerald S. Padmore Photo credit: Capitol Media USA
Rahshib Thomas, Eastern Region Vice President, National Urban League Young Professionals and Gerald S. Padmore, Northern VA Urban League Young Professionals Network
"Raising money for our community empowerment programs, like our scholarship endowment fund, College Survival 101 (for area high school students) and our annual political forum, is necessary so that we can continue to make a positive impact and do extraordinary work in the community," said Gerald S. Padmore, president of YPN. "What makes this event special is that we also take the opportunity to celebrate other young professionals who are truly making strides in the Northern Virginia community through education."
In a special letter to YPN in honor of Black Opal, Senator Mark Warner stated, "The individuals being honored have reached exemplary heights in the field of education and their commitment to the common good has made a lasting impact on the Northern Virginia community."
This year, Black Opal was held at the US Patent & Trademark Office at 600 Dulany Street in Alexandria, VA. To learn more about Black Opal and YPN programs visit:
http://www.nvulypn.org/
.
Source: Press release