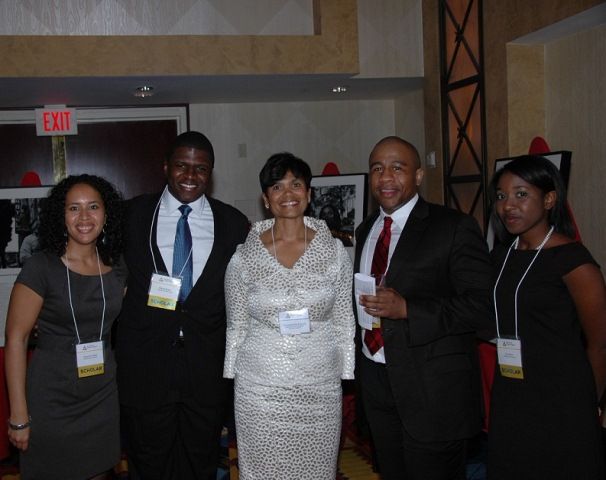 Thaderine MacFarlane (center), philanthropist and Ron Brown Scholar Program Board of Trustees member, with Ron Brown Scholar alumni (L to R): Kani Ketta, Stefun Burns, Diarra Lamar and Dorothy Smith.
WASHINGTON, DC - On March 23, 2012 at the JW Marriott Hotel, the Ron Brown Scholar Program hosted its third annual Ronald H. Brown American Journey Awards Silent Auction and Recognition Dinner. The program, named for the late Secretary of Commerce and inspired by his dedication to public service, celebrated his legacy and recognized key individuals for their efforts to create opportunities to help others to reach their potential and to achieve success. This year's honorees are Dr. Regina M. Benjamin, United States Surgeon General and Anthony M. Pilaro, chairman, CAP Foundation & Founder, Ron Brown Scholar Program. The recognition dinner was hosted by Maria Cardona, principal, Dewey Square Group CNN, MSNBC and Fox Political Commentator and David Mercer, president, Mercer & Associates.
Honoree Dr. Regina M. Benjamin, United States Surgeon General and Michael Mallory, President of the Ron Brown Scholar Fund and Executive Director of the Ron Brown Scholar Program
Dinner highlights included remarks from past Ron Brown Scholars who shared their stories of success and giving back, a touching photo book presentation to honoree Anthony M. Pilaro, and remarks from honoree Dr. Regina Benjamin, who shared with guests to "be a Ron Brown for someone else," and "be good at what you do, for you never know who is watching." Michael Mallory, executive director for the Ron Brown Scholar Program shared, "Like the late Ronald H. Brown, our honorees exemplify the value of "giving back" and each recognizes the value of cultivating community in order to change lives. Both honorees took their jobs and turned them into vehicles to change the world in extraordinary ways. That is why they embody the spirit of the Ron Brown Scholar Program mission and serve as models to which Ron Brown Scholars should aspire."
Prior to her acceptance remarks, Dr. Regina Benjamin shared with BlackGivesBack that receiving this award is special, because she's been with the program since its inception and that she left the Ron Brown Program Board of Trustees to accept her current position as United States Surgeon General. She also shared with us startling findings from her recently released report, Preventing Tobacco Use Among Youth and Young Adults, that everyday, 1,200 people die from smoking and each one of those deaths is being replaced by two young smokers, called replacement smokers. Despite all the work that has been done, she stated that there are 600,000 middle school aged youth who are smokers and 90% of them started before the age of 18.
Near the conclusion of the program, the 18 finalists for the 2012 Ron Brown Scholars class were introduced with a standing ovation. This year, the program received 6,300 applications. Scholars are chosen based on academic excellence in high school, financial need and often overcoming great circumstantial adversity in their lives but also a commitment to help others in society. Upon acceptance, Scholars are each awarded $40,000 ($10,000 per year for four years) that may be used at the college or university of their choice. Graduating Scholars go on to outstanding careers in the arts, sciences and public service, and many more pursue professional degrees in law, medicine and business. The outstanding characteristic of the Scholars is their readiness to keep connected to the Program and each other, a characteristic which makes the Ron Brown Scholar Program unique. The program's goal is to reach their previous number of 20 new Ron Brown scholars annually, as many applicants are turned away. The Ron Brown CAPtains was launched in June 2011 to help accomplish this goal.
Guests at the event enjoyed a special reception and participated in a silent auction hosted by Helping Hands featuring Judith Ripka jewelry, art and sports/entertainment memorabilia.
Among the guests at the dinner included Kenneth and Kathryn Chenault, silver level sponsors and Tracy L. Brown James, daughter of the late Secretary of Commerce. To learn more about the program and honorees, please visit the Ron Brown Scholar Program website at
www.ronbrown.org
.
Photo credit: Stacey Trammel