The Weeksville Visionaries L-R: Michelle Wonsley, Yvette Jackson-Bruckner, Vice-Chairperson, Esther Alix and Bianca Mońa.
By Akira Barclay
BlackGivesBack NY Contributor
BROOKLYN, NY - On March 31, 2012, The Weeksville Visionaries hosted a special tour of Weeksville Heritage Center's Hunterfly Road Houses in Bedford-Stuyvesant Brooklyn. Often described as being "hidden in plain sight," Weeksville is one of the only African American historic sites in the Northeast still on its original property and among the ten most prominent African American cultural organizations in New York City.
Weeksville, a village of free African American laborers, entrepreneurs and professionals was a thriving community during the second half of the 19th century. At its height in 1850, Weeksville had 500 residents and the highest rate of property owners of any free black community in the United States. Over time, the Weeksville community faded as the city of Brooklyn developed. Many of the houses were torn down by the New York City Housing Authority to make way for public housing projects, but a remaining few were protected and restored by a group now known as Weeksville Heritage Center (WHC). The Weeksville Visionaries, a group of young professional Black women, are committed to keeping the legacy of Weeksville alive.
"Very little of domestic Weeksville survives," said Esther Alix speaking on the significance of the site, "so Weeksville Heritage Center is proud to be the steward of the three Hunterfly Road Houses, which date to the original community. I've had a chance now to spend time in these houses and to imagine the families that lived, worked and loved in them. And almost daily, I get to see the faces of the young and old as they walk away from touring the houses, touched, moved and inspired by the historic Weeksville community and all its accomplishments." Weeksville's specialized focus on post-emancipation history also makes WHC a primary resource for insight into an underappreciated chapter in American history.
After the tour of the Hunterfly Road Houses, WHC Executive Director Pamela Green unveiled plans for the Center's new Education and Cultural Arts Building. Set to open to the public in the first quarter of 2013, the impressive 19,000 square foot Gold LEED certified building has been built in partnership with the New York City Council and the Brooklyn Borough President's office at a cost of approximately $37 million to date. Upon its completion, the building will be a significant green addition to the prominent historic site and will allow the organization to quadruple its audience. The addition of the Education and Cultural Arts Building will transform the Weeksville site into a state of the art cultural campus. In addition to historic house tours, WHC will also offer year-round educational, summer arts and culture programming and rich resources in research and the performing and visual arts. Features include:
A research/resource center devoted to African American history with a focus on Weeksville's history;
A dedicated recording studio for telling and preserving oral histories;
Performance space for contemporary theater and dance;
Exhibition space for contemporary visual arts;
Extensive and accessible landscaped open space.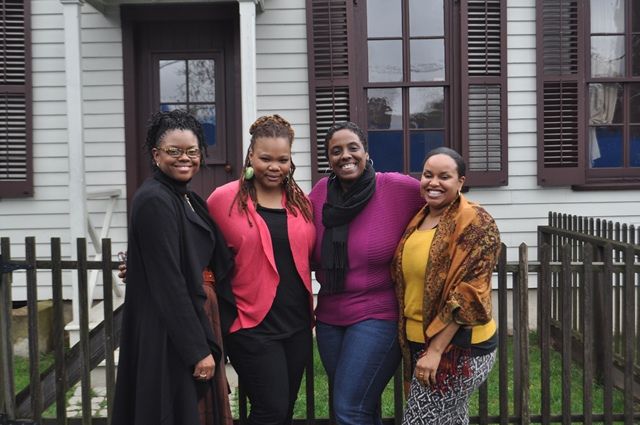 Weeksville Visionaries in front of the historic Hunterfly Road Houses
Now, Weeksville is at a critical juncture seeking $3M in capital funds to finish construction and funds to support programming and operations. The organization has opened a search for a Director of Development to help ensure its future success. You can support this cultural gem by visiting and spreading the word about the Historic Hunterfly Road Houses.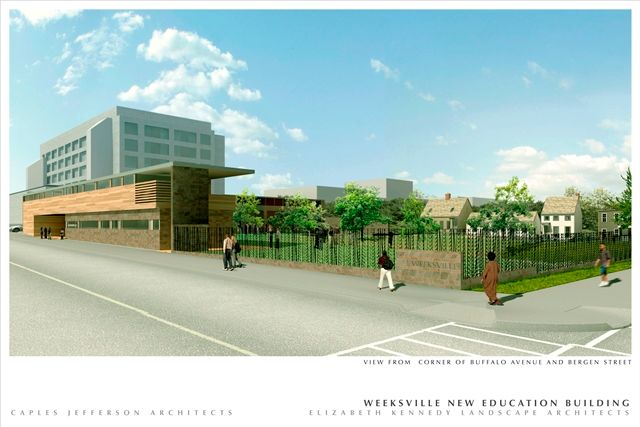 Artist rendering of new Education and Cultural Arts Building
Another easy way to support is to "Like" Weeksville on Facebook by visiting:
http://www.facebook.com/weeksville
. A generous donor will give $1 for every new like the organization receives.
Photos by Akira Barclay