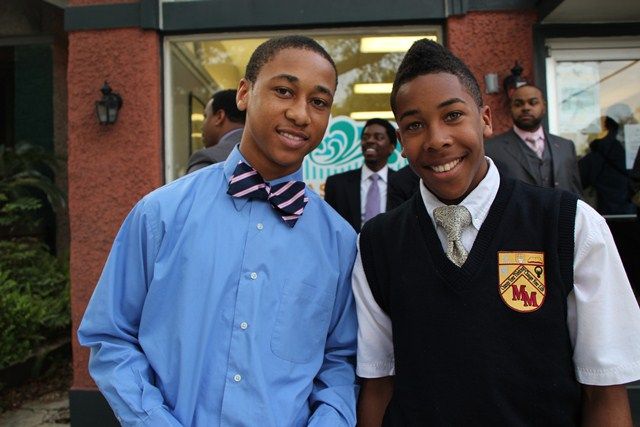 Mentees participate in a tie-tying ceremony at Chill's Barbershop in New Orleans, the subject of the award winning documentary film "Close Ties: Tying on a New Tradition."

Rites of passage ceremony connects teenage boys with male role models
In an effort to combat low academic performance among black male teens in New Orleans, two men joined forces to create a unique mentoring project. Dr. Andre Perry, Associate Director for Educational Initiatives at Loyola University, and Wilbert "Chill" Wilson, owner of Chill's Barbershop, brought together local men from the community and black male teens to participate in a tie-tying ceremony. The aim of the project is to bring a rites of passage ceremony to the community that encourages self-actualization, college attendance and professionalism among urban males. The ceremony is the subject of the award winning documentary, "Close Ties: Tying on a New Tradition."
Produced and directed by Gemal Woods for
Park Triangle Productions
, the documentary features the boys participating in a tie-tying demonstration, where role models from around the city instruct the youngsters on how to create distinguishing knots with their neckwear. The boys also receive the opportunity to get professional grooming with a haircut, a shoe-shine, and one-on-one mentorship from a male role model in the community. The ceremonies are held in Chill's Barbershop, a place where men from various professions and walks of life come together.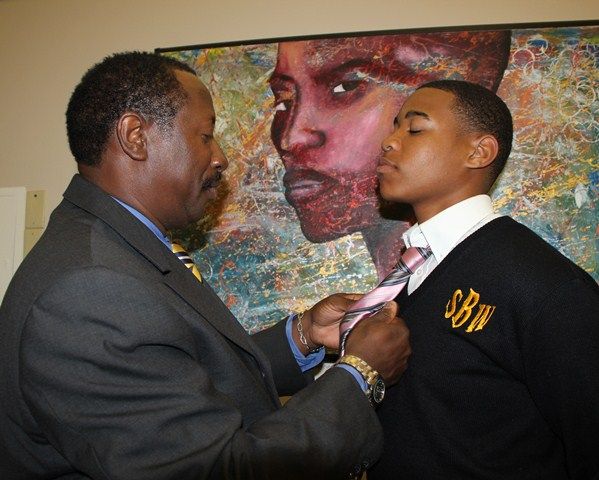 According to Dr. Perry, "Teaching a boy how to tie a tie requires a closeness that is often the missing ingredient in transforming boys to men." It is Perry's and Wilson's hope that the ceremony will strengthen communities struggling with crime, poverty and alarming high school drop out rates.
To learn more about the documentary and view the trailer, visit the website at
www.closetiesdoc.com
. And check out this cool instructional video created in partnership with Close Ties, "
How to Tie a Tie
." Learn how to tie three popular knots: the Half Windsor, 4-In-Hand and a Bow Tie. Created by Gemal Woods of Park Triangle productions, the video is part of the company's eclectic docuseries "The Angle."
Thanks to reader Staci for the story tip! Have a story to share for the
Black Men and Boys Series
? Let us know! Email info[at]blackgivesback[dot]com.
Photo credit: Park Triangle Productions