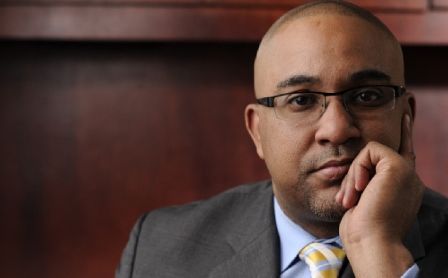 In 1999, David C. Miller and LaMarr Darnell Shields, two African American male educators, became concerned about the plight of urban youth after experiencing the loss of several students to senseless violence. In response, they created the Urban Leadership Institute (ULI); a Baltimore based social enterprise that develops positive youth development strategies for educators, corporations, community groups and nonprofit entities to reduce unhealthy decisions among youth. Our latest Insider, David C. Miller, co-founder and Chief Visionary Officer of ULI, has built a national reputation as a leader to improve the lives of children, youth and families and is a highly sought-after lecturer. His work with parents and parent groups has been widely recognized as well. In 2009, Miller launched 'Raising Him Alone,' an advocacy campaign that supports single mothers and grandmothers who are raising boys; and in 2010, launched 'Changing Father,' a movement designed to redefine the images of fathers of color. Now, he adds the title of author to his growing list of accomplishments.
David has written
Khalil's Way
, a funny, yet serious story about an 11 year-old boy growing up in tough community. Khalil's challenges include being raised by his mom, growing up without a meaningful relationship with his dad and confronting the school bully – "land mines" many young boys must navigate. Published by ULI,
Khalil's Way
helps youth navigate the tough days they will face in school, on the playground and even sometimes at home. The book engages young readers with a gritty urban storyline and practical solutions on confronting negative peers.
Illustrated by award winning artist Jerry Craft,
Khalil's Way
is ideal for teen and preteen readers who are often reluctant to pick up books. The book speaks to a generation of young readers who desperately need support and guidance to deal with life's challenges.
Read on to learn how David's encounter with his childhood bully influenced
Khalil's Way
, and how ULI is supporting single mothers and grandmothers raising sons.
What inspired you to write Khalil's Way? What do you hope readers will take away?
A little over two years ago, I ran into a guy who bullied me and several of my friends growing up in Baltimore. The gentleman was standing on the corner in a heavily drug populated section of the city. With some reservations I jumped out of my truck and confronted my former tormentor. We had an amicable conversation about our childhoods. He seemed to not remember his aggressive antics toward me and my friends. Minutes into the conversation he shared how his life had spiraled out of control.
As I drove home, I contemplated how different our lives had become based on the choices we made. When I got to my office I turned on my PC to check my emails. In my inbox was a story about Carl Walker Hoover, an 11 year old middle school student who had committed suicide as a result of being bullied.
While reading the story I decided that it was time to focus some of my energy and creativity towards a voice for urban youth who have become victims of bullying. Many of the stories we hear on the national news tend to focus on white kids living in rural and urban communities.
Khalil's Way
was written to encourage youth to understand the power of reading as a tool to answer many of life's tough questions.
Khalil's Way
is a book that addresses many of the physical and emotional challenges that adolescent males face.
We want youth to realize that they have the power to choose not to be victims. Standing up for yourself doesn't always mean resorting to violence to solve problems. Khalil shows boys ways to solve conflicts without getting into fights which is an important strategy since too often the world of adolescent males is filled with violence!
Readers will meet Khalil, an 11 year old boy growing up in a tough community in New Orleans. A survivor of Hurricane Katrina, Khalil is gifted in math and chess, he struggles with a variety of issues including ADHD, food allergies and asthma. Khalil's greatest challenge is that he is being bullied by a group of boys at school. Khalil, like many African American males struggles to find his way.
Often many of the books, movies and music that youth listen to focuses heavily on violence, sex and drug use.
Khalil's Way
provides youth with a sense of hope and the feeling of being empowered through being able to tackle his conflict among the school bullies.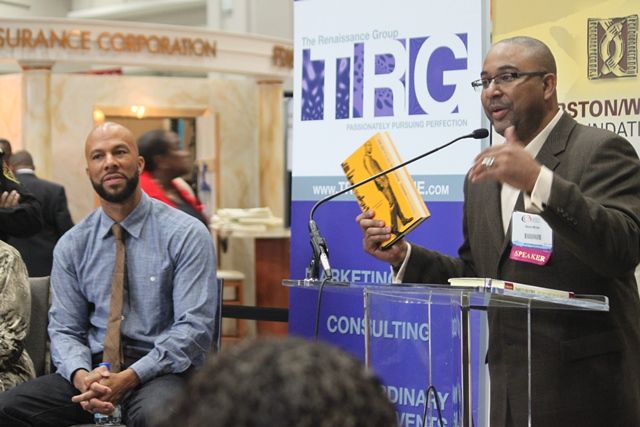 Miller with hip hop artist, actor and author Common at a book discussion.
Please share about your organization's 'Raising Him Alone' Campaign and how it supports single mothers and grandmothers raising sons.
The Raising Him Alone campaign is designed to increase support, referrals and programming for single mothers and grandmothers who are raising a male child. Through a series community forums, workshops, support groups, and technology based platforms, the campaign supports families in four areas: Health & Well Being (Mental Health), Educational Support /Advocacy, Reconnecting Fathers, and Financial Literacy.
The campaign believes that father absence is the most significant social ill that impacts communities. The campaign realizes that reconnecting fathers and families will greatly improve the academic and social outcomes among African American males.
Using social media, e-blasts, community based workshops and gatherings the campaign reaches over 17,000 mothers and grandmothers monthly who are raising a male child. Many times parents are seeking advice, referrals to a mentoring program or attempting to locate mental health providers in their local community.
Additionally we have partnered with groups like
Fathers Incorporated
, a nationally recognized leader in elevating responsible fatherhood; it assists with programming related to reconnecting fathers. According to Kenneth Braswell, director of Fathers Incorporated, "Reaching single mothers and grandmothers who are raising boys is an important strategy to building healthy communities. The sad reality is that we have a significant population of young boys being raised by a single female. Our boys need the benefit of fathers and father figures." Finally, the campaign has received generous support from the
Open Society Foundations- Campaign for Black Male Achievement.
Anything else you'd like to share?
Much of our overall work is based on developing lasting partnerships with organizations across the country that support life-changing work. The death of Trayvon Martin is another reminder of the historical trauma that African Americans face; there is still much work for this society to do to show that it values the lives of African American males.
Nonetheless, African Americans themselves must develop a plan, build life-sustaining institutions and fund institutions to have a serious chance of saving "Black America." One of the greatest challenges we face is the inability to raise money from the Black community to support the health, wellness and vitality of the Black community.
For more information on the Urban Leadership Institute and
Khalil's Way
, visit
www.urbanyouth.org
.