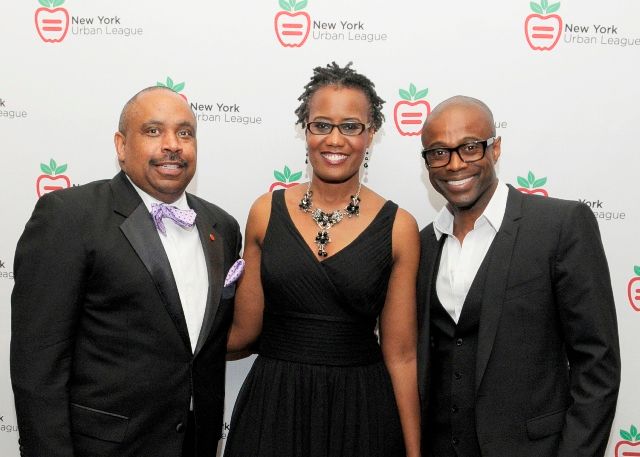 Michael Robinson, Board Chairman, NYUL; Arva R. Rice, President & CEO, NYUL and Honoree KEM
Honoring Charles Blow, Zane Tankel, KEM and Educational Activist Michele Cahill
New York, NY – On Wednesday, May 16, the New York Urban League bestowed its most prestigious awards on New York Times Op-Ed Columnist Charles Blow, Applebee's Apple-Metro Chairman and CEO Zane Tankel, recording artist and philanthropist KEM and educational reformer Michele Cahill at its 47th Annual Frederick Douglass Awards dinner.
Named in honor of the former slave who rose to prominence as one of the nation's most influential abolitionists, the black-tie affair was held at the Mandarin Oriental Hotel in Manhattan. The New York Urban league was joined by prestigious guests including NYPD Chief Philip Banks, III, State Senator Kevin Parker, Howard and Jane Berkowitz, NYC Partnership President Kathy Wylde, CBS-2 Anchor Maurice DuBois and NBC 4 NY Anchor Shiba Russell, author Crystal McCrary and actress Phyllis Yvonne Stickney. The event was hosted by David Ushery of NBC 4 New York and featured a musical performance by the "First Lady of the Flute" Bobbi Humphrey.
"Every year we have a very daunting task of finding a group of individuals who exemplify the heart, the tenacity, the intelligence and courage to stand with someone who prolifically said, 'power concedes nothing without struggle.' We could not be more thrilled than to honor these four incredible people" said NYUL President and CEO Arva R. Rice.
Honoree Charles Blow, New York Times Op-Ed Columnist
Gala Chair, Alicin Williamson; Ann S. Kheel Award Recipient, Michele Cahill; and President & CEO, Arva R. Rice
The New York Urban League chose this year's four honorees to acknowledge their efforts to promote equal opportunity and civil rights. Michele Cahill is Vice President for National Programs and Director of Urban Education at Carnegie Corporation of New York and has dedicated her life to fight for a core tenant of NYUL – education. Zane Tankel, owner of 34 Applebee's in the New York Metro area uses his entrepreneurship to employ thousands of New Yorkers. Charles Blow, New York Times op-ed columnist continues to bring issues to light through his pen highlighting the power of advocacy. R&B/soul singer, songwriter, and producer, KEM whose personal battle to beat the odds while creating healing in music is a poetic tribute to those served every day.
Board chairman Michael Robinson noted the importance of the dinner, "Our goal is to ensure that no child or adult who wants to learn, who wants employment, who seeks economic stability and self sufficiency, will not go without education and training, for the lack of financial resources."
First held in 1965, the NYUL's Frederick Douglass Awards dinner has recognized a wide range of private and public-sector leaders – from Ossie Davis and Ruby Dee to Dr. Betty Shabazz to Russell Simons to Bud Selig – whose contributions have helped break down racial obstacles and promote opportunities for the less fortunate.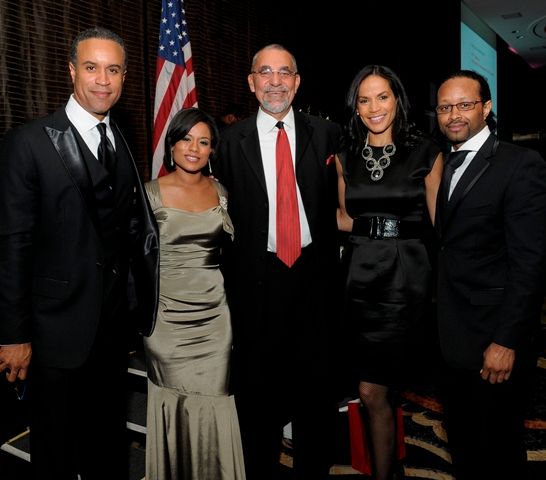 Maurice DuBois, CBS-2 Anchor; Shiba Russell, NBC-4 Anchor; Michael Jack, General Manager, NBC-4 New York; Crystal McCrary Anthony, Author; Kyle Donovan, NV Magazine
About the NYUL
The mission of the New York Urban League (NYUL) is to enable African Americans and other underserved communities to secure a first class education, economic self-reliance and equal respect of their civil rights through programs, services and advocacy. Today, the League directly serves approximately 15,000 residents annually through employment, education and empowerment services. In 2010-11 the League awarded $131,500 in Whitney M. Young Scholarships to 43 scholars as a result of their annual Football Classic held at MetLife Stadium; served over 3,200 students and their parents through academic support and college readiness programs; over 5,000 residents in Harlem were able to access technology and classes at their NYUL Technology Center; financial literacy workshops and online tax prep aided nearly 800 residents in becoming more financially self sufficient; and 650 residents sought job placement and counseling from NYUL employment counselors. The NYUL serves Queens, Staten Island, Brooklyn, Bronx, and Manhattan.
http://www.nyul.org/