A child from

Bright Beginnings

, a school in Washington, DC that offers a bright start for homeless infants, toddlers and preschoolers and their families, paints with classmates. Photo by Leigh Vogel
"If pictures can't tell your story, you most likely won't get the opportunity to tell your story through words. You have seconds to get people's attention, not minutes."
-- Joan Woods, Director of Development and Communications at Bright Beginnings
Over the past five years, I have featured many organizations on BlackGivesBack with the goal of promoting their good work. However, I wish I could feature more. The problem? The majority of photos sent to me I cannot use. Most often they're poor quality, too small, or they don't adequately capture the atmosphere of an event or mission of an organization. Did you know that imagery can help to build your organization's capacity? When used strategically, imagery can help you to attract prospective donors, obtain local and national media exposure and most importantly, tell your story. Let's say your organization doesn't have the funds to hire a professional photographer, or you're seeking to enhance your images? Well, there's a free resource just for you!
Leigh Vogel
, a Washington, DC based photojournalist, has written a great resource on this very topic.
'Communicating Via Imagery'
is an easy to read, 44-page guidebook geared toward nonprofits that has everything you need to get started. Need suggestions on the best type of camera to use? Things to consider when selecting a photographer? How to create a photo database? Best practices for taking event photos? Tips on working with celebrities and the media? This guide will answer these questions and more! Never before has such a resource existed for nonprofits that incorporate these best practices.
Leigh completed the guidebook as a Nonprofit Imagery Fellow at Georgetown University. She found that just 18 percent of the nearly 140 organizations surveyed for the guidebook integrate photography into their planning. I was so excited when I read the guidebook that I contacted Leigh to thank her for putting together such a valuable resource. She shared with me, "As a photographer and former editor in chief and media relations director, I have created and worked with images from several perspectives. I have hired photographers, taken the images, organized the event, submitted to press, and photo edited. As a result, I see unfortunate, missed opportunities for organizations to create, obtain, and utilize imagery strategically." Leigh was gracious to share some of her photos as examples and provides three tips for BlackGivesBack readers! In addition, I'll share my favorite photos and more tips as well.
Leigh's tips for nonprofits to best capture mission and events via imagery:
Tip 1.
Always use a camera that can produce high-resolution images in all settings (e.g. daylight and darker rooms). High-quality images have a better chance of making an edit into a magazine or website. Low-quality imagery has less of an impact on viewers.
Tip 2.
Create a photo database that includes head shots of executive staff, event imagery (preferably with your organization's signage), and images of staff and/or volunteers working toward the mission of your organization.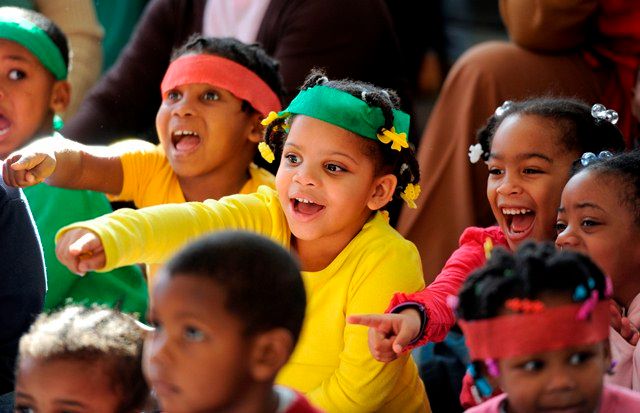 Students from Bright Beginnings watch The Great Zucchini perform. Photo by Leigh Vogel
Tip 3.
Engage your audiences strategically with images that are authentic to your organization. Utilizing your own imagery helps relay your messages more succinctly to your target audiences. Update your website and social media accounts with captioned images that are credited to the photographer. Encourage social media followers to tag themselves, comment, and share the images. (Make sure you have the rights to use images.)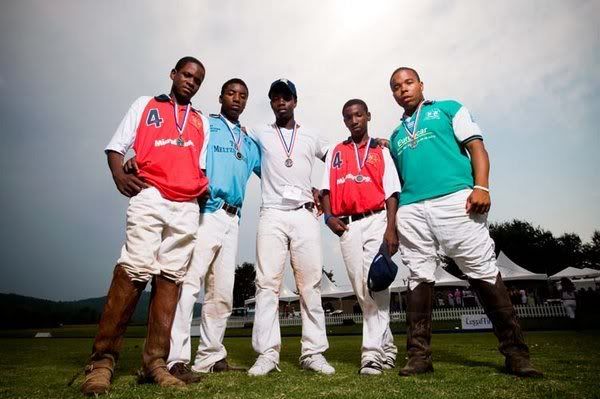 Here's one of my favorite photos from over the years. Joseph Allen of
Joseph Allen Images
in Washington, DC took this photo featuring the young men of the
Work to Ride Program
, an all-black polo team based in Philadelphia. He shared, "The Work To Ride program is a very inspirational story and the young people that participate in it have a very powerful presence. When I was asked to capture an image of the polo players, I really wanted something that made a strong statement. The day that I shot the kids was a very sunny day with some partial clouds. As the day progressed and the players completed their polo match we had a fair amount of overcast.
I wanted to use the environment to enhance the image of the Work To Ride kids standing tall and accomplishing things against certain odds they face in their lives. I decided to take the approach of the kids being rock stars, because, simply they are rock stars. By shooting with the camera almost at ground height, looking up at the kids, in concert with creative lighting in broad daylight I was able to capture the strength and fortitude of these inspirational young people."
Joseph also shares additional tips for event planners and selecting a photographer:
"The value of quality images for conveying the purpose and direction of an organization cannot be overstated. When a nonprofit organization is selecting a photographer for event coverage, an organization should look for someone that has an eye for the action that has created images that really speak to the viewer and make them say, "I really wish I was there" and "that is a great charity." Often, nonprofits do not have a budget for photography, this can sometimes be offset by a photographer having the willingness to donate their time to cover an event. Regardless of the actual investment, an event planner needs to recognize that the images captured by the photographer become artifacts necessary for telling the story about the event as well as the charity. As such, event planners really need to have an appreciation for the value of the work provided by the photographer for generating ongoing interest in an event and charity.
Event planners need to look for a photographer that is capable of delivering both photojournalistic as well as staged group photos. To a certain degree, staged group photos may seem easy, but to get the best photos the photographer needs to know how to best utilize the available ambient light and their flash so that the viewer will get a feel for the actual location, while still making the subjects look their best."
Another one of my favorite photos is this environmental headshot of Mary Brown, Executive Director of
Life Pieces to Masterpieces
in Washington, DC. An environmental headshot is a great alternative to a traditional headshot. Leigh explains: Headshots can be captured in a variety of ways. You can utilize headshots of staff members (and animals!) that your organization represents. They can be utilized in websites and be incorporated into collateral materials. Environmental portraits showcase individuals in a particular setting unique to them. Unlike traditional headshots in which the individual is the sole focus, the backgrounds in environmental portraits are equally important as the person. In the background you can incorporate branding elements such as distinctive colors or details unique to your organization's mission.
Photo courtesy of Life Pieces to Masterpieces
A quote from Leigh's guidebook sums up the importance of using imagery effectively: "Your organization has a story to tell and to show. You may use mission statements, press releases, websites and social media platforms to communicate with your stakeholders, but the strategic use of imagery can showcase your mission in ways that words alone cannot."
To download the 'Communicating Via Imagery' guidebook,
visit here
. And visit the Chronicle of Philanthropy's Moving Pictures blog for more great tips on imagery
here
. I hope these tips have been helpful and I look forward to seeing your photo creations! Please send them to info[at]blackgivesback[dot]com.