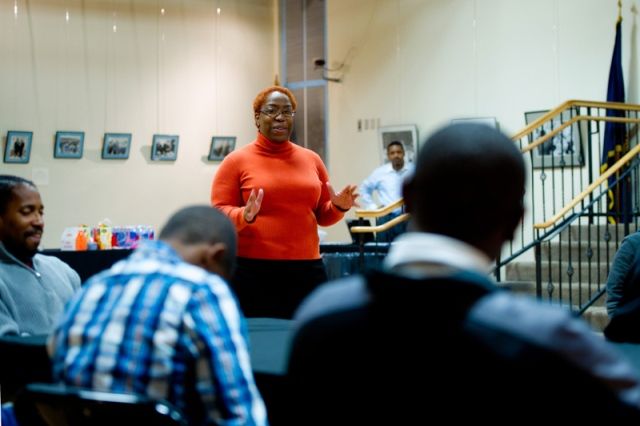 Michele Lawrence, founder of Saving Our Boys

PHILADELPHIA, PA – Meet our latest
Black Men and Boys
Insider, Michele Lawrence, a noted community and business leader who educates and mentors individuals, small businesses and neglected communities on financial literacy and economic empowerment. Her efforts have reached over 5,000 individuals and have won her numerous awards, such as The Network Journal's '25 Most Influential Women in Business' for 2012; a Community Service Citation from Philadelphia Councilman Curtis Jones Jr. in 2011; and recognized as a 'Woman on the Move' by the Philadelphia Tribune. But it was a meeting she attended in her community that turned her focus to black boys. It was there that she learned new prisons were being built based on reading and math test results of 8-year old boys, and she felt compelled to take action.
In August 2011, Lawrence created Saving Our Boys, a nonprofit working to prepare young African American men for success beyond high school through character building, leadership skills development and instilling a sense of social responsibility. Launched on the campus of Cheyney University in conjunction with the Call Me Mister program, the young men are challenged to expand their notions of success, hard work, discipline, manhood, leadership and personal development. They discuss topics such as how to interview; the importance of first, second and third impressions; money management and wealth building; self-expression through artistic endeavors; how the media affects the image we have of ourselves; what problems ail our communities and how we can solve them; and the power of words. After the program's summer session ends, the young men participate in monthly Saturday sessions during the school year.
Saving Our Boys is built on the belief that by cultivating a village and providing the tools and resources that will give African-American boys access to a brighter future, they will realize their full potential. Read on to learn more.
What inspired you to create Saving Our Boys?
Saving Our Boys spawned from a meeting I attended where it was shared 3 new prisons were being built in Erie, PA based on the reading and math test results of 8-year old boys. I sat there perplexed thinking that I misunderstood what was said until I heard it repeated. I sat there and tried to digest the thought that it was being determined our boys would not be graduates, but rather inmates; they would not matriculate, but rather circulate in our court system from one state penitentiary to the next. Filled with an array of emotions that ranged from anger and frustration to hurt and heartbreak, this news resonated with me far beyond the meeting, piercing my soul, which compelled me to take action. And so I did.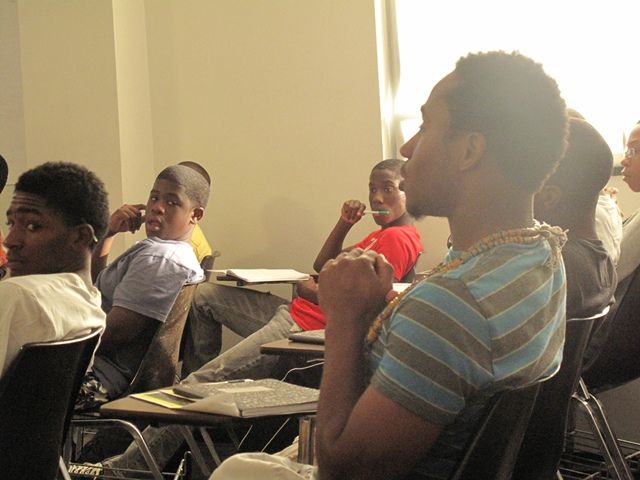 Young men participate in a session.
How is the Saving Our Boys program designed? How long are you connected to these young men and how do you measure impact?
The mission of Saving Our Boys is to prepare young men in grades 5 through 12 for success beyond high school by building character, developing leadership skills and instilling a sense of social responsibility. This is a continuous program with each new cohort being actively mentored by the former, which creates a "my brother's keeper" relationship. In this village we will leverage local resources to build future generations of leaders. Our measurements are as tangible as report cards - with exponential improvement in performance with each marking period - to the intangible of having the young men press their way to the meeting or sharing in session how they've taken something they've learned, applied it, and found that it worked. I've incorporated a few tools to assess the skill sets and strengths of each of the young men to determine a baseline for academics, social skills and life skills. Collaborating with constituents who have evaluated student behavior and establishing measurable outcomes to determine the program's performance level has been impactful.
Share your successes with the program. What have some of the young men accomplished as a result of participating in the program?
We have young men who are refining their writing skills, perfecting their craft and sharing it with their peers and the staff. We have one young man who, after learning about Black Wall Street and how there were barbers in Oklahoma, took what was a hobby and has translated it into a business. He figured that if barbers helped build Black Wall Street, he would build his own legacy by establishing his own business. We have yet another young man who has a talent for writing stories and has written his first book which is getting published independently this year. These are just a few of the great stories I have to tell about our young men who are defying the odds and helping to put an end to the prison pipeline.
What are your thoughts on the state of black men and boys in this country, and how can we all get involved?
Black men in America face a far more dire situation with unemployment and education. Thanks to first class prisons and second class schools, there is a concerted effort to cut off the advancement of black men, with more money being given to keep them imprisoned, than is given to fund the educational institutions in their communities. With an educational system producing young men without the tools necessary to fulfill entry level positions and coupled with a systematic effort that tags black men for incarceration, we continue to produce generations of men who are not only unknowledgeable of law and basic principles, but are also in no position to lead their families. And a vicious cycle continues to be repeated. There exists an increasingly strong need for mentorship in our communities. That's how we help - by having a conversation with these young men, taking them by the hand, and leading them. We talk about these young men; but rarely do we talk to them. Start a conversation. Find out what they stand in need of, and help guide them accordingly.
Visit Michele's website at
http://michelelawrence.biz/
. Thanks to reader Megan for the story tip! Have a story to share for our Black Men and Boys Series? Tell us at info[at]blackgivesback[dot]com.