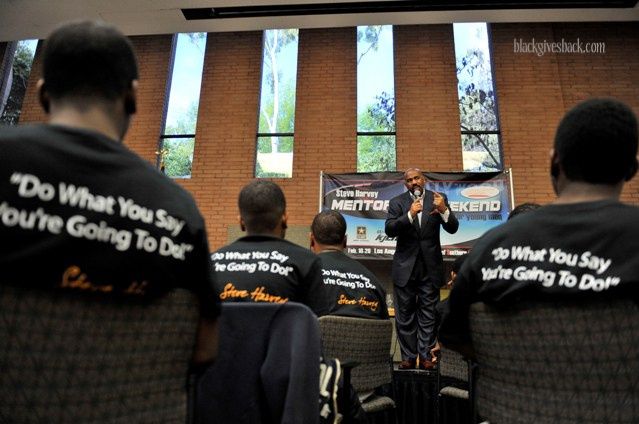 Steve Harvey talks dream building and manhood with young men at the Steve Harvey Mentoring Weekend for Young Men in Los Angeles last year.
Steve Harvey Welcomes Teens & Guest Mentors Nationwide in Dallas for 4-Day, 3-Night Mentoring Experience
DALLAS, TX – From June 14-17, 2012 in Dallas, Family Feud and Think Like A Man's Steve Harvey will host the 4th Annual Steve Harvey Mentoring Weekend for Young Men during Father's Day Weekend. Created by the comedian, best-selling author, philanthropist and radio host to provide a one-of-a-kind, empowering experience for young men who are without fathers, Harvey will welcome over 100 teenage boys from the Dallas-area and around the country for a 4-day, 3-night transformative weekend on his country ranch. Designed to share and teach the principles of manhood and dream building to young men ages 13-18 with an experience not found in any classroom, through a host of workshops, special activities and interaction with a variety of male leaders, the annual Steve Harvey Mentoring Weekend for Young Men has hosted over 300 young men thus far (100 boys per year) in Dallas since Harvey started the program in 2009, and served 400 more young men at regional mentoring weekends across the country.
Welcoming back ten young men from previous years to serve as junior counselors for the boys through the weekend, the Steve Harvey Mentoring Weekend for Young Men includes life-affirming sessions and team-building activities to address common risks young men face on the journey to adulthood, focusing on personal responsibility, dream building, nutrition, physical fitness, and positive leadership to equip them with support and inspiration to realize their potential and build the future they want. In addition to Harvey's guidance, the young men will take part in activities with dynamic business, education, sports and entertainment figures including NFL's Shaun Smith, NBA's Thaddeus Young, Ford Motor Company's Frederick Toney, and more.
Harvey solicits applications for the mentoring program on his syndicated radio show, The Steve Harvey Morning Show, with this year's class chosen from thousands of essay submissions. In Dallas, the young men will be introduced to a variety of mentoring and outside experiences that challenge them to dream bigger and envision their futures as socially, emotionally and physically strong, responsible men. Over four days, the Steve Harvey Mentoring Weekend for Young Men will include the You Can Be Me session on careers, a Do-It-Yourself workshop, Tied to Greatness and Suit challenge, barbershop grooming, Dream Hall, Town Hall with Harvey on the Roles and Responsibilities of Men, a live broadcast of The Steve Harvey Morning Show, fishing, football, basketball, golf and more.
Sponsorship support for the Steve Harvey Mentoring Weekend for Young Men comes from Choice Hotels, Coca-Cola Bottling Company, Essence Magazine, Ford Motor Company, General Mills, The Home Depot, K&G Fashion Superstore, Screen Gems, State Farm, U.S. Army, U.S. Fish and Wildlife Service, and Wellness Interactive. In conjunction with his program's continued expansion, Harvey also plans to host regional Steve Harvey Mentoring Weekends in New Orleans and Chicago later this year.
For information about The Steve Harvey Mentoring Weekend for Young Men and the Girls Who Rule the World Mentoring Weekend, please visit
http://www.smharveyfoundation.org/
.
Source: Press release