Cornelius Maneaux with his two sons, Cornelius Jr., 17 and Jason, 14 are profiled in the new online documentary, "Healing Histories."
"Healing Histories" part of foundation's Racial Healing Initiative
The W.K. Kellogg Foundation has announced the launch of its newest project, "
Healing Histories
," an online interactive documentary that calls on Americans to engage in a dialogue around racial equity and racial healing.
The documentary zeroes in on the Central City neighborhood of New Orleans, where citizens young and old, and black and white, reflect on the legacies of racism and segregation and the impact today on gaining access to adequate health care, education and jobs. Equally important, though, residents share inspirational stories about how neighbors are coming together to improve life for the next generation.
"Healing Histories" takes an innovative approach to storytelling. Unlike most documentaries, it's interactive. Visitors to the site can choose which videos to watch, which interviews to hear and which photographs to view, as if touring a museum and deciding to go down one corridor rather than another. Stories focus on the community's history, homes, neighbors, culture and jobs.
In the years ahead, the ambitious multimedia project will fan out across the country to capture stories about racial issues facing New Mexico, Mississipi and other priority communities the foundation has identified. This story and the racial healing movement it represents is even more important in light of recent news stories such as the Trayvon Martin case and the death of Rodney King.
Among those featured is Carol Bebelle, Executive Director of the Ashe Cultural Arts Center. Bebelle started the Center with a firm belief in the power of combining the intentions of neighborhood and economic development with the awesome creative forces of community, culture and art to revive and reclaim a historically significant corridor in Central City.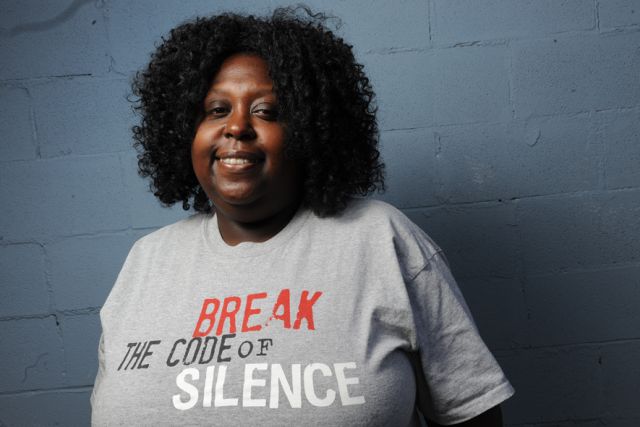 Tamara Jackson is President of SAPC Task Force, a Central City second line band. As a child, Tamara Jackson knew the first time she heard the rich sound of a brass band horn blow that she wanted to be a part of New Orlean's famous second line bands. Now, as president of one of Central City's Second Line bands she works with the community to engage youth in playing, listening, and appreciating music as a means of celebrating their past.
Cornelius Maneaux, pictured in the top photo with his sons, is a life long Central City resident, and a first time home owner in Central City. After buying his home he became more invested in ensuring that his community was safe for his children. With a fellow neighbor, he formed a neighborhood organization and worked with police in order to establish a regular walk to reduce violence on his block. He's a believer that the mentality needs to change so that police and local leaders aren't viewed as the enemy.
Visit the documentary at
www.healinghistories.org
and to learn more about the foundation's Racial Healing Intiative,
visit here
.