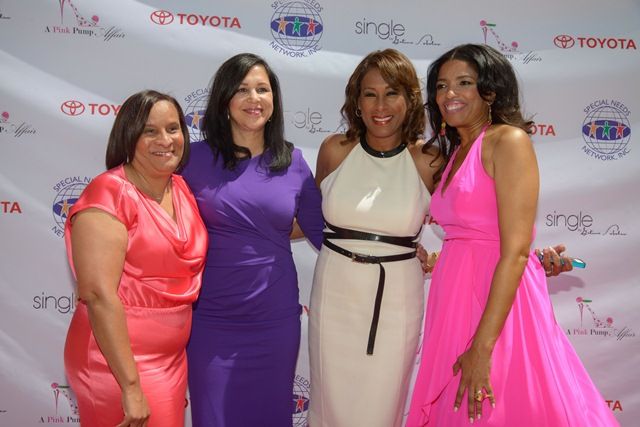 Charisse Bremond-Weaver, President, Brotherhood Crusade; Host Committee Member Delilah Lanoix-Harris; KCBS/KCAL Anchorwoman Pat Harvey and SNN President Areva D. Martin, Esq. attend the 4th Annual "Pink Pump Affair" in Los Angeles.
Event raised awareness for autism research and resources among the underserved and in communities of color
LOS ANGELES, CA - Over 250 of Los Angeles' most influential women dressed in pink pumps attended Special Need Network Inc.'s (SNN) sold-out fourth annual "Pink Pump Affair," at the beautiful Montage Hotel in Beverly Hills on Sunday, May 20th, 2012. An empowering, inspiring, and uplifting afternoon was had by all who heard the moving stories and testimonies of SNN board members, parents and honorees.
The "Pink Pump Affair," the brainchild of Special Needs Network's co-founder and president, Areva Martin Esq., was designed to bring together powerful women from different backgrounds and to garner their support for more autism research and resources. Generously sponsored by Toyota, Walmart, Wells Fargo, Broadway Federal Bank, Martin & Martin LLP, Global Down Syndrome Foundation, Bob Blake & Associates Inc. and LA County Supervisor Mark Ridley-Thomas, the event provided women an opportunity for networking and bonding, while raising money to send children with special needs and their siblings to summer camp. This year's event was chaired by SNN Board members Bonnie Berry LaMon, Esq., and Shamya Ullah; and SNN Advisory Board member and past Women of Distinction honoree Monica Holloway and Leah Bizoumis served as the Honorary Event Chairs.
The afternoon began with the President's Reception where Martin gathered with honorees, event sponsors, event committee members, fashion show designer Galina Sobolev and past Women of Distinction honorees to kick off the fabulous afternoon. Following the reception, the afternoon continued with a silent auction featuring designer shoes and handbags from Tory Burch, Trina Turk, BCBG Max Azria, J&A Shoes, David's of Beverly Hills, and other top designers. As guests enjoyed high tea they were treated to a runway fashion show featuring Single by Galina Sobolev. Models walking in support of special needs kids donned beautiful and colorful fashions perfect for the summer. The fashion show closed with show-stopper, celebrity model Toccara Jones from America's Next Top Model. The afternoon's mistress of ceremonies was none other than Univision anchorwoman Gabriela Teisser.
Areva Martin and Tocarra Jones
Martin and Omarosa Manigault
Following the runway show, SNN Parent Meshelle Baylor shared her personal story and testimony about the work of SNN, leaving not a dry eye in the room. Her story of triumph and unwavering support from SNN moved the guests to donate thousands of dollars in support of SNN's signature program, CAMP JPAC.
The afternoon came to a close as SNN honored individuals who have made tremendous contributions to the community and have helped to raise awareness and funds for special needs children. The Toyota Advocates Award was presented to Nicole Ari Parker and Boris Kodjoe, Founders of Sophie's Voice Foundation. Women of Distinction awards were presented to Autism Advocate and Author, Claire LaZebnik; Self Advocate and Ambassador of the Global Down Syndrome Foundation, DeOndra Dixon, whose brother Jamie Foxx presented a moving tribute virtually from out of state; and Walmart Chief Tax Officer & Senior Vice President, Claire Babineaux-Fontenot. The Lifetime Achievement Award was presented to LA County Supervisor Gloria Molina for her tremendous contributions as a public servant and for being an inspiration to women as being a woman who has and continues to break barriers. Each honoree was presented with a beautifully engraved Tiffany gift and certificate from the United States Congress.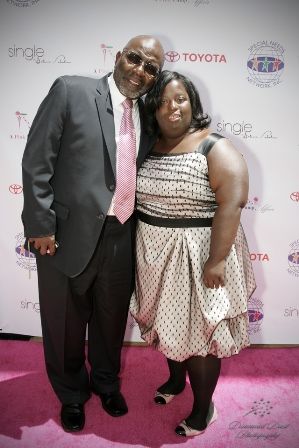 Honoree DeOndra Dixon with her proud father, George Dixon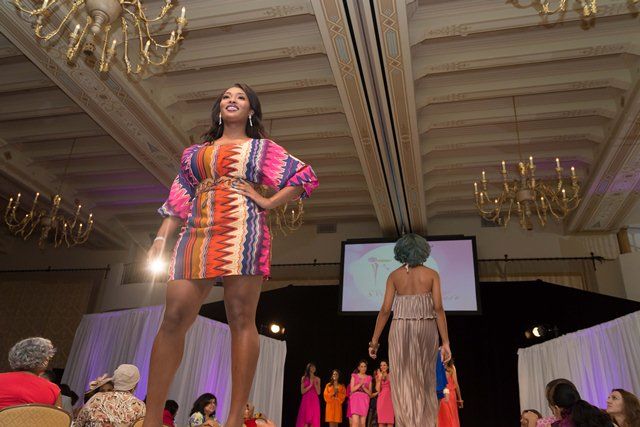 Celebrity model Tocarra Jones walks the runway in support of kids with autism and special needs.
SNN Board Members Jan Davis & Bonnie Berry LaMon, Esq., SNN President Areva D. Martin, Esq, Honoree Claire Babineaux-Fontenot, Lifetime Achievement Honoree LA County Supervisor Gloria Molina, SNN Board Members Cheryl Gully and Sonjia White, Esq.
Women of Distinction Honoree Claire Babineaux-Fontenot, Chief Tax Officer & SVP, Walmart; Martin, and Javier Angulo, Director of Community Relations, Walmart
Arlene Ford and Areva Martin with Alva Mason and Gail Herring of Toyota.
About Special Needs Network, Inc:
Founded in 2005 by attorney Areva D. Martin, SNN is a community based, non‐profit organization formed to respond to the lack of representation of the underserved segment in special needs populations. Martin is one of the nation's foremost autism and disability rights experts. She is a frequent on air contributor to The Dr. Phil Show and Anderson Cooper 360 , and has been featured on CBS and FOX News. Her bestselling book The Everyday Advocate: Standing Up for Your Child with Autism and Other Special Needs was re-released in paperback this past April.
http://www.arevamartin.com/
.
For additional information on SNN call 213.389.7100 or visit the website at
http://www.specialneedsnetwork.org/
.