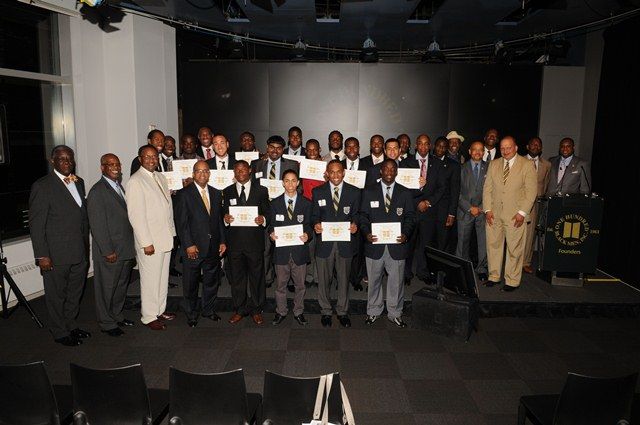 Members of One Hundred Black Men, Inc. of New York and renowned Civil Rights Attorney Ted Shaw (3rd from left) surround The Eagle Academy for Young Men 2012 scholarship winners. The students are, first row (left to right): Brandon Young, Befadil Eustate, Xavier Thomas, and Gerard Carty. Second Row (left to right): James Kale, Kofi Boateng, Heru Coleman, Omashola Oroye, Surendranauth Persaud, Jevone Watt, Akil Hollington, Najee Senior, Ramel Haines, Devon Coombs, and Victor Martinez.
Civil rights trailblazer, Ted Shaw, delivered keynote address
NEW YORK ─ One Hundred Black Men, Inc. of New York recently awarded 15 deserving outgoing high school seniors with $60,000 in scholarship grants during the 2012 Education and Scholarship Awards Ceremony. The graduates from
The Eagle Academy for Young Men
will attend a variety of colleges and universities this fall, including Syracuse University, Boston College, Lafayette College, and others.
Ted Shaw, former Director-Counsel and President of the NAACP Legal Defense and Educational Fund, delivered the keynote address at the ceremony which was held in the NASDAQ MarketSite building in Times Square.
For more than twenty years, One Hundred Black Men, Inc. has provided scholarships based on academic performance, community service and financial need to seniors in New York City public schools who have been accepted to an accredited college or university. As the founder and initial sponsor of the Eagle Academy for Young Men, scholarships are given to Eagle Academy graduates. The Eagle Academy was opened in the Bronx in 2004 as New York City's first single-gender school in more than thirty years. Schools are also open in Brooklyn and Queens, each with a focus on academic excellence, leadership and character development. In addition to the $60,000 given away in this ceremony, One Hundred Black Men, Inc. has awarded $100,000 in scholarships through other programs this year.
One Hundred Black Men, Inc. of New York City was founded in 1963 when a group of successful African-American men came together to pool their resources to positively impact the Black community. For more information about One Hundred Black Men, Inc., or to support the programs of the organization, call 212-777-7070 or log on to
http://www.ohbm.org/
.