Carol Jenkins (center), AMREF USA Board Chair with Osas Ighodaro, Founder/ President, Joyful Joy Foundation and Sioux Greaux, Managing Director, Joyful Joy Foundation at the Stand Up for African Mothers global campaign launch in New York.
NEW YORK, NY - On Thursday, July 19th, the African Medical & Research Foundation (AMREF), the largest African-led health development organization on the continent, launched their
Stand Up for African Mothers campaign
to the African Diaspora with a breakfast event held at The Cornell Club - New York. A live stream feed enabled other Diaspora associations across the country and beyond to participate in the launch as well. The campaign was launched last October to draw attention to the plight of African mothers and to mobilize citizens worldwide to ensure that mothers get the basic medical care they need during pregnancy and childbirth.
Targeting the African Diaspora is perhaps a first for a health development nonprofit organization and something AMREF feels very passionate about. With Africans making up 97 percent of its staff and 90 percent of whom live in the communities in which they work, AMREF strongly believes in engaging the Diaspora to contribute to better health in Africa.
AMREF's Director General, Dr. Teguest Guerma, an Ethiopian national, medical doctor, infectious diseases specialist and the first African woman to lead the organization since its inception in 1957, launched the US arm of the global campaign, Stand Up for African Mothers at the event.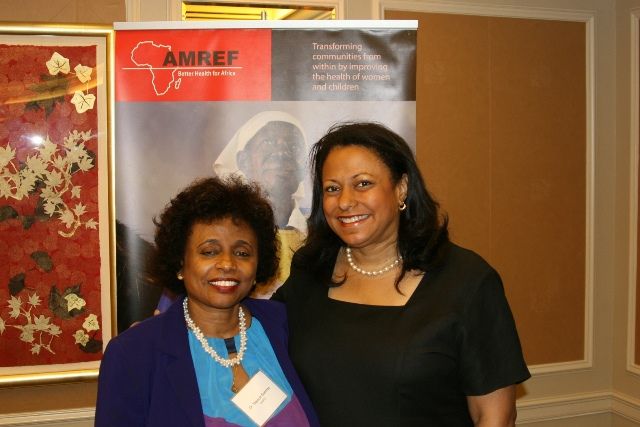 Dr. Teguest Guerma, AMREF Director General and Teresa Clarke, CEO of Africa.com
Dr. Guerma spoke about
the more than 170,000 women who died in Africa in 2010 alone during pregnancy and childbirth due to a lack of access to basic medical care, resulting in 950,000 children who will grow up without the love and care of their mother. With the Stand Up for African Mothers campaign, AMREF aims to train 15,000 midwives by 2015 to prevent many of these needless deaths.
Attendees included African American entrepreneurs, prominent philanthropists, executives, representatives from non-governmental organizations, academia and supporters of the arts, including a media contingent reporting on the morning's events.

The Honorable Milton A. Tingling, Justice, Supreme Court, State of New York; Lisa Meadowcroft, Executive Director, AMREF, USA; and Liz Ngonzi, Founder/CEO, Amazing Taste, LLC (Co-organizers of the launch)
Joyce Mullins-Jackson, President, Deerfield Marketing & Consulting, Inc. and Marcia McBroom-Small, President and Founder, For Our Children's Sake Foundation
AMREF is grateful for the passionate and enthusiastic response from the Diaspora and looks forward to growing this relationship in the future.
To learn more about the Stand Up for African Mothers campaign and what you can do to help reduce maternal mortality in Africa, please visit
www.standupforafricanmothers.com
.