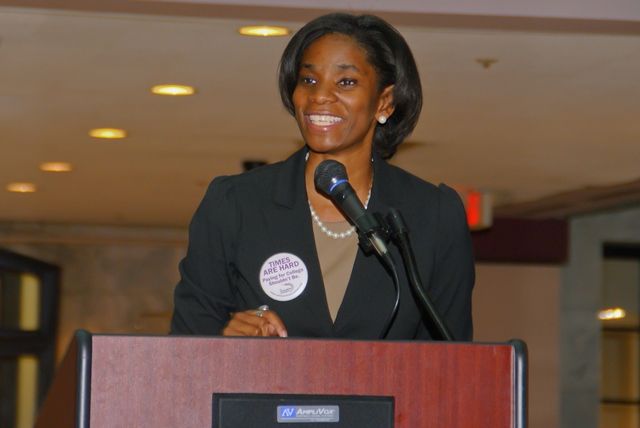 In the field of black male achievement, an issue often discussed is why do few black males enroll in and graduate from college? Our second
Black Male Achievement
(BMA) Fellow profile is a national scholarship expert who aims to increase this number.
Meet Jessica Johnson, founder of the
Scholarship Academy
, which empowers low‐income and first‐generation students in the financial aid process. As a recipient of over $200,000 in scholarships, she uses her firsthand knowledge and expertise to guide students to claim scholarship success. To date, Scholarship Academy students have received over 5 million dollars in scholarships, with top college admissions ranging from Harvard and Brown to Howard and Fisk with a 100% college acceptance rate.
Jessica has traveled the country to empower families and help students realize the dream of a college education. She serves as the national scholarship expert for the Black College Expo, and has conducted workshops for the New York Urban League, Southern Christian Leadership Conference and the U.S. Department of Labor. Jessica's success and dedication has earned her numerous awards, among them The Root's Top 100 Emerging Leaders award and the NAACP Entrepreneur of the Month. A Howard University graduate, she is the author of
The Scholarship Workbook: A 3-Step Scholarship Tutorial
, and the scholarship database manager
http://www.scholarshipsdc.org/
.
As a BMA Fellow, Jessica's bold idea is to train black college males to serve as Scholarship Ambassadors, using their own stories of scholarship success to empower black high school males to take ownership of the financial aid process. Anthony, a Fisk University junior shared, "I didn't know where to turn. Without the support of my family, college seemed like a stretch by the time I reached December of my senior year. I sat in on one of Ms. Johnson's presentations and I knew my life was going to be changed that day. I became a Scholarship Ambassador for the Scholarship Academy, and Ms. Johnson taught me how to make myself stand out from other applicants. While my classmates were struggling to find money, I had a complete college funding plan. Within 4 months, I had accumulated over $40,000 in scholarships! There's no stopping me now!"
Read on to learn what inspired Jessica to create the Scholarship Academy, her 10 year goal for the organization and how you can get involved.
What inspired you to create the Scholarship Academy?
As a recipient of over $200,000 in scholarships, I was inspired to create The Scholarship Academy because I quickly discovered that for many families, particularly low-income/first-generation families; the path to financial aid is paved with uncertainties. Across the nation, the overwhelming emphasis on student loan debt tends to overshadow the realities that most families simply approach the financial aid process haphazardly, waiting until it's an emergency to take action. After working in a number of high schools, I knew that guidance counselors didn't have the capacity to create individualized college funding plans for students. I designed the Scholarship Academy curriculum to help students and their parents explore financial aid options in a more strategic way, maximizing their resources and ultimately minimizing their debt.
What do you hope to achieve as a 2012 BMA Fellow?
As a 2012 BMA Fellow, I hope to eliminate the invisible barriers to college access that prevent black males from enrolling in college and maintaining matriculation. I want to prove to black males throughout the country that college is a realistic possibility, regardless of their GPA, test scores, or even family dynamics. Because our scholarship curriculum combines the principles of leadership, civic engagement and entrepreneurship, I believe we are uniquely positioned to empower young black males to do more than just obtain a degree. I am excited about the opportunities to create a platform for these young men to become leaders in their chosen field by equipping them with the financial tools to make meaningful investments in the lives of those around them.
Where do you envision your organization 5-10 years from now?
Ten years from now I envision our organization boasting partnerships with school districts, churches and nonprofit organizations throughout the country. I would love to have Scholarship Centers set up in underserved communities and build a massive online scholarship tutorial network that would support students and their families through the financial aid process on-demand. I envision a trained cohort of Scholarship Ambassadors that will spread our message of debt-free education to at-risk populations that have not previously viewed themselves as college material. Through a combination of workshops, bootcamps, staff trainings and Scholarship Fairs, I believe our organization can easily become the premier scholarship prep resource in the country.
How can individuals get involved with the Scholarship Academy?
There are a number of opportunities for individuals to join in our fight to prepare students to go to college without going into debt.
Become A Scholarship Ambassador: We're training young professionals to facilitate our Scholarship Teaser workshops at local high schools and community events.
One-On-One Mentoring: Whether it's essay reviews, help with their scholarship brag projects, or just simple guidance and support, our students NEED YOU!
Partnerships/Outreach: Please consider sharing our resources (workbooks, trainings, etc.) with organizations you may be affiliated with.
Office/Programming Donations: We're in need of a few items/services this summer, in preparation for the upcoming school year. If you know companies/organizations that would be willing to donate supplies or sponsor a Scholarship Lunch at a local high school, please let us know.
Visit the Scholarship Academy at
http://www.scholarshipacademy.org/
and follow on Twitter at @scholarshipacad.