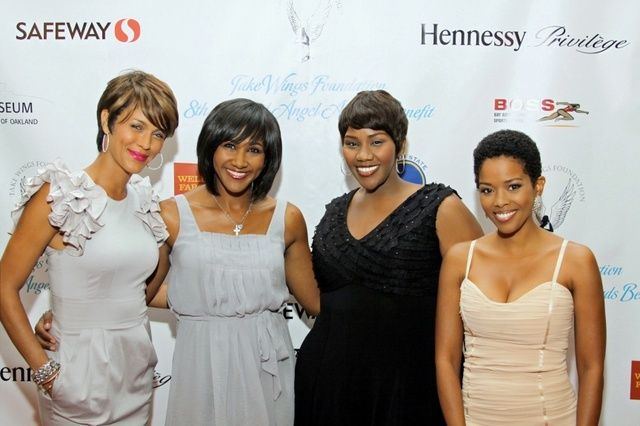 Actress and Take Wings Foundation Founder Terri J. Vaughn (2nd from left) with Nicole Ari Parker, Kelly Price, and Malinda Williams attend the 8th Annual Angel Awards Benefit on August 13, 2011 in San Francisco, California.
Actress Terri J. Vaughn and singer Kenny Lattimore set to host 9th Annual Angel Awards benefiting the Take Wings Foundation, August 18th
SAN FRANCISCO, CA — International award winning R & B singer Kenny Lattimore and actress Terri J. Vaughn, Founder of the TAKE WINGS FOUNDATION, will host the highly-anticipated 9th Annual Angel Awards Gala Benefit on August 18, 2012. Take Wings Foundation is a nonprofit organization whose mission is to motivate and inspire at-risk youth in the San Francisco/Oakland Bay area. The gala will honor London Breed, Executive Director of the African American Art & Cultural Complex and Mary L. Booker, Artistic Director, Infinity Production, Inc. The recently renovated Oakland Marriott City Center (1001 Broadway in Oakland, CA) will be the affair's host venue, beginning with pre-gala receptions at 6:00 p.m. Tickets are $150 each, and may be purchased online
www.takewings.org
.
Michael Vick Launches Team Vick Foundation
On July 30th, Michael Vick announced the creation of the Team Vick Foundation, a non-profit charity to provide second chances and support to individuals and communities. Committed to improving lives and communities, Vick's vision and leadership will be focused on improving livelihoods and communities through public service.
"It was important for me to find a way to give back that provided support and encouragement for those who have fallen off course and may have lost their way," shares Vick. "This foundation was created to remind those individuals that not only can they still make it, but they can still make a difference."
With a full year of programming ready to roll out beginning this August, the Team Vick Foundation is poised to inspire individuals through its diverse initiatives and programs that touch on the foundation's seven principles: Responsibility, Citizenship, Care, Fairness, Respect, Trustworthiness and Accountability.
Visit the website at
http://www.teamvickfoundation.org
, on Facebook at
http://www.facebook.com/TeamVickFoundation
and on Twitter at
https://twitter.com/TeamVickOrg
.
Join Antwan "Big Boi" Patton and the Big Kidz Foundation Board of Directors at the "Champions of the Arts" Reception
ATLANTA, GA - Big Boi Patton, one half of the hip hop group Outkast and founder of the Big Kidz Foundation, will host the Champions of the Arts reception on Thursday, August 2nd at the Metro Atlanta Chamber. The evening will honor George Clinton, Hinton Battle and the Atlanta Symphony Orchestra.
The foundation's programs provide cultural exposure, musical and literary expression and travel experiences to help develop well-rounded youth.
Tickets are $75. For more information and to purchase tickets, visit the foundation website at
http://www.bigkidzfoundation.org/
.