Brian Benjamin, Founder, Young Professionals United For Change; Aletha Maybank, Assistant Commissioner, New York Health Department; Reggie Nance, Former Director of Incite at Emmis Communications; and Athena Moore, Director of Public Policy, National Black Leadership Commission on AIDS.
NEW YORK, NY - On June 27th in observance of National HIV Testing Day, New York's young leaders hosted a two-tiered event aimed at raising awareness of the ongoing HIV/AIDS epidemic. "Love and Politics II" featured a daytime event in Harlem that provided free HIV testing, and an evening reception at the New York Social Club to recognize individuals for the strides they have made in the fight against the virus. For the second year, the event series aimed to educate as well as to encourage New York City residents, in particular, residents of color, to get tested.
The event was hosted by Young Professionals United for Change, National Black Leadership Commission on AIDS (NBLCA), New York City Department of Health and Mental Hygiene, bcondoms, Young Women of Color HIV/AIDS Coalition (YWCHAC), National Action Network (NAN), Veaux Productions, Being Latino and Human Intonation.
Aletha Maybank and Reggie Nance with Honoree Melyssa Ford (center), television personality and HIV/AIDS activist. Ford spoke about the importance of knowing one's status and how honored she was to be recognized for her work in the field.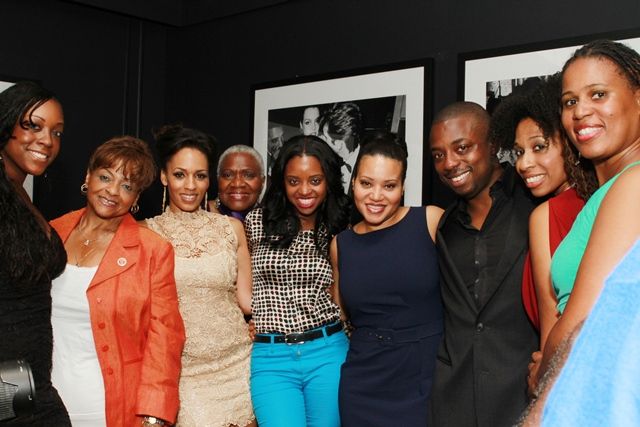 Brian Benjamin thanked Tameka D. Mallory of the National Action Network for securing Cheryl "Salt" James" (pictured 4th from right) of the legendary hip hop duo Salt 'n Pepa, to serve as the keynote speaker. James shared that she feels blessed to use her platform to educate her fans, and that we must always remember to educate children about their choices, so they can make safe choices. After the program ended, honorees, VIPs and those who were tested received gift bags and everyone mingled and danced the night away to the tunes of the DJ.
See highlights from "Love and Politics I"
here
.
Source & photos: Press release