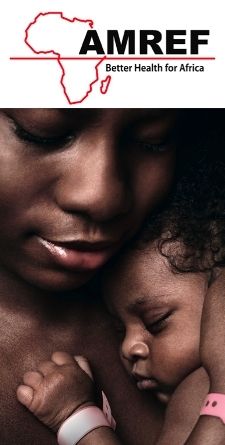 NEW YORK, NY - Join the
African Medical & Research Foundation
(AMREF-USA) for the national launch of its global campaign: Stand Up for African Mothers. The July 19th media briefing (9:45am - 10:30am at The Cornell Club - in Manhattan) will be attended by a select group of members of the media whose outlets target the African diaspora (African Americans and African immigrants) to learn about the global Stand Up for African Mothers campaign and how they can publicize the campaign to catalyze the African diaspora to support the largest African-led health development organization on the continent.
The Stand Up for African Mothers campaign was launched last October to draw attention to the plight of African mothers and to mobilize citizens worldwide to ensure that mothers get the basic medical care they need during pregnancy and childbirth. The basic premise is that no child should be left an orphan due to lack of health care for women.
Since 1957, AMREF has been transforming the lives of families and communities across Africa. Over 200,000 African women die each year in pregnancy and childbirth for lack of simple, affordable medical care. With Stand Up for African Mothers, AMREF aims to train 15,000 midwives by 2015 to help reduce this appallingly high rate of maternal mortality.
The special guest speaker will be Dr. Teguest Guerma, Director General of AMREF. Join them in supporting and celebrating the outstanding role African midwives play in saving the lives of mothers and their children. Contact
diaspora@amrefusa.org
for more information.