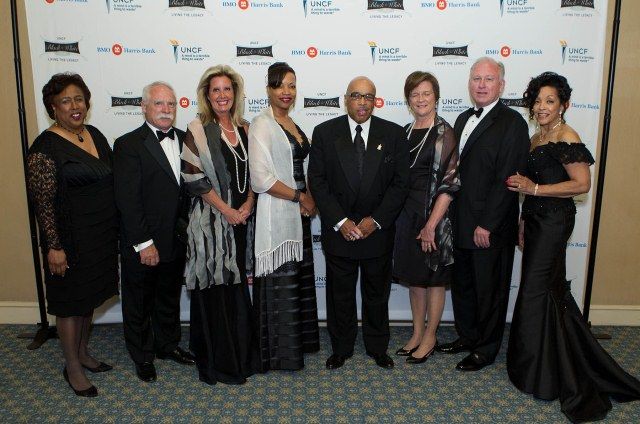 Judith Rice, Senior VP & Head of Community Affairs and Economic Development, Harris Bank; Paul Cadorin; Patty Cadorin, Harris Bank; Monica Billinger, American Airlines, Manager, Diversity Markets/Chicago; Michael House, President, Chicago Defender; Jody Furlong; Mark Furlong/President & CEO, Harris Bank; Merri Dee, AARP Illinois State President.
Gala Honors American Airlines and Chicago Defender
CHICAGO - On Saturday, June 9th, UNCF (United Negro College Fund) hosted the twelfth annual Black & White Ball "Living the Legacy" fundraiser which was held at the Fairmont Hotel, Chicago-Millennium Park. The gala attracted over 500 guests who are committed to minority education. Gala chairman, Mark F. Furlong, President and Chief Executive Officer, BMO Harris Bank, N.A., served as the host for the evening, and musical entertainment was provided by The Temptations featuring Dennis Edwards.
"Every year the UNCF Black & White Ball brings Chicago leaders who believe in the power of an education together, to help the next generation of doctors, teachers, lawyers, engineers, business executives and entrepreneurs get the education they need to compete in a global economy," said Michael L. Lomax, UNCF President and CEO. "The Black & White Ball is not only a fantastic celebration with food, fun and entertainment but it's an opportunity for our community to come together and join UNCF to ensure that every child has the opportunity to get a good education from pre-school through college."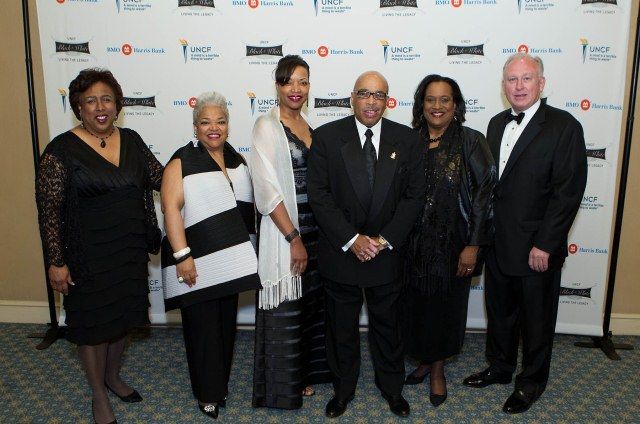 Judith Rice; Priscilla Stratten, Development Director, UNCF; Monica Billinger; Michael House; Jann Honore, Regional Development Director, UNCF; and Mark Furlong.
UNCF honored American Airlines, with the prestigious Harold H. Hines Jr. Benefactor's Award for its leadership. For more than 35 years, American Airlines has been a proud sponsor of the United Negro College Fund's signature event, "An Evening of Stars." American's employees volunteered to work on UNCF's former telethon, which raised significant funds to assist with worthy efforts including aiding students at Xavier University and Dillard University who were adversely affected by Hurricane Katrina. American employees who attended those universities helped raise more than $20,000 in less than two weeks. Additionally, members of American's African American Employee Resource Group raised $10,000 in three weeks. Employees also assist with local UNCF fundraising events across the nation by volunteering and the company sponsors local UNCF functions.
The Chicago Defender was also honored with the UNCF Legacy Award, by Sculptor Debra Hand for their support of the UNCF mission and long-standing commitment to minority education. In 1905 Robert Sengstacke Abbott founded the Chicago Defender in a small kitchen in his landlord's apartment with an initial investment of 25 cents and press run of 300 copies. In 1956 the Chicago Defender began publishing on a daily basis. Today, The Chicago Defender is a flagship publication of Real Times Inc., a media company that also includes among its holdings the Michigan Chronicle, the Front Page, the New Pittsburgh Courier, and the Tri-State Defender. It has won the prestigious John B. Russwurm Award during 2009's National Newspaper Publishers Association Merit Awards Gala, along with two first place and two third place awards, including the John H. Sengstacke General Excellence Award. The Chicago Defender has been a long time supporter of UNCF for many years. It has helped raise funds for UNCF over the years by donating media support.
Andrea Zopp, President & CEO, Chicago Urban League; Barbara Lumpkin
Merri Dee, AARP Illinois State President; Art Norman, NBC5
Since the inaugural gala in 2001, the Black & White Ball has raised more than $9 million. The proceeds from the event will allow UNCF to administer more than 400 scholarship and fellowship programs for students and faculty who attend its 38 member historically black colleges and universities (HBCUs).
Additional sponsors to this year's gala included: Aon Hewitt, Target, Allstate Insurance Company, Macy's and State Farm. Illinois Governor Pat Quinn and President Toni Preckwinkle of Cook County Board of Commissioners were honorary co-chairs of the gala. The presenting sponsor was BMO Harris Bank and the presenting sponsor emeritus was ITW and ComEd an Exelon Company.
About UNCF
UNCF is the largest and most effective minority education organization in America, supporting more than 60,000 students who attend its 38 member colleges and universities and receive UNCF scholarships, internships and fellowships. Learn more at
http://www.uncf.org/
.