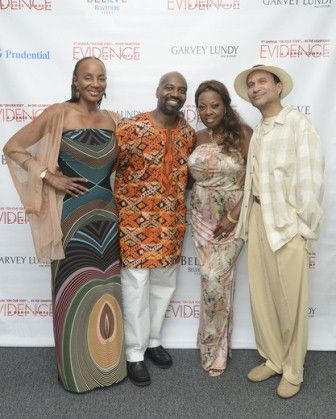 BRIDGEHAMPTON, NY – On August 18th, the grounds of the Hayground School turned into a festive summer soiree for Evidence, A Dance Company's
9th Annual "On Our Toes"
benefit - one of the premier cultural events of the Hamptons social season. The event raised funds to support the contemporary dance company's outreach programs and full benefits for dancers.
Chaired by international financier Reginald Canal, this year's elegant afternoon benefit celebrated generations of arts and culture from the African Diaspora. The legendary Ruby Dee, Actress, Playwright, Activist and Philanthropist, was honored with the 2012 Lifetime Achievement Gatekeeper Award; and Jason Moran, Award-winning Jazz Musician and Composer, received the 2012 Visionary Gatekeeper Award. Nearly 300 distinguished guests from the arts and entertainment industry and the business community attended the annual summer event. Pictured are Susan Taylor, Ronald K. Brown, Star Jones and Kephra Burns.
Event Co-Chairs were artist, educator and activist Jon Snow, co-founder of the Hayground School; and financial advisor Lola C. West, Managing Director, WestFuller Advisors LLC. Jenna Bond-Louden was the Young Patrons Chair, and the benefit committee included Susan L. Taylor and Khephra Burns; Tamara Tunie and Gregory Generet; Lynn Whitfield; Maurice and Andrea DuBois; Reginald Van Lee; Zaid Abdul-Aleem; Alvin Adell; Monica F. Azare; Bershan Shaw Bradley; Marvet Britto; Tracy Davis; Joanne E. Hill; Leslie Mays; Gail Monroe-Perry; Joyce Mullins-Jackson; Larry Satterfield and Sabir Amen; Debra Simmons; Jocelyn Taylor; Margot Daniels Tyler; Dr. Ancy Verdier; Alexis Welch; and Nicole Winn.
Notable guests in attendance were Star Jones, lawyer and television personality, Victor Williams of CBS' "The King of Queens," Dr. Julianne Malveaux, economist, author and commentator, and Cora Barry Masters, former first lady of the District of Columbia and Founder and CEO of the Recreation Wish List Committee of Washington DC, among others. During the cocktail hour, guests enjoyed signature cocktails and fine wines courtesy of Belvedere Vodka and feasted on an array of delectable appetizers catered by Harlem's famed 5 and Diamond Restaurant, which specializes in modern American foods with a Spanish influence. Following cocktails, guests entered a large tent furnished with white lounge chairs and sofas and high tables for the awards presentation, live auction, a light dinner, dessert and Evidence's signature "Dancing with the Dancers."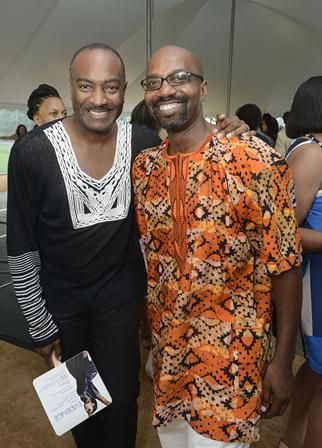 Benefit Committee Member Reginald Van Lee with Ronald K. Brown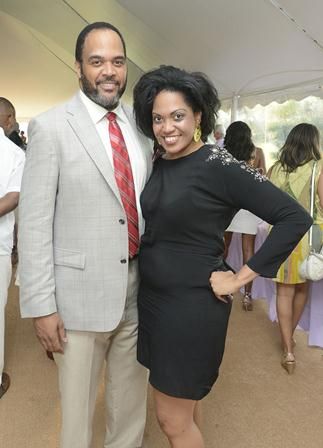 Victor Williams and Jenna Bond-Louden, Young Patrons Chair
Gail Monroe-Perry, Evidence's Board Secretary, opened the summer benefit by welcoming guests and thanking them for supporting the event. For the 2012 Lifetime Achievement Gatekeeper Award, Monroe-Perry introduced Evidence Artistic Director Ronald K. Brown, who offered a personal tribute to honoree Ruby Dee. Evidence performed WALKING OUT THE DARK, a pulsating, rhythmic dance set to African music and chants in her honor. The 90-year-old Dee was not able to accept the award in person due to doctor's orders. "Thank you so much for this singular honor, for gathering this afternoon to grace me with the Gatekeeper Award for Lifetime Achievement," said Dee in written remarks read by Susan L. Taylor, Essence Magazine editor-in-chief emerita and Founder and CEO of National CARES Mentoring. "I must admit that Lifetime Achievement Awards make me a little nervous. Just a nice way to say, 'Hey, you're getting kinda old there, Ruby!' And it's true: I am getting kinda old, thank God—I'll be 90 come October!'" she exclaimed.
Event Co-Chair Lola C. West presented the 2012 Visionary Gatekeeper Award to Jason Moran for his outstanding contributions to the jazz world. In accepting the award, the 37-year-old MacArthur "genius" fellow and musical adviser for jazz at the Kennedy Center expressed an interest in collaborating with Evidence, A Dance Company in the future. Event Chair Reginald Canal was joined by Associate Artistic Director and dancer Arcell Cabuag and dancers Clarice Young and Annique S. Roberts in leading a "Bricks and Mortar" and live auction that raised almost $20,000 to support the dance company.
An online auction at Charitybuzz.com featuring dinners and theatre tickets with actress Tamara Tunie; dinner and tickets to a jazz show featuring Rhonda Ross; golfing with WCBS anchor Maurice DuBois; diamond jewelry pieces; internships, among other luxury items will be live until August 28 at
www.charitybuzz.com/auctions/evidencesummer
. To top off the awards presentation, the dance company performed for guests a spectacularly spirited dance work, BETTER DAYS, choreographed by Brown, which pays homage to friends of the choreographer who have passed away and illustrates a nonlinear juxtaposition of present and past. After the performance, the DJ turned some high-energy tunes that brought guests to the dance floor to work up a sweat and close out the magical evening.
Evidence Dance Company members with Brown at center.
Corporate Sponsors for "On Our Toes" were Belvedere Vodka, Prudential and Garvey Lundy Jewelry.
For more information about Evidence, A Dance Company please visit
www.evidencedance.com
.
Source: Press release
Photo credit: Getty Images for Evidence, A Dance Company