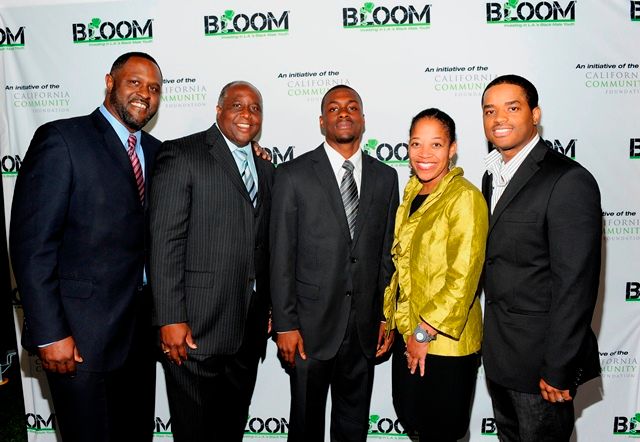 Robert Lewis, Program Officer, California Community Foundation (CCF); George Weaver, Special Program Administrator, Brotherhood Crusade; Lazzarius Taylor, Brotherhood Crusade mentee and BLOOMer; Nike Irvin, VP, Programs, CCF; and actor/activist Larenz Tate attend

Saving Our Sons: A Community Conversation

on May 2, 2012 in Los Angeles, CA.
Photo credit:
Inland Valley News
Article reprinted with permission from
Putnam Community Investment Consulting
:
In May, the California Community Foundation announced a new $2.5 million, five-year initiative, BLOOM, aimed at helping Black male youth, ages 14-18, who are or have been involved with the L.A. County probation system, to find new paths to education and employment and away from the juvenile justice system. BLOOM, which stands for "Building a Lifetime of Options and Opportunities for Men," is the only major philanthropic initiative in the nation that is focused specifically on Black male youth in the juvenile justice system. BLOOM's ultimate goal is a 10 percent reduction in 14-18 year old Black males supervised by the county probation system - approximately 448 youth.
Why This Initiative
The Community Foundation developed the BLOOM initiative in response to significant budget cuts to the state's juvenile justice funding, which shifted the burden of serving this population entirely to California's counties. State budget research conducted by Putnam Community Investment Consulting, Inc. showed that these cuts would be especially difficult for Los Angeles County, where Black males make up a disproportionate percentage of youth in prison or on probation. Black males account for only 10 percent of the county's population, but are 33 percent of all youth under probation supervision. Estimations are that 25 percent of Black males in Los Angeles County will end up in the criminal justice system, and only 10 percent will graduate from college.
In addition to the cost in terms of quality of life for the youth in question, there is also a significant cost to county taxpayers. Each youth placed in the county's probation camp costs $100,000 per year. By reducing even 10 percent of those who end up in probation camp, BLOOM can save taxpayers $48 million annually.
BLOOM is the result of two years of study and discussion among a California Community Foundation advisory committee, which included independent research conducted by Putnam Community Investment Consulting and others. The California Community Foundation created the initiative in partnership with the Los Angeles City Mayor's office, Operation HOPE and nonprofit grantees such as the Brotherhood Crusade, L.A. Urban League, Youth Mentoring Connection, the Liberty Hill Foundation and the UCLA Center for Healthier Children, Families and Communities. Funding, job opportunities and other support are being contributed by private sector partners such as the Automobile Club of Southern California, Carl and Roberta Deutsch Foundation, Operation HOPE, The James Irvine Foundation, The California Wellness Foundation, and Union Bank Foundation.
What BLOOM Will Do
BLOOM will mobilize grant funding, technical assistance and collaborations to provide career-based mentoring services to Black male youth and open paths to real, immediate opportunities for scholarships, training, internships and jobs. It will also focus on community organizing and changes public perception to rally more support for this population, and help strengthen the competencies of organizations that serve Black male youth.
"BLOOM is new and bold, and it's overdue," said Carl Ballton, chair of the Community Foundation advisory committee and president and CEO of the Union Bank Foundation, at the initiative's launch event. "The initiative aims to begin improving education and job options - normal opportunities for most L.A. residents - for one of the most vulnerable, misunderstood and underachieving segments of residents: Black teenage boys who have had a run-in with the legal system."
To learn more about BLOOM and how you can get involved, visit their website at
https://calfund.org/bloom
.
About
Putnam Community Investment Consulting
: A trusted partner for philanthropic organizations, Putnam Community Investment Consulting is a leading philanthropy and nonprofit consulting firm. They work in partnership with philanthropic foundations and nonprofit organizations to assess community needs, develop effective programs, align organizational strategies, and evaluate impact.
Related post:
Community Foundation Invites the Public to "Saving Our Sons: A Community Conversation"
(April 25, 2012)