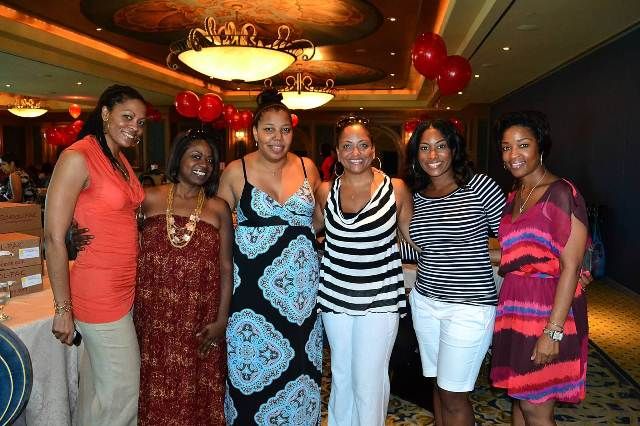 Twelve Days of Christmas hostesses Aisha Young, Sharon Sanders, Davon Hatchett, LaChelle Allen, Kelon Jefferson and Twelve Days volunteer Lori LaBrie.
By Davon Hatchett
HOUSTON, TX - Proving that Christmas doesn't come just once a year, the ladies of Twelve Days of Christmas, Inc. hosted its annual "Christmas in July" affair on Sunday, July 29, 2012. The members of the organization invited more than 35 pre-selected families in need (recommended by churches, social service organizations, schools and members of the organization) to come and enjoy a full day of fun, food and festivities, paid for by the organization. The event was held at The Aquarium, a six-acre entertainment and dining complex. The families, which included more than 100 children, were treated to lunch and were given the opportunity to take full advantage of all of the exciting rides, games, amusements and aquatic & geographic exhibits for the entire day.
The event isn't only about having fun however, as it is also designed as an avenue to provide the children of the families with all of the necessary tools that will enable them to embark on a successful upcoming school year. Since back-to-school time can be a huge financial burden on families - particularly those with limited incomes, the organization uses the funds they collect from fundraisers hosted during the year to provide the children with brand new backpacks, grade-appropriate school supplies, undergarments and school uniforms. Since children who do not have the tools they need for school are at greater risk of dropping out of school, the organization decided to positively impact children in the Houston-area by filling this gap with the Christmas in July tradition of giving.
Twelve Days of Christmas hostesses Kimberly Robinson, Thelma LeVeaux and Melinda Spaulding Chevalier
Twelve Days hostesses President Linda Estes, Event chair Deborah Hutchison, Wandell Hawkins, Thelma LeVeaux, and Twelve Days of Christmas founder Gayla Gardner
Twelve Days hostess Nicole Hadnott and Event Co-Chair Yvette McLin; (second row) Twelve days hostess Wandell Hawkins and her granddaughter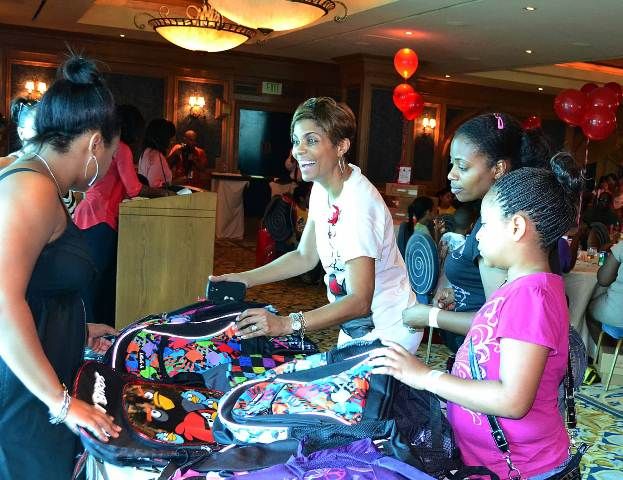 Twelve Days of Christmas hostesses Tiffany Dugar Hatchett and event chair Deborah Hutchison help a family select a backpack.
The Twelve Days of Christmas is a 501(c)3 organization founded in 1999 by mother-daughter team Gayla Gardner and Donya Gardner that has chapters in Houston, New York, Dallas, Oakland and Washington, DC. The mission of the organization is to share "blessings with others through collective effort, charitable activities and community involvement" by remembering the true spirit of Christmas throughout the year. 100% of the funds raised help support less fortunate families for an entire program year. To learn more about Twelve Days of Christmas please visit
www.twelvedaysofchristmasinc.org
.
Davon D. E. Hatchett is a freelance writer and attorney with a boutique practice in Fashion law, Art law and Wine law from Houston, Texas. As a philanthropist she contributes to and raises funds for various organizations including the Houston Museum of African American Culture, Texas Southern University, Recipe for Success Foundation, and The Twelve Days of Christmas. She previously worked in the non-profit sector for more than seven years in fund development and corporate relations for the United Way and the Girl Scouts.
Davon is a graduate of two HBCUs: Prairie View A&M University, where she received a Bachelor of Science degree; and Thurgood Marshall School of Law at Texas Southern University, where she graduated Magna Cum Laude.
Davon enjoys travel, is a lover of all things epicurean, and is currently indulging one of her many passions by studying to become a wine educator.