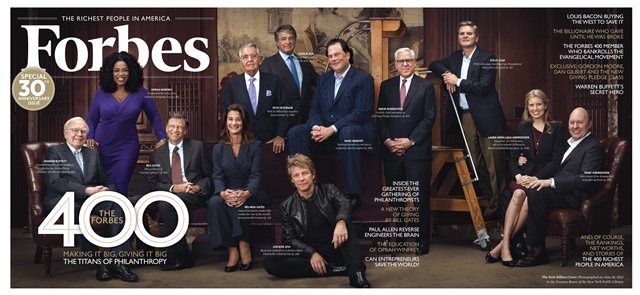 "
In terms of giving where you really want to make a sustainable change, that has to be thoughtful and strategic.
" -- Oprah Winfrey
Forbes 400 List of the wealthiest Americans to be announced on forbes.com at 12 noon ET today
In June this year, Forbes brought together more than 150 influential entrepreneurs – from Warren Buffett and Oprah to Bill and Melinda Gates and Marc Benioff – for a private discussion about ways to help solve some of the world's most intractable problems.
As part of the event, 12 of the greatest philanthropists
were photographed
for the cover of the Forbes 400 issue (pictured above), representing $126 billion in combined net worth:
Warren Buffett
,
Oprah Winfrey
,
Bill Gates
,
Melinda Gates
,
Pete Petersen
,
Leon Black
,
Jon Bon Jovi
,
Marc Benioff
,
David Rubenstein
,
Steve Case
,
Laura Arrillaga-Andreessen
and
Marc Andreessen
. The Forbes 400 issue - on newsstands Sept 21 - will also detail the results of the summit.
Forbes.com also tapped Thinglink, the largest interactive image network for business and consumers, to create a digital interactive infographic that showcases the philanthropists' efforts through embedded audio, video and rich media.
Some of the videos available are: Why Give at All?: Warren Buffett, Bill and Melinda Gates, Steve Case, and David Rubenstein (moderated by Randall Lane, Editor-in-Chief Forbes); Leveraging Fame: Steve Forbes and Bon Jovi; Investing in Women: Melinda Gates, Jacqueline Novogratz and Diane von Furstenberg (moderated by Denise Restauri, Forbes); and dinner talk on philanthropy with Bill Gates along with additional interviews from Donna Karan and Martha Stewart.
Visit
www.Forbes.com/forbes-400-summit
and
www.Forbes.com/forbes-cover
for the full series and multi-media assets, and while you're there, read the article: "The Education of Oprah Winfrey: How She Saved Her South African School"
here
.
Source: Forbes