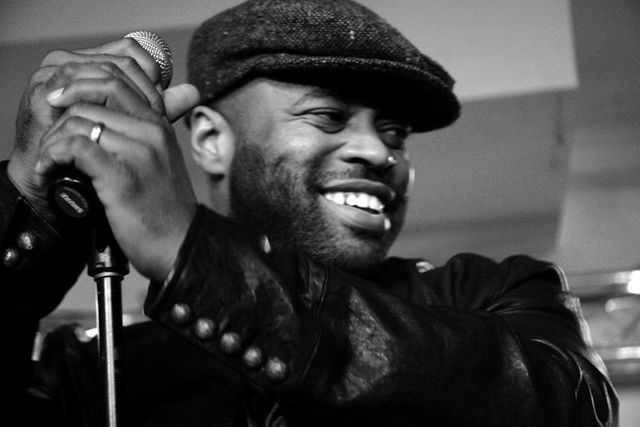 Event at Newark Museum will raise funds for women and girls in the Greater Newark, NJ area
NEWARK, NJ – Co-founder of the GrassROOTS Community Foundation (GCF) and lead MC of the Grammy-Award winning band The Roots, Tarik "Black Thought" Trotter, will join forces with New Jersey policymakers and citizens for a fundraiser and charity concert on October 6th called Power Forward, to raise funds for women's and girls' health at the Newark Museum.
Power Forward will bring together business professionals, Essex County city officials, activists, philanthropists, and residents of Newark, East Orange and Orange for a lively night of music and advocacy. The event will include dynamic performances from Black Thought of The Roots, along with Malene Younglao, Maya Azucena and Nneka Best.
Trotter is also bringing his hometown with him. Members of The Roots and Philadelphia Mayor Nutter are confirmed to be in attendance. Last year, GrassROOTS Community Foundation adopted Georgia King Village (GKV) in Newark as a community of strategic priority. GCF has been partnering with like-minded organizations and individuals to provide health and educational resources to the residents of GKV.
"Research shows that 47% of children are overweight or obese in Newark compared to the national average of 36%," says Janice Johnson Dias, Ph.D., sociologist, co-founder and president of GCF. Because of these alarming numbers, GCF founders felt compelled to galvanize and motivate residents to do something about their health.
Trotter shared with BlackGivesBack, "For me GrassROOTS is unique because it's not just another celebrity charity that functions as a tax break effort. I am connected to the operations of the foundation. GrassROOTS' mission and work is real for me. I have a daughter and I want her and all girls to grow up to be healthy women. GrassROOTS is my investment in ensuring that future."
Hosting the event is actress and renaissance woman, Amanda (Diva) Seales. The Power Forward event starts at 7:00 p.m. To purchase tickets, please visit
http://powerforwardcocktailfundraiser.eventbrite.com/
.
"We expect 300 folks to come out to the Newark Museum," Trotter stated. "We know these are hard times, but we need the good people of NJ and NY to show some love for our women and girls who need us. All proceeds go to our three programs in the greater Newark area. Plus it's tax deductible."
About GrassROOTS Community Foundation
The foundation is committed to contributing to the health and well-being of vulnerable populations and disadvantaged communities. Merging the talents of socially conscious artists with those of a rigorous scientific research and creative team, GCF invests their energy into developing the capacity of community based organizations that offer educational and recreational services to disadvantaged women and girls. Among its programs are H.E.A.L., S.H.A.P.E. and Super Camp. For more information, please visit
www.grass-rootsfoundation.org
.