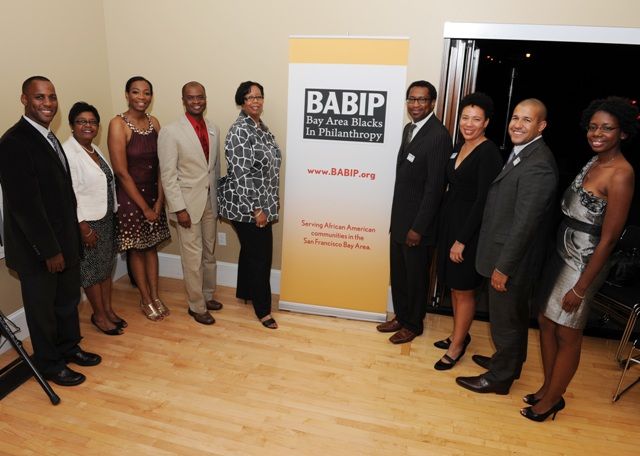 2011 Gala Reception: Bay Area Blacks in Philanthropy Board Members & Staff: Marlon Evans, Carolyn Doelling, Sharifa Rohlehr, Cedric Brown, Pam Ulmer, Billy Manning, Ruth Williams, Jason Trimiew, Summer Jackson
SAN FRANCISCO, CA - Registration is now open for BABIP's annual State of the Race Conference and Celebrating Black Philanthropy Gala Reception. The theme of this year's conference is "Politics, Power, and Philanthropy: A Bay Area Perspective." Both events will take place on Friday, October 19th from 1 to 7pm at the historic One Leidesdorff building in San Francisco, named after San Francisco's first African American millionaire William Leidesdorff.
Featured conference speakers include Dana King, CBS News Anchor; Timothy Alan Simon, Public Utilities Commissioner; Carol Burton, Executive Director, Centerforce; and Nwamaka Agbo, Campaign Director, Ella Baker Center.
The gala reception will feature a presentation and book signing by BlackGivesBack's Charlotte contributor, Valaida Fullwood, celebrated author of
Giving Back: A Tribute to Generations of African American Philanthropists
, and an awards ceremony honoring local African Americans for their philanthropic efforts. Colin Lacon, President and CEO of Northern California Grantmakers will serve as the Master of Ceremonies. 2012 Honorees will be announced soon. See last year's highlights
here
.
For ticket information
visit here
.
About Bay Area Blacks in Philanthropy
BABIP is a regional, nonprofit membership organization that works to advance the interests of African Americans in philanthropy, and to address the impact of racial disparity within philanthropic institutions and African American communities in the San Francisco Bay Area. BABIP is also a member of the Black Philanthropic Network hosted by the Association of Black Foundation Executives.
http://www.babip.org/
.