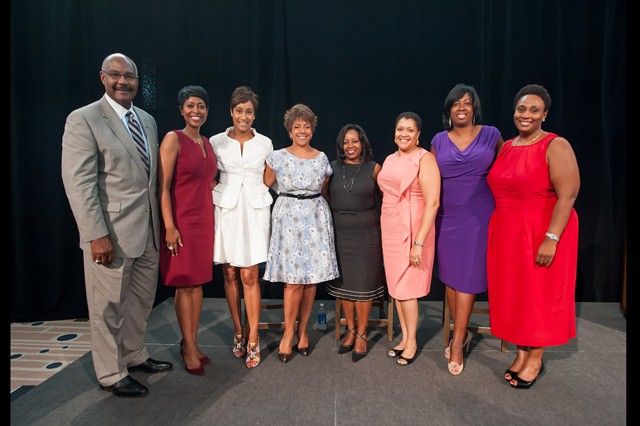 Photo: The Women's Leadership Forum of the Executive Leadership Council in Minneapolis, MN on July 10, 2012. The event focused on increasing diversity in Fortune 500 companies and on corporate boards.
Celebrity guests include Actors Boris Kodjoe and Gabrielle Union with a performance by Charlie Wilson
Washington, DC – The Executive Leadership Council (ELC), comprised of current and former African-American CEOs and senior executives at Fortune 500 and equivalent companies, will issue a "call to action" to corporate America during its
2012 Recognition Gala
on Thursday, October 18, 2012, at the Gaylord National Hotel in National Harbor, MD outside of Washington, DC.
The ELC is making the business case for diversity and inclusion to corporate leaders, in particular that investing in diverse senior leadership teams, including African Americans, leads to greater innovation, profitability and success for corporations. Specifically, the ELC will call for support for its pipeline development programs and five-year strategic goals to add 500 African-Americans to the CEO position and one to two levels below in Fortune 500 companies as well as 200 African Americans to the boards of publicly traded companies by 2017. It is the first time that any organization has embarked on such an ambitions initiative to promote diversity, inclusion and executive leadership.
"Diversity of thought is critical to ongoing innovation and success of global business," said
Bernard J. Tyson

,
ELC Board Chair and President and Chief Operating Officer of Kaiser Permanente. "It's no secret that diverse teams increase shareholder value by bringing unique perspectives and diverse solutions to deliver bottom-line value. Our role as ELC members is to realize the important role we have as corporate executives to help CEOs and other leaders understand that African-American and other diverse leaders help build an environment of inclusion, where every perspective is value-add to the organization."
The ELC is taking the lead on elevating the issue of diversity and inclusion in corporate America because recent statistics have raised concerns about minority representation, specifically for African Americans, at the senior levels in corporate America. In fact, of the more than 35,000 senior executive positions at the CEO level or those one and two levels below CEO within most Fortune 500 companies, it is estimated that only 3.2 percent – or fewer than 800 – are African American. This trend not only negatively impacts the advancement of African Americans in the Fortune 500, but the future of American business.
In addition to outlining its vision for the future, the ELC will also announce its scholarship winners for its Foundation programs including the Alvaro L. Martins Scholars, National Essay Competition, and the
National Business Case Competition
. The organization also will recognize the night's honorees including Ed Lewis, co-founder of Essence Communications, Inc.; Chris Williams of the Williams Capital Group L.P.; and Sodexo, a leading provider of integrated food and facilities management services in the U.S., Canada, and Mexico.
"The Annual Recognition Gala is our opportunity to recognize our scholarship winners and celebrate the achievements of African Americans in corporate America as well as Fortune 500 companies that promote a diverse and inclusive environment," said Ronald C. Parker, ELC Interim President and CEO. "We look forward to an engaging evening where we recognize our progress, but also present the roadmap for the future."
During the gala, the ELC also will promote the work of its Foundation, which invests in education, leadership training and executive development programs, including providing scholarships and mentoring young people interested in corporate careers. In particular, the ELC will highlight its Community Impact Initiative, in which the organization is providing grants to LEAD, INROADS, and A Better Chance, which are working to close the achievement gap for African-American high school and middle school students and prepare the next generation of corporate leaders.
For more information on the Executive Leadership Council and the Recognition Gala, visit
http://www.elcinfo.com

/
.
Related post:
African American Female Executives Gather to Increase Representation on Fortune 500 Companies and Corporate Boards
Pictured in above photo: Ronald Parker, interim president and CEO, The Executive Leadership Council; Laysha Ward, board chair, The Executive Leadership Council Foundation; Desiree Rodgers, CEO, Johnson Publishing Company; Linda Johnson Rice, chairman, Johnson Publishing Company; Yanick Rice Lamb, editor-at-large, Heart & Soul magazine; and Women's Leadership Forum Co-Chairs Leilani Brown, vice president and chief marketing officer of Starr Companies; Nicole Lewis, vice president of global marketing, Kelly Services; and Julia Brown, chief procurement officer and senior vice president for global procurement, Kraft Foods.
Source: ELC/Press release