Washington, DC - On October 13, 2012, the 4th annual '
GENIUS FOR MEN
' will bring honor and innovation to Washington, DC through a men's empowerment forum that encourages community between men and women, celebrates male achievement, and honors men who seek to transcend the limits within their professions. GENIUS FOR MEN is hosted by executive producers and sisters, Alisha and Angela Jones, who were positively influenced by their father, as well as various male role models who encouraged them to find their voice as strong women.
This year's theme is "Social Justice and Direct Action." The honorees are such notables as Educator and Arts Activist Lamman Rucker of Black Gents of Hollywood, Rev. Otis Moss III of Trinity United Church of Christ in Chicago, IL, Maestro Darin Atwater of Soulful Symphony, Activist and Journalist Jeff Johnson, Byron Nichols of BNFit Personal Fitness, Boys and Girls Club of Greater DC, and Impact Your World, and Designers Bruce and Glen Proctor of BruceGlen.
Hundreds of young professionals and leaders are expected to attend this event that will address the issues that men face along with wealth building training and civic mobilization by decision makers, innovators and community organizers. The GENIUS FOR MEN conference is a signature program of the non-profit organization, InSight Initiative, Inc.
Past recipients include neuro-surgeon, Dr. Ben Carson, Jazz Critic A. B. Spellman, Musician Richard Smallwood, Alfred Edmond of Black Enterprise, Michael Grant of the National Bankers Association, Composer Rev. Nolan Williams, Congressman John Lewis, Gerard Bonner of BonnerfideRadio.com, Edgar Brookins of the Afro-American Newspaper, Darnell Lee of W & T Travel Services, Photographer Bill Lee, Mo'Nique Show's Daniel Moore of BET, Rev. Tony Lee, Pastor of Community of Hope A.M.E. and radio personality of WPGC FM, Community Organizer Delyon Gigger of Good Ground Good Life, Michael Melton and Marvin Dickerson, D.C. Chapter, 100 Black Men, Cameron E. Miles of Mentoring Male Teens in the Hood, Elder Jimmy Grant, and William Keyes of the Institute for Responsible Citizenship.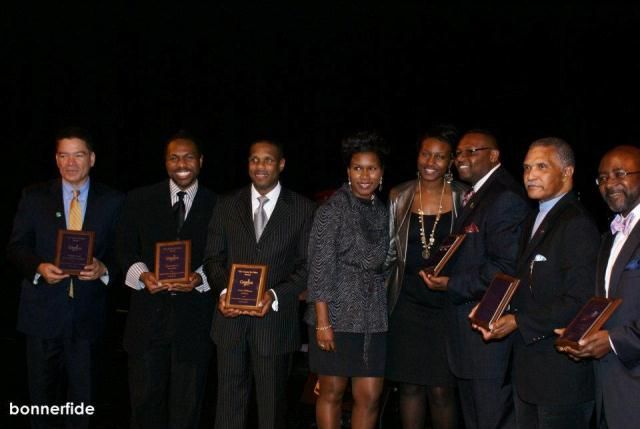 The 2011 class of Genius for Men Honorees: Michael Grant of the National Bankers Association, Gerard Bonner of Bonnerfideradio.com, Nolan Williams, Jr. of NEWorks.us, Alisha Jones and Angela Jones, Exec. Producers, Darnell Lee of W & T Travel Services, Edgar Brookins of the Afro-American Newspaper and Alfred A. Edmond of BlackEnterprise.com.
Online advance registration is $15 and is open until October 12 at 5 pm EST. Conference officials are also accepting donations for deserving young men to be their guests and take part in this day of celebration. For more information, please call 1-888-422-9179 or visit
www.geniusformen.org
.
Photo credit: Yanny of BonnerfideRadio.com