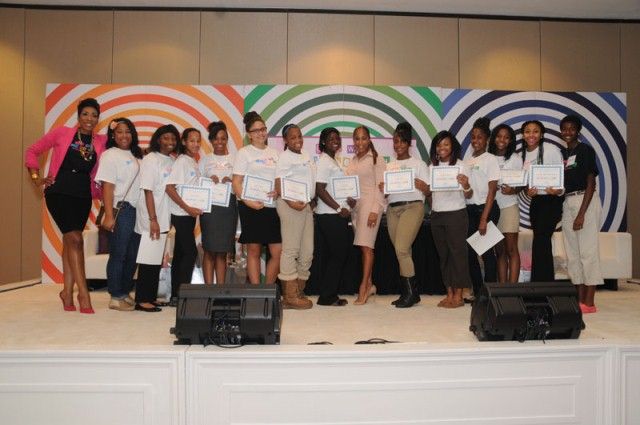 STONE MOUNTAIN, GA - The Steve and Marjorie Harvey Foundation recently hosted their 3rd Annual Girls Who Rule the World Mentoring Weekend, gathering over 100 young women ages 13-18 from Atlanta and surrounding areas for an impactful, empowerment-filled weekend.
Addressing vital issues and life experiences to spark dialogue, bolster their dreams, self-confidence and success for the future, the mentoring weekend included inspiring sessions with actress Terri Vaughn, singers Kimberley Locke, Nicci Gilbert and The EriAm Sisters, Lieutenant Colonel Keisha Flagg, Essence Magazine/Author Mikki Taylor, youth motivator Jackie Brewton, The Gates Millennium Scholars Program, a mountain hike at Stone Mountain Park, and more, with Foundation Co-Founder and President Marjorie Harvey leading the charge.
Marjorie Harvey has one on one conversation with the young ladies.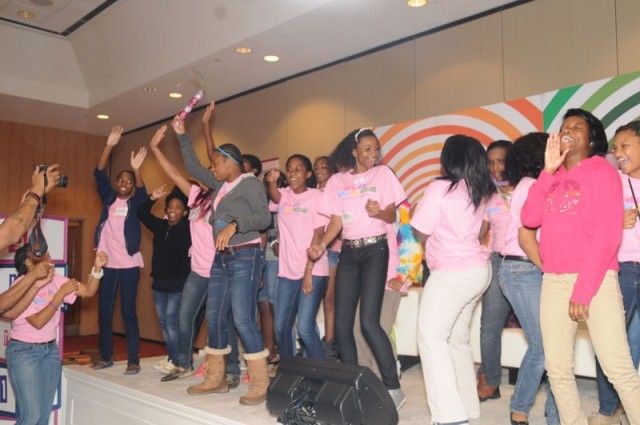 The Steve and Marjorie Harvey Foundation's 3rd Annual Girls Who Rule the World Mentoring Weekend was sponsored by Choice Hotels, U.S. Marines, Ford Motor Company, U.S. Fish and Wildlife Service, Evergreen Marriott, Coca-Cola, K&G Fashion Superstore, Legendary Events, Stone Mountain Park, Timeless Brands, Frito-Lay, and Mary Tipton Corporation.
Since 2010, Marjorie Harvey has spearheaded an energy-filled weekend to spark change and address self-confidence, education, health and wellness, common pressures and more that young women face today. Bringing together a team of inspiring and powerful women, previous weekends have included CNN's Soledad O'Brien and Fredricka Whitfield, The View's Sherri Shepherd, five-time Olympian Teresa Edwards, and more. Empowering mind, body and spirit with guidance addressing the social, emotional, educational and cultural experiences they face today, the young women who took part in this weekend sustain a role with The Steve and Marjorie Harvey Foundation that include mentor pairing and other educational experiences, to ensure continued enhancement and positive growth in helping young women to achieve their maximum potential and build successful futures.
For more information about The Steve and Marjorie Harvey Foundation programs, please visit:
www.smharveyfoundation.org
and view a video from the mentoring weekend
here.
Source: Press release