Guests at the Gantt Center's Jazzy Holiday Luncheon in 2011, including Attorney T. Michael Todd (center), Carol Lilly of Lil Associates (right) and guest.
Long-running tradition sustains the mission of the Harvey B. Gantt Center for African-American Arts & Culture
CHARLOTTE, NC — For the 32nd year, the
Harvey B. Gantt Center for African-American Arts and Culture
is inviting broad attendance to its major fundraiser, the
Jazzy Holiday Luncheon
. The 2012 luncheon takes place
Friday, November 30
, with generous support from PNC Bank, the event's lead sponsor.
"PNC recognizes the important work that the Harvey B. Gantt Center does for our community," said Weston M. Andress, PNC Regional President for Western Carolina. "We are happy to support the Center's efforts to preserve and celebrate African American history and culture."
Fondly called Jazzy, for short, the midday event is a holiday favorite and one of the longest running annual traditions in Charlotte. Jazzy benefits the Gantt Center Annual Fund which enables the cultural institution to deliver programming that presents, preserves and celebrates the arts, history and culture of African Americans.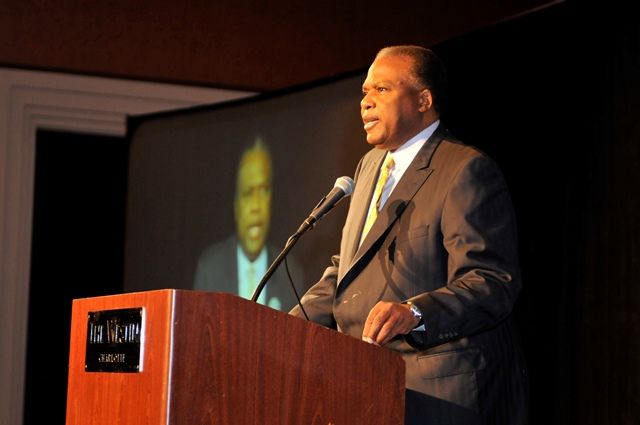 David R. Taylor, President and CEO of the Gantt Center
Dance performance during Jazzy in 2011
Each year brings together hundreds of guests, including local political figures, corporate executives, civic leaders, artists and lovers of the arts. A marked occasion, Jazzy kicks off the holiday season and draws guests who, year after year, gather to network with Charlotte's most influential residents, see longtime friends, make new acquaintances, enjoy lunch and live jazz, and invest in the vital work of the Gantt Center. More than 400 guests are expected this year.
2011 Gantt Center Award recipients: Robert Bush, Senior Vice President, Arts & Science Council; Pat Rodgers, President and CEO, Rodgers Builders, Inc.; and Tommie Robinson, celebrated artist. Each is holding the award, a wooden vessel crafted by master wood turner Charles Farrar.
A highlight of the luncheon is the presentation of awards recognizing the accomplishments and contributions of standout artists, arts patrons and businesses. The 2012 Gantt Center Awards recipients are: Jeanne M. Brayboy, a community leader, arts patron and retired arts educator;
Quentin "Q" Talley
,
an award-winning theatre professional and poet; and Belk, a leading retailer headquartered in Charlotte.
The Westin Charlotte Hotel is the site of the festive luncheon. To purchase seats or to become a sponsor, please call (704) 547-3762 or
order online
.
Founded in 1974, Harvey B. Gantt Center for African-American Arts and Culture exists to present, preserve and celebrate the art, history and culture of African Americans and people of African descent. Named for
Harvey B. Gantt
, an architect and former Mayor of Charlotte, the Center is housed in an inspired and distinguished award-winning structure in Center City Charlotte.
The Gantt Center is home to the nationally celebrated
John and Vivian Hewitt Collection of African-American Art
and engages its membership and visitors from across the world through dance, music, literary arts, visual art exhibits, film, educational programs, theatre productions and community outreach. For more information, visit
www.ganttcenter.org
.
Story submitted by Valaida Fullwood
Described an "idea whisperer," Valaida brings a mix of unbridled imagination and a gift for harnessing wild ideas to her work as a writer, creative consultant and project strategist. She is a founding member of Charlotte's New Generation of African American Philanthropists and author of Giving Back: A Tribute to Generations of African American Philanthropists. On Twitter, follow @ValaidaF and @BlkGivesBackCLT.
Photo credit: Courtesy of the Gantt Center