Charlotte's Talented Talley Earns Coveted Fellowship
By Valaida Fullwood
Charlotte Contributor
Charlotte, NC —
Theatre Communications Group
(TCG) and The
Andrew W. Mellon Foundation
recently awarded Charlotte-based artist Quentin "Q" Talley a coveted fellowship for exceptionally talented leaders.
One of only six early-career theatre professionals selected in 2012, Talley is founder and artistic director of the non-profit theatre company On Q Performing Arts, Inc. He was chosen through a rigorous, nationwide selection process for an inaugural TCG program intended to strengthen the field by developing people who are the core and future of theatre.
Founded in 2006, On Q Performing Arts is a 501(c)(3) non-profit theater company dedicated to educating and producing classic, contemporary and original performance works that reflect the black experience, especially that of the African American. Season 4 of On Q—The Revolution Will Not Be Televised, It'll Be Live!—is set to deliver a powerful punch during 2012-2013 with award-winning plays from the Black Arts Movement of the '60s as well as provocative, original works by new playwrights.
"My goal is to continue to use On Q to provide quality productions that educate, provoke thought and push the envelope when necessary," says Talley, who is not only gaining momentum as artistic director but also receiving national attention as an artist in his own right.
The 18-month TCG fellowship provides Talley a rare opportunity to enhance his professional skills and pivotal role as artistic director under the tutelage of the legendary Lou Bellamy, founder and artistic director of Penumbra Theatre in St. Paul, Minnesota. In addition to a mentor, Talley gains financial resources and opportunities to network with peers and acclaimed theatre veterans.
TCG advances a mission "to strengthen, nurture and promote the professional not-for-profit American theatre" and its fellowship program is elevating both Talley and his theatre company to the next tier of performance and professionalism. With clear aspirations, Talley is cultivating his formidable gifts to achieve national and international acclaim for his work and for On Q Performing Arts in presenting compelling stories from the African Diaspora.
For additional information, visit
www.YouAreNowOnQ.com
and for media inquiries, call 704.261.5290 or email
Jameka@jswmediagroup.com
.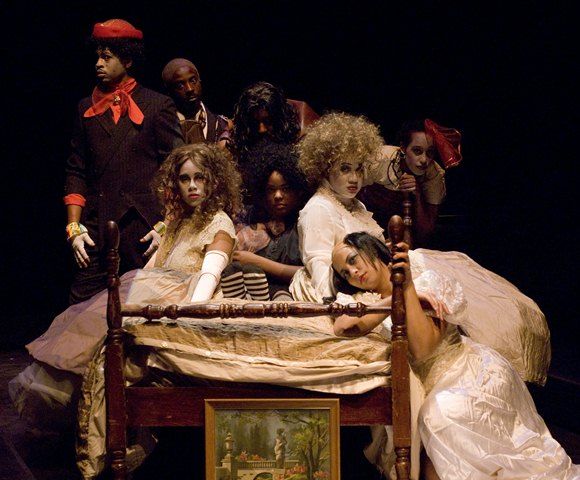 Cast of On Q's recent production of Funnyhouse of a Negro, a 1964 Obie award-winning play by Adrienne Kennedy
Story submitted by Valaida Fullwood
Described an "idea whisperer," Valaida brings a mix of unbridled imagination and a gift for harnessing wild ideas to her work as a writer, creative consultant and project strategist. She is a founding member of Charlotte's New Generation of African American Philanthropists and author of "Giving Back: A Tribute to Generations of African American Philanthropists." Valaida also is a founding board member of On Q Performing Arts. On Twitter, follow @ValaidaF and @BlkGivesBackCLT.
Press release: JSW Media Group
Photo credits: Lovo Antonio