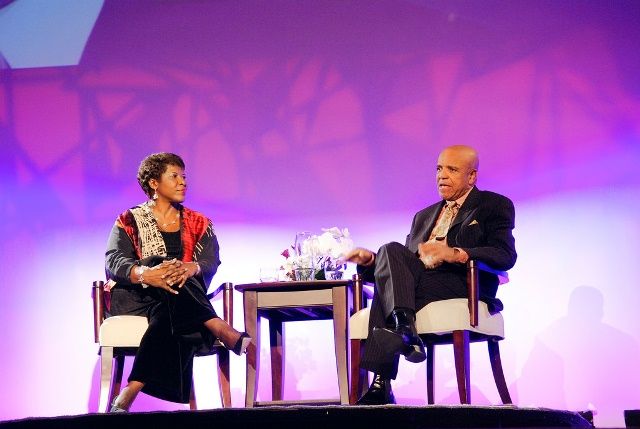 Journalist Gwen Ifill Conducted Interview with Gordy Who Is Credited with Creating "The Motown Sound"
Chicago, IL – The HistoryMakers welcomed and paid tribute to music icon Berry Gordy, Jr., founder of Motown Records, during An Evening with Berry Gordy on Saturday, November 17, 2012 at The Art Institute of Chicago. Award-winning journalist Gwen Ifill conducted the one-on-one interview that was personal, humorous, candid and insightful. The interview was taped before a live audience and will air on PBS-TV in February 2013 during Black History Month. Ifill's interview led the audience through Gordy's celebrated life as the founder of Motown Records, once the most successful African American-owned enterprise in the United States. His career has positively impacted the music, television, and movie industries as he groomed and presented such international stars as Diana Ross, Smokey Robinson, The Temptations, Stevie Wonder, Gladys Knight and the Pips, Michael Jackson, the Jackson Five, and Marvin Gaye among many others.
Some of Motown's most recognizable performers, producers, and colleagues were in attendance to support Gordy during this historic interview. R&B songwriter, producer, and singer Valerie Simpson of Ashford & Simpson fame took the stage to play and perform one of Gordy's first hits written for Jackie Wilson. Simpson was later joined in a duet with popular singer Kem. Also taking the stage, Janelle Monae, popular new artist, performed a Jackson Five hit – ABC – written by Gordy. Suzanne dePasse, former president of Motown Productions who worked closely with Gordy, provided a glimpse into the unique relationship they have shared for decades. Attendees were also treated to a short scene from the upcoming Broadway production of Motown: the Musical, performed by Valisia Lekae as Diana Ross and Brandon Victor Dixon as Berry Gordy. The musical is slated to open on Broadway in April 2013.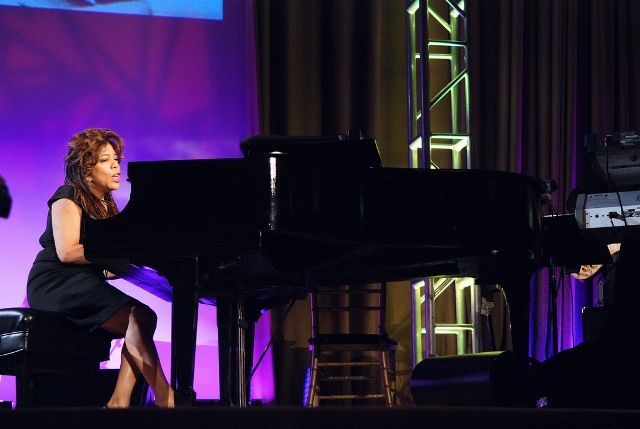 Valerie Simpson performing tribute to Berry Gordy
Singer Janelle Monae performs
Also on hand for the evening were early members of the Motown family, including Claudette Robinson who originally sang with the Miracles, Freda and Sherrie Payne, the Velvelettes, an original singer with the Marvelettes, and others. Gordy's son, Stefan Gordy -- known to the music world as Redfoo -- one-half of the hip-hop musical group, LMFAO, was in attendance with two other Gordy children.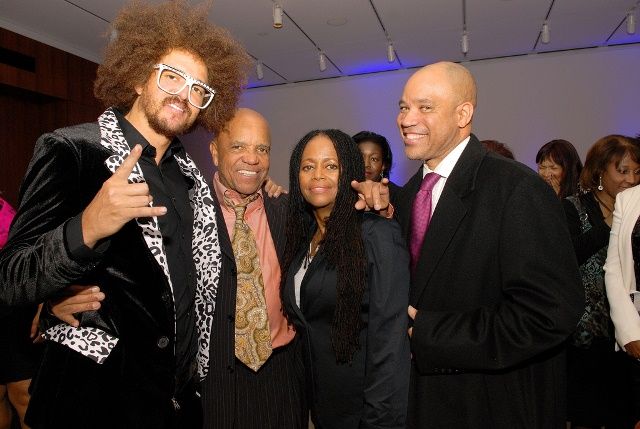 Berry Gordy and his children, Stefan Gordy (Redfoo of LMFAO), Hazel Gordy and Kerry Gordy
Julieanna Richardson, founder and executive director of The HistoryMakers -- a national, non-profit institution that develops, preserves, and provides easy online access to an internationally-recognized archival collection of thousands of African American videotaped oral histories -- served as executive producer. Ray Chew, music director for American Idol, was the show's music producer. Music industry powerhouses Universal Music Group, Sony Music, David Geffen, Clarence Avant, and Jerry Moss were major underwriters for the evening.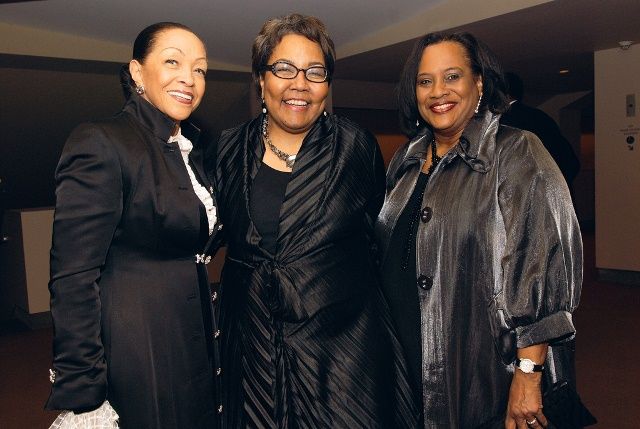 Merri Dee, Julieanna Richardson, The HistoryMakers; Jann Honore, Regional Development Director at United Negro College Fund
Julieanna Richardson, Founder of The HistoryMakers and John Rogers, Chairman of Ariel Investments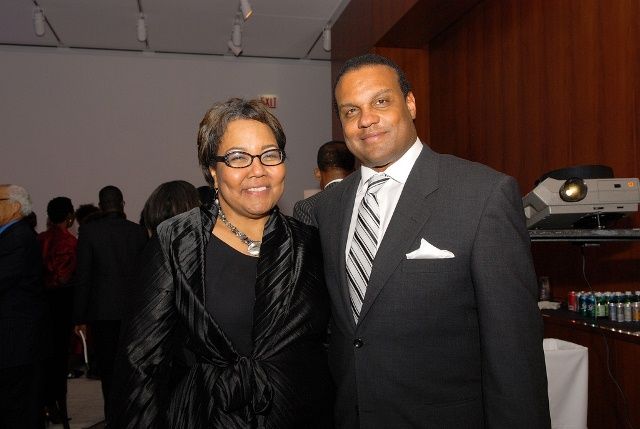 Richardson and Steven McKeever, President of Hidden Beach Records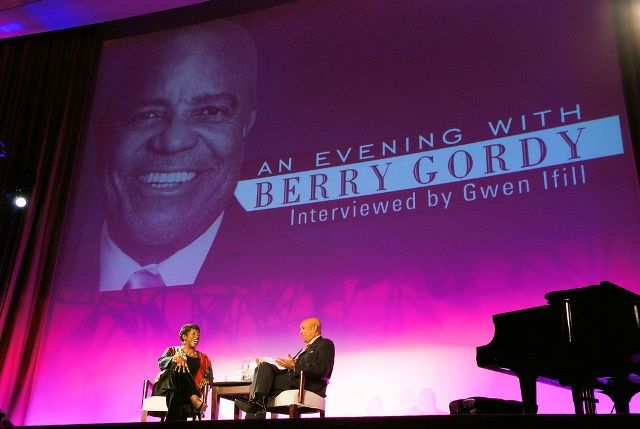 Honorary co-chairs for An Evening with Berry Gordy included: Christie Hefner, Clarence Avant, Walter & Shirley Massey, and Richard Parsons. Other major sponsors included Comcast NBC Universal, Universal Music Group, Sony Music, Discover, Abbott Laboratories, Chicago Tribune, and The Ritz Carlton Chicago. Visit the HistoryMakers website at
www.thehistorymakers.com
.
Source/photos: The HistoryMakers