Giving circle members attending "The Philanthropic Renaissance" gather for a group photo at the 2012 Community Investment Network conference held October 4-7 in Birmingham, Alabama.
Annual conference highlights growing movement of giving circles and community philanthropy
BIRMINGHAM, AL - Last month, the
Community Investment Network
(CIN) hosted its 2012 national conference titled "Philanthropic Renaissance: Illuminating Creative Expressions of Giving." Hosted in conjunction with the
Birmingham Change Fund
, CIN's first giving circle; this year marked the organization's eighth gathering where donor education and discussions of community-led philanthropy were a prime focus. The national conference drew seasoned donors as well as emerging philanthropists who were eager to share and gain deeper knowledge. Workshops touched on pressing issues that communities of color face, including new types of support for executive directors of color, and getting people to give more and leverage resources together. Breakout and plenary sessions delved into topics such as: Giving Circles 101, Social Entrepreneurship, Collective Giving and Democracy, Social Media and Community Change, Philanthropy in a Faith-based Context and more.
Diverse and ever-evolving, conference presenters and attendees included leaders of giving circles, nonprofits, neighborhood associations, community groups, civic organizations and foundations. This year, the conference hosted its first ever youth track, and held new conversations about giving in Native American tribes and sessions on coaching and social enterprise.
The keynote speakers for plenary sessions were Carol Jenkins, an award-winning writer, producer and consultant, who is also the granddaughter of A.G. Gaston, a Birmingham entrepreneur that became one of America's early African-American multi-millionaires in the mid-20th century; Barry Knight, a social scientist and adviser on evaluation and knowledge management for the Global Fund for Community Foundations; and Kimberlé Williams Crenshaw, professor of law at UCLA School of Law and Columbia Law School, and a leading authority in the area of civil rights, Black feminist legal theory, and race, racism and the law.
Highlights of the "The Philanthropic Renaissance" included a pre-conference event titled "Philanthropist Where for ART Thou?" at the Birmingham Public Library that featured Valaida Fullwood, author and Charles Thomas, photographer of the award winning book '
Giving Back
;' a welcome reception and legacy of giving conversation held at the Birmingham Civil Rights Institute, where attendees were given a private tour; a workshop hosted by 13-year old Fajhenee Bradford, founder of the "Luv In Motion" giving circle in Charlotte, North Carolina; and a visit to the McWane Science Center to learn how grassroots philanthropy is making STEM subjects more accessible to black youth in Birmingham.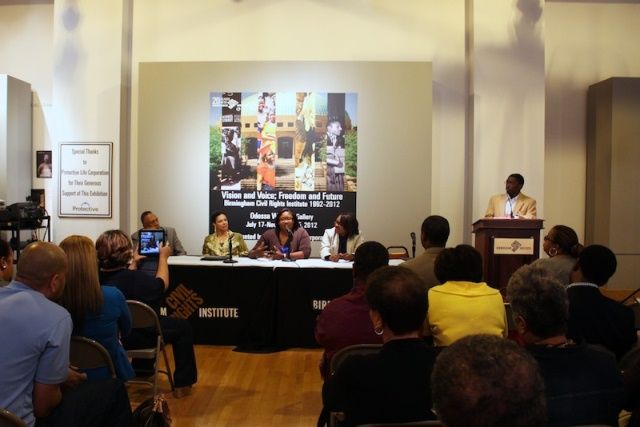 Panelists discuss how they give back in Birmingham at the Welcome Reception and Legacy of Giving Conversation at the Birmingham Civil Rights Institute.
Keynote speaker Barry Knight, executive director of CENTRIS and adviser of the Global Fund for Community Foundations. Knight works with giving circles in six continents, and noted the importance and impact of community philanthropy, despite it being treated like a poor cousin by institutional philanthropy.
The host city of Birmingham was a perfect fit for the conference, given its historical significance. Attendees participated on tours to world-class institutions, such as the Birmingham Civil Rights Institute, and a behind-the-scenes look at the Civil Rights Archives at the Birmingham Public Library. In the photo, attendees stand on the steps of the 16th Street Baptist Church, the place where four young girls were killed in a racially motivated bombing in 1963 that marked a turning point in the civil rights movement.
Attendees were inspired by the people and stories, and gained a sense of what giving in black communities and communities of color looks like in 2012. Ken Perry, member of the A Legacy of Tradition giving circle from Raleigh, NC shared, "the visit to the Civil Rights Museum and the panel discussion were great and inspiring to me. The Civil Rights Museum reminded me why it is important to give by design because it impacts your community and begins that chain reaction that starts with the individual, and drives us all to act collectively. The panel discussion stimulated me to take an idea back to my community that has the potential to have a huge impact on how services are delivered in a caring and non-intrusive way." Attendees left the conference with resources on how to tap into the time, talent and treasure of donors of color.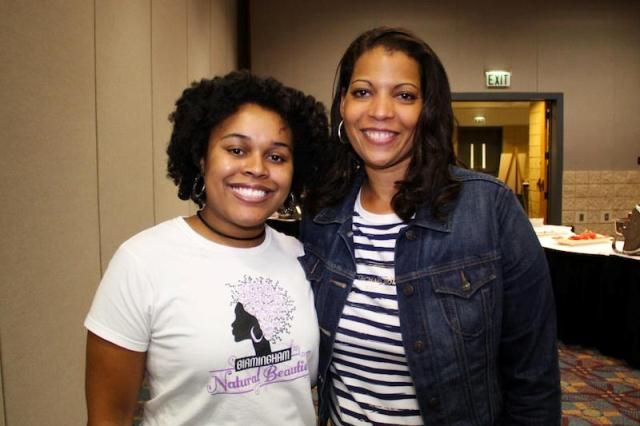 Katrina Watson, member of Birmingham Change Fund and founder of

Birmingham Natural Beauties

, and Dionne Lester, co-founder of the Community Investment Network.
Chad Jones

, executive director of Community Investment Network and Valaida Fullwood, author of 'Giving Back' and founding member of New Generation of African American Philanthropists.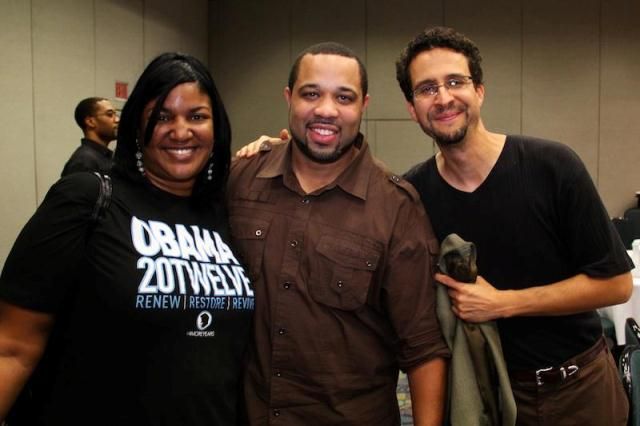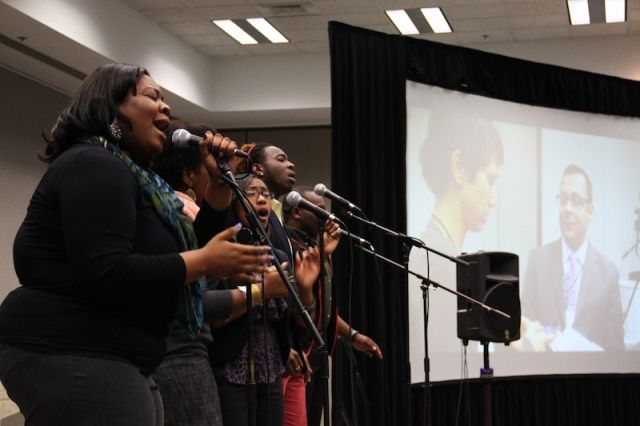 Performers sang stirring gospel songs during the closing session.
For highlights and takeaways from attendees, visit CIN's Storify page
here
and blog
here
.
Among the CIN giving circles in attendance were
20/20 Sisters of Vision
(Durham, NC), ALOT - A Legacy of Tradition (Raleigh/Durham/Chapel Hill, NC),
Birmingham Change Fund
(Birmingham, AL),
Black Benefactors
(Washington, DC),
Circle of Joy
(Atlanta),
DAAP
- Denver African American Philanthropists (Denver, CO), Growing Black Men of Milwaukee (Milwaukee, WI), Hope Fund of Jackson (Jackson, MS),
New Generation of African American Philanthropists
(Charlotte, NC),
Next Generation of African American Philanthropists
(Raleigh, NC), and the Sankofa Fund of Southwest Pennsylvania. Conference sponsors included Open Society Foundations, Birmingham Civil Rights Institute, The Denver Foundation, Resource Generation, Birmingham Change Fund, Quixote Foundation and Tides.
If you are a member of a giving circle, thinking about starting one, or involved with a collective giving project in your community, learn more about CIN and its support available to you by visiting
www.thecommunityinvestment.org
.