Shawn Dove, campaign manager for the Open Society Foundation's Campaign for Black Male Achievement; Susan Taylor, founder of National Cares Mentoring Movement and
Geoffrey Canada, founder of Harlem Children's Zone at the Innovation and Impact Forum for Black Male Achievement, October 3, 2012 in New York City.
NEW YORK, NY - For the past 20 years, philanthropic support has been directed toward black men and boys to improve their life outcomes. In recent years, this support has remained steady despite the continued disparities facing them in areas such as education, health and employment. Today, there is a renewed focus in the field of black male achievement, with the launch of the Leadership and Sustainability Institute, a national membership network that aims to help build the capacity of organizations serving black males, and the first ever Innovation and Impact Forum held last month in New York City.
Hundreds of attendees from the nonprofit, foundation, government, media and corporate sectors gathered for the inaugural forum, that was standing room only, to hear from inspiring leaders who have impacted the field, and from young and emerging leaders, philanthropists, elected officials and others committed to the cause. Major initiatives were highlighted and attendees were provided with practical research, data and field-building tools. Among the featured speakers were New York Mayor
Michael Bloomberg
,
George Soros
, founder of Open Society Foundations,
Geoffrey Canada
, founder of Harlem Children's Zone,
Angela Glover Blackwell
of PolicyLink, Philadelphia Mayor
Michael Nutter
,
John W. Rogers
, Jr. of Ariel Investments,
Paula Williams Madison
of Madison Media Management LLC and Williams Group Holdings LLC,
Susan Taylor Batten
of Association of Black Foundation Executives,
Dr. John Jackson
of the Schott Foundation for Public Education and
Dr. Cheryl Dorsey
of Echoing Green.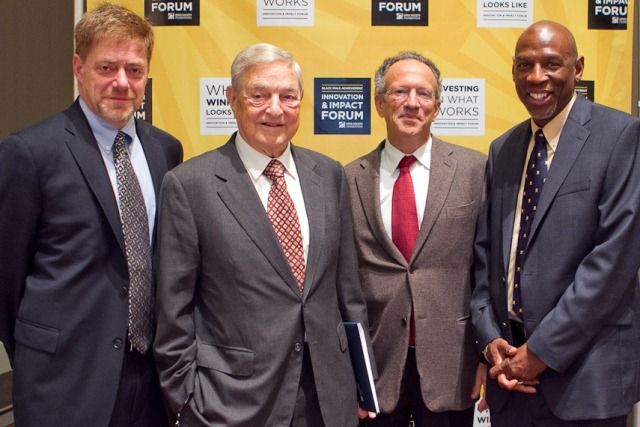 Kenneth H. Zimmerman, George Soros and Christopher Stone of Open Society Foundations and Geoffrey Canada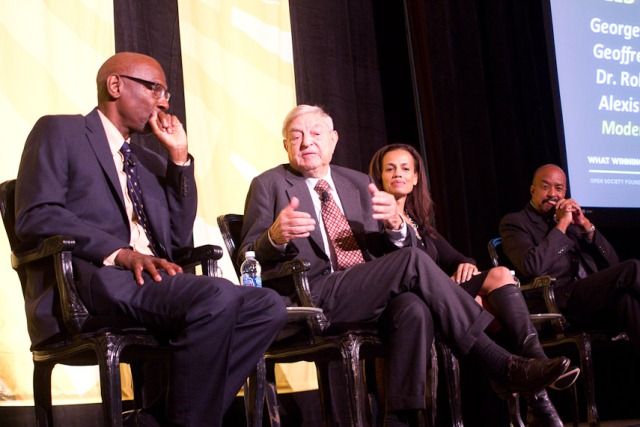 Opening panel with Geoffrey Canada, George Soros, Alexis McGill Johnson of American Values Institute and Dr. Robert K. Ross of The California Endowment
Roger A. Blissett of RBC Capital Markets leads a discussion with John W. Rogers, Jr. of Ariel Investments
Afternoon breakout sessions featured topics on proven strategies that are working in the field: expanding work opportunity, strengthening family structures, attaining educational equity and promoting positive frame and messaging. Following the sessions, the inaugural EBONY Manifest Awards were presented to leaders in the field, a panel discussion featured how philanthropic support is impacting the field, and new reports were highlighted, including the Schott Foundation's
50 State Report
on Public Education for Black Males and the Foundation Center's "
Where Do We Go From Here
?," a guide outlining philanthropic support for black men and boys.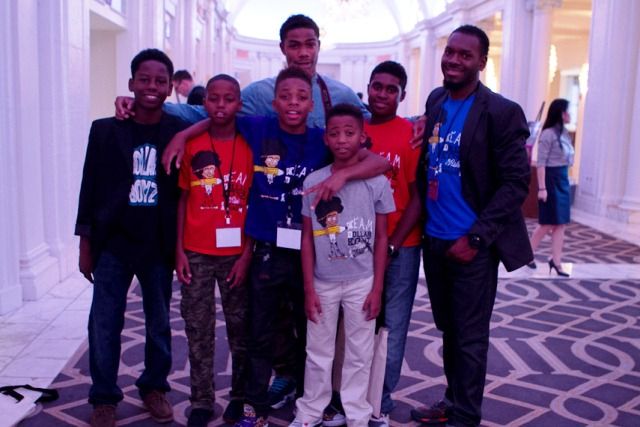 Youth participants from the DollarBoyz, Inc.
How You Can Get Involved:
Visit the
Leadership and Sustainability Institute's
website to learn about the initiative and sign up for their newsletter for events, resources and news in the field.
http://leadershipandsustainabilityinstitute.com/
Help to spread the word about the Open Society Foundations and Echoing Green's
Black Male Achievement Fellowship
. It is the first fellowship program of its kind that targets social entrepreneurs who are starting up new and innovative organizations in the field of black male achievement. An upcoming informational webinar is scheduled on November 29th, and the application period will open in early December.
http://www.echoinggreen.org/bma-fellowship
Check out BlackGivesBack's black men and boys series
here
.
And, sign up now for updates from
BMAFunders.org
, a web portal for funders, nonprofits and anyone interested in black male achievement that will launch in February 2013.
http://bmafunders.org/
To view video highlights from the forum, visit
here
.
Photo credit: KS Media