The list is finally here! The Top Ten Black Celebrity Philanthropists of 2012. These celebrities have harnessed their star power for good the past 365 days and beyond. Once again, we've partnered with the
Admiral Center
, an initiative of Living Cities that helps celebrities use their resources and influence to develop sustainable and impactful solutions, to help us with the list. Although it was a great year for celebrity philanthropy as you'll see below, there were some who experienced controversy that made the news. As a result, we've incorporated new criteria and judges. And, there's no ranking. All ten are gaining recognition for their giving alongside philanthropic veterans such as Oprah Winfrey. They serve on boards, are major donors for their cause, and invest strategically, for long-term systemic change. Let's get started with an introduction from the Admiral Center:
By
Sherrie Deans
, Executive Director
The Admiral Center
I can't believe that it's that time again- time to acknowledge our favorite celebrities for the amazing work they do in our communities. However, as recent events weigh heavy on all of our minds, I am sure that some of you may be wondering: "Why does this matter?"
"Is this really important?"
The answer lies in something that Paul Robeson said, "Artists are the gatekeepers of truth." They are the ones that so eloquently express our deepest beliefs, fears, and hopes. They awaken our consciousness to injustice and inequity and when they are at their best they prompt us to take action.
I can't help but think that we need these "gatekeepers" now more than ever. Whether its gun control, increased access to mental health services, dropout prevention, AIDS awareness, or homelessness, our world needs to hear the truth spoken more loudly and more often. Many of us are turning to our elected officials for the answers and that makes sense, but I am also looking to the leaders in Hollywood, on the gridiron and on the hardwood, as well. They have an important role to play, lifting up truth and ensuring that we don't forget about our world's most pressing issues and the real people that have fallen victim to our global apathy.
It is with that that we present you with this year's Top Ten. Not because they are perfect, but because they are trying. Because they have and we hope will continue to lead in areas where leadership has been lacking.
We must admit we made some mistakes last year. But while some of our Top Ten fell short others went on to do even bigger things. To make sure we captured the best of the best this year, we opened
nominations to the public
and we called on an amazing group of judges:
Akira Barclay
, NY contributor, BlackGivesBack.com;
Daphne Doyle Benbow
, Director of Marketing and Special Events, Usher's New Look Foundation;
Jodie Blum
, Executive Director of GRAMMY U of the Grammy's/Recording Academy;
Evelyn Burnett
, Associate Director of Program Strategies, Admiral Center;
Tracey Webb
, founder, BlackGivesBack.com; and
Jenny Goldstock-Wright
, Principal, Wishbone Consulting Group. Together we looked at seven core principles to evaluate each celebrity's philanthropy and its impact:
Philanthropy

: How much has the celebrity donated from his/her own funds or hosted an event to raise funds?

Awareness

: Has the celebrity brought significant awareness to an important cause?

Honors/Awards

: Has the celebrity been honored recently for his/her philanthropic efforts?

Leverage

: Has the celebrity leveraged sponsorships with a company or created a significant partnership to support his/her charity or to raise awareness of a cause? Have they integrated their philanthropic work into their brand?

Communications

: Is the website up to date? Do they talk/advocate for their issue?

Social Media

: Does the celebrity use their social media platform to affect change?

Knowledge

: Does the celebrity demonstrate a deep understanding of the issue? Do they understand policy, support effective programs, participate and encourage partnership and collaboration in the field? Has the celebrity hired or consulted with a philanthropy expert to aid them in their giving?
Our holiday wish is that next year their feats will be even bigger and that it will be even harder to cut the list to 10, but let's see who made the cut in 2012.
ALICIA KEYS
Grammy Award Winning Artist and Co-Founder, Keep A Child Alive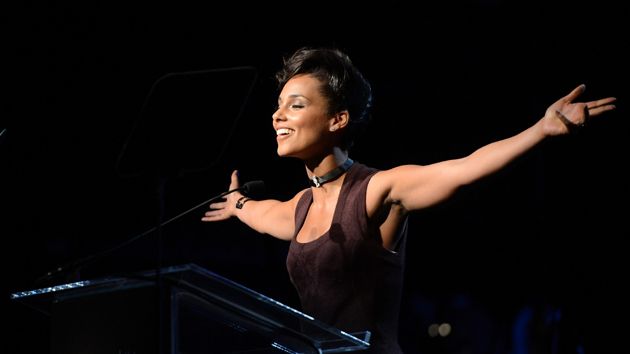 This singer/songwriter makes our list for the 5th time, for her efforts to provide treatment, love and support to those affected by HIV/AIDS through Keep A Child Alive. On December 6, 2012 at the Apollo Theater in New York, Keys hosted her organization's annual Black Ball, raising 1.3 million and honored Oprah Winfrey for her humanitarian work.

She has shown through her philanthropic efforts a deep understanding of HIV/AIDS and ensures that her organization is led by a CEO who has an extensive background in public health. This year, Keys was honored by Black Girls Rock and received a recognition from UN Social Innovation.



ALONZO AND TRACY MOURNING


Founders, Mourning Family Foundation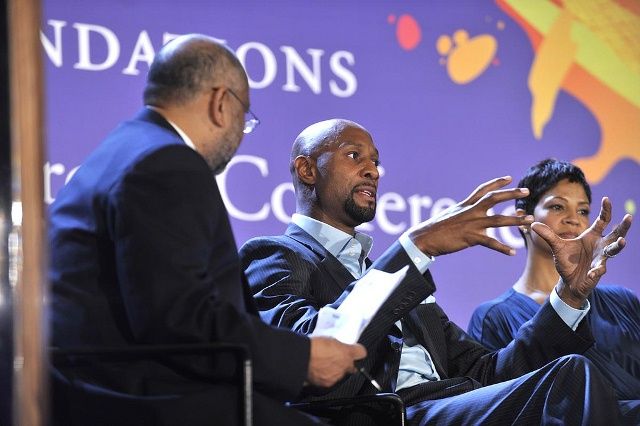 Alonzo and Tracy Mourning discuss diversity and personal experiences in philanthropy at the Council on Foundations' Family Philanthropy Conference, February 2012 in Miami.



This philanthropic couple makes our list for the third time, having raised $7 million for programs serving youth and families, most notably in Miami-Dade county. Both are grantmakers and approach their giving with a thoughtful strategy, a clear mission and vision. Alonzo is the primary funder for Overtown Youth Center, a local afterschool center that provides education, enrichment and recreation activities, and Tracy is founder of

Honey Shine Mentoring Program

, which offers support and mentoring to Miami area girls.

Photo: COF





CHRIS PAUL


NBA Star and Founder, CP3 Afterschool Zone presented by Chase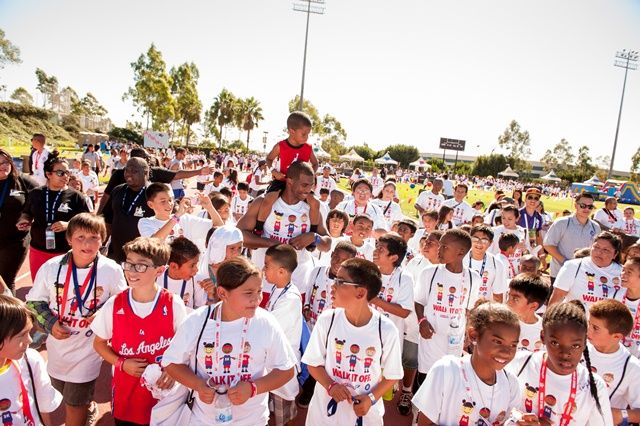 NBA star Chris Paul has pledged a long-term personal and financial commitment to an area deep in need - New Orleans. As a former player with the New Orleans Hornets, he wanted to give back to a city that embraced him as a NBA rookie. In a recent

blog post

, Paul shared, "Growing up, my parents made sure that my brother CJ and I were exposed to all kinds of activities that introduced us to new experiences, people, and skills. I wanted to be able to provide similar opportunities for the children of New Orleans."

As a result, he founded CP3 Afterschool Zone in partnership with JP Morgan Chase, who matched every $1 he donated and together invested $1 million for the program that provides learning, play and discovery during after school hours. This unique public-private partnership involves two local nonprofit organizations and is now in its third year. Paul also has a vision to support the expansion of this program for all kids.



JOHN LEGEND


Grammy Award Winning Artist and Founder, Show Me Campaign




Legend makes our list for the second time, as his board participation, usage of social media to support his causes, and systems change work in education makes him a standout in celebrity philanthropy. Founder of the

Show Me Campaign

, the organization's mission is to break the cycle of poverty using solutions that have been proven to improve people's lives. He serves on the boards of Teach for America and Harlem Village Academies, and partners with a group of education reform organizations to fulfill his mission.

This month, the organization is sponsoring a holiday book give away to teachers nationwide, and this summer announced their 2012 Show Me Campaign Fellowship winners - students who have unpaid summer internships in the areas of international development and improving education in the United States.

Photo: Ralph Lauren





LEBRON JAMES


NBA Star and Founder, Lebron James Family Foundation




Lebron James is a donor of many organizations, including the Boys and Girls Club of Akron, Ohio, and leverages corporate partners to support his philanthropic focus areas, most notably with education and the drop out crisis. James has also launched "I Promise," a network to inspire students, teams, and individuals across the country to commit to making a difference. Learn more about the "I Promise" network and current projects of his foundation at

www.lebronjamesfamilyfoundation.org

.



STEVE HARVEY


Author, Radio/TV Host and Founder, Steve and Marjorie Harvey Foundation




Making our list for the second year, author, radio personality and talk-show host Steve Harvey continues his strong advocacy for mentoring through his Steve and Marjorie Harvey Foundation. Every year, the foundation hosts mentoring weekends for young men in cities across the country, and recently partnered with the Open Society Foundation's Campaign for Black Male Achievement and Big Brothers Big Sisters to

host mentor recruitment drives

.The foundation also mentors young girls through the

Girls Who Rule the World Weekend

in Atlanta, led by his wife Marjorie Harvey.

Harvey also continues his support of youth through the Disney Dreamer's Academy in partnership with Essence magazine.



SUSAN L. TAYLOR


Founder and CEO, National Cares Mentoring Movement and Editor-in-Chief Emeritus, Essence Magazine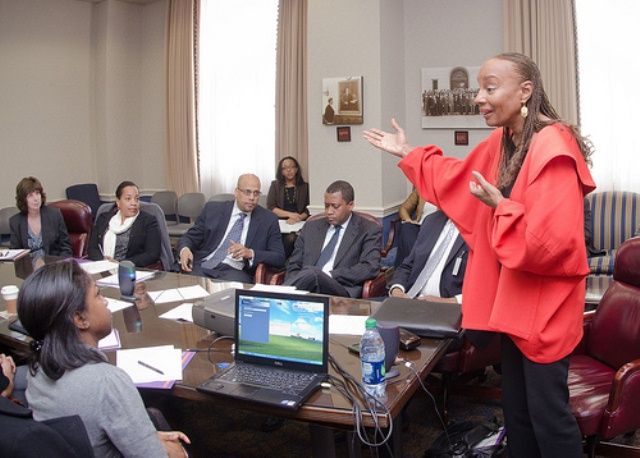 In February 2012, Susan Taylor

talks to staff at USDA

to explain how existing federal programs and administration priorities can be leveraged with her organization, especially as it relates to science, technology, engineering and mathematics (STEM) literacy, education and rural youth.

USDA Photo by Lance Cheung



In 2005, Taylor founded ESSENCE Cares, now known as

National CARES Mentoring Movement

to recruit caring adult mentors for youth. Its goals are to increase high school graduation rates among African American students, end violence in Black communities, and the over-incarceration of our young. National CARES has formed mentoring affiliate chapters throughout the country in cities such as Baltimore, Harlem, Oakland, Los Angeles, Newark, NJ and Atlanta. Taylor is an arts patron also, supporting organizations such as Evidence, A Dance Company.



TUTAN REYES


Retired NFL Player and Founder, Beyond the Boroughs




In past years, Tutan Reyes has raised $500,000 for scholarships as the founder of

Beyond the Boroughs

, a national scholarship fund. Tutan partners with businesses, athletes and wealthy individuals, such as fashion designer Oscar de la Renta, to offer named scholarships sponsored through the foundation. He often speaks at financial conferences, scholarship organization convenings, at colleges and on the radio about the need for scholarships for students with a college acceptance letter demonstrating an unmet financial need. New to our list this year, Tutan's philanthropic investment has lasted well past his active career and has helped numerous students complete their education.



Wil.i.am


Grammy Award Winning Artist and Founder, I.am.angel Foundation




Best known as a lead singer of the group Black Eyed Peas, Wil.i.am is lending his celebrity in support of increasing interest in STEM among youth as the founder of the

I.am.angel Foundation

, created to "transform communities by addressing modern-day challenges including; housing foreclosures, unemployment, lack of funding and access to quality education, and an increasingly competitive marketplace."

In October, the foundation announced the opening of the Chase Homeownership Center in the East Los Angeles neighborhood of Boyle Heights, Wil.i.am's hometown, in partnership with JP Morgan Chase. And in August, the singer celebrated a milestone as the first artist to have their song broadcast back to earth from Mars. At the song's premiere event, Wil.i.am announced his foundation's partnership with Discovery Education to bring science, technology, engineering, art and math (STEAM) to K-12 classrooms around the country.



WILL AND JADA PINKETT SMITH


Actors and Founders, Will and Jada Smith Family Foundation




This grantmaking couple has a long history of philanthropic giving, donating thousands to the Lupus Foundation, Make A Wish Foundation, supporting clean water efforts in Ethiopia, and donating $1 million to Jada's alma mater, the Baltimore School for the Arts. As grantmakers, they established a fund at Associated Black Charities of Maryland, supporting local initiatives in Baltimore. This year, the couple and their children spoke out against human trafficking by

testifying before the Senate

. Jada stated, "Fighting slavery doesn't cost a lot of money. The costs of allowing it to exist in our nation and abroad are much higher. It robs us of the thing we value most, our freedom."


HONORABLE MENTIONS


ONES TO WATCH





SERENA WILLIAMS


Co Founder, Driving Force Giving Circle




Serena is co-founder of Driving Force Giving Circle that helps up the ante of how celebrities give. The organization was created with hip hop artist/actor Common and James Anderson of the Carolina Panthers. Serena is also an initial donor to Huddle Up, a new initiative for minority male achievement and is a UNICEF Goodwill Ambassador for Asia.



SOLEDAD O'BRIEN


Founder, Soledad O'Brien and Brad Raymond Foundation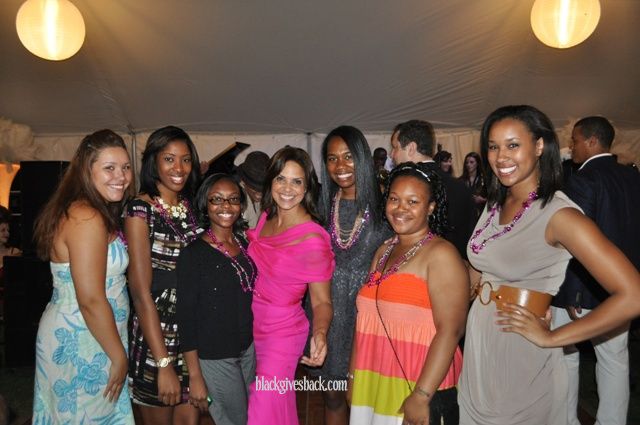 Soledad O'Brien (center) with scholarship recipients at the inaugural "New Orleans in the Hamptons" fundraiser hosted by the Soledad O'Brien and Brad Raymond Foundation on August 12, 2011 in Bridgehampton, New York. Photo: Michael Barclay



In addition to her career as an award-winning television journalist, O'Brien and husband Brad Raymond quietly put girls through college for years after Hurricane Katrina before publicly

launching their foundation in 2011

. O'Brien serves as a speaker and host for numerous fundraising events, uses her social media platform to promote her philanthropic activities, and calls on celebrity friends to support her foundation.



VENUS WILLIAMS


Spokesperson for CARE




On a trip to Nigeria and South Africa this year, Venus along with her sister Serena raised $160,000 and were honored as women who broke the glass ceiling for Breaking the Mould, a new campaign to catalyze, acknowledge and reward South African women who have risen above challenges and adversities. Venus has also served as a spokesperson in Kenya partnering with CARE and Proctor and Gamble, pictured above.
Congratulations to all the celebrities!